Used to be you'd go with the standard stand-bys for holiday gifts for travelers. But now, there's a whole slew of new inventions and innovations on the market. Here are the best of them for the health-conscious vacationer.
Luggage tags, toiletry bags, bag scales, passport holders, and compression socks. Getting holiday gifts for travelers used to be a lot of the same old … but not this year. The definition of "travel essentials" has been clarified as much as "essential workers," and shopping for the itchy-footed among us has become a lot more interesting.
Here are some of our top picks for family, friends, and even customer appreciation gifts to thank them for traveling with you and showing that you care.
Soft, Comfortable Face Masks $8 and up
If you're going to wear something every day, make it something you love, right? Marcellamoda makes great masks for the minimalist, featuring reusable silk filters and European design and fabrics that are also ethically and sustainably made. I personally love the cozy, fine-threaded fabric used by Hedley & Bennet, a chef's apron brand that donates one to the front lines with every purchase. Not only do they have a flap to insert a filter in, they also have a tag you'll never feel on which you can write your name to avoid mask confusion. And another chef's apron company worth mentioning is Tilit, who is doing the same buy one, give one deal, and uses recycled hemp and organic cotton in some versions with latex-free ear straps. Then there's AirQueen, whose next-generation FDA 510k-cleared, 97% average protection (most effective on the market), no-fog nanofiber masks are lighter than a sheet of paper, yet durable enough to be reusable with an ethanol solution.
Pro Tip: Fabric masks aren't a substitute for N95 or surgical-grade, nor are they FDA-approved, so be sure to be careful no matter what! Also, make sure you have more than one—you'll want to change it as soon as you get off the plane, I'm sure. Keeping them clean and washing them is important, too, so buy multiples to have at least one on standby while the other is drying!
A No Down-Time Mask Sterilizer $119.95
Want to clean your mask even as you wear it? The A.I.R. (Antimicrobial Irradiation Respirator) Solo does exactly that, using short-wave, ultraviolet LED light to clean the air you breathe as it passes through one of those stylish masks we just mentioned. Don't worry, though—the light is directed away from the wearer; just make sure the mask is on it and you don't stare at it when you turn it on! Plus, its silicone design also uses no-fog venting and an elevated structure which addresses several mask annoyances. This new device is FDA-registered and third-party tested by an accredited lab to actively neutralize germs and bacteria that might get trapped in a cloth mask, cleaning it without having to losing precious time washing and drying.
Pro Tip: The adjustable fit is snug to keep the limited air coming in nice and clean, so it's not ideal for long-time wear nor those who may be prone to claustrophobia. You also can't wear it on the plane with any mask with a one-way valve, but it is approved otherwise. So really, for on-the-go air and mask sterilization while traveling (think busses, trains) or waiting around, this new invention can't be beat. At home or in the car, you can even drape your mask over it and shut the box while it does its quick job of sanitizing.
A Magic (Sterilizing) Wand $17 and up
Did you know you can now wave a magic wand over your possessions and presto! They'll be cleansed of bacteria, germs, pathogens, and more without every touching soap or water? That's the thing about UV light—it cleans 99.9% of viruses and their ilk in as little as 15 seconds. It's why UVC lights have had a long history of use in hospitals, laboratories, airlines, hotels, and retail stores. Many are now even foldable for easy packing, transport, and storage, and are battery-powered so that you can stay on the ready to be on your germ guard.
Pro Tip: Don't forget that this is not a toy. UVC light can be dangerous and direct exposure can be harmful to your skin and eyes since it's even more powerful than UVA and UVB, which is what comes from the sun. Also, cheaper or more readily available models may not have the certifications, testing, nor be regulated. Do your homework by reading safety research articles on reputable outlets like this.
Swipe a Wipe for Sanitary Tech $14.95
Everything seems to be a touchscreen these days, but who wants to touch them anymore? Even if they're your own, those smudgy fingerprints on your tablets and car audio and facial oil residue on your phones can be nasty. But wet wipes aren't necessarily safe for your electronics … which is why we're recommending HÄNS for the germ-free techie. This handheld all-in-one package is used via swiping like a deodorant stick (not Tinder) and delivers a controlled amount of cleaning solution, eliminating worries of over-squirting (so annoying!). Best of all, the top and bottom of the palm-sized device (read: travel-ready!) holds an antimicrobial cleaning sheet and antibacterial microfiber polishing sheet, both of which will keep you keep your stuff germ-free.
Pro Tip: Although the starter case is good for over 100 cleans, you may want to make it a gift pack with a solution refill for $9.95 more. This gives you 8.5 oz of solution, which lasts for over a thousand cleans. Also, we found on their website a hidden promo code for 10% off your first order—it's PowerScroll.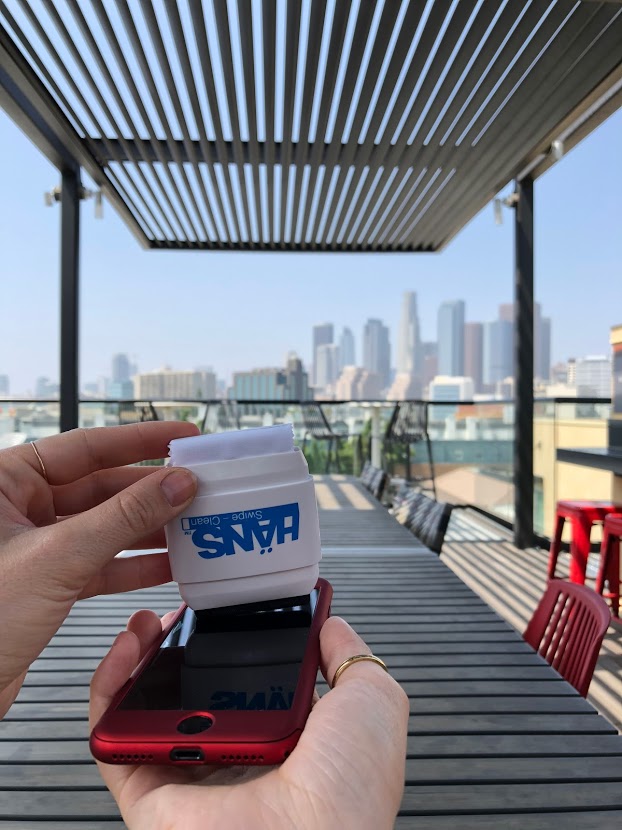 Travel Kits for When You Have to "Go" $10
Toilet paper became the hottest commodity of 2020 at the start of the pandemic, and nobody could "spare a square." The ten-pack box of TP Kits, then, would be the best-ever gift for a traveler on the "go." Each resealable package comes with five two-ply toilet tissues and two wet wipes made from a soft, 100% biodegradable cotton blend fiber for comfort and convenience. They fit right in your purse, pocket, or discreetly in your hand … unlike an unsightly roll, loose and fraying in your backpack, or a cloud of sheets. This brand has been used by outdoorsy types for five years or so already, but leisure travelers ought not be caught with their pants down, either!
Pro Tip: Because the kits are resealable, you don't have to toss what you don't use, keeping it from being wasteful. The wet wipes can be used on your body or on your hands, too, and having them packaged together means no fiddling around to carry your hand sanitizer either.
A "Cleaner" Cleaning Solution for Single-Use $8
Sure, wet wipes for cleaning and disinfection have been around for a while, but now that we're using them more frequently, it's important to try to be conscientious of what we buy, both for our health and for the environment. We just recently learned about CleanWell Botanical Disinfectant Wipes, which is botanically derived and kills over 99.9% of microscopic creepy-crawlies using Thymol, which is a natural antiseptic. This substance is found in thyme, ajwain, and other plants and is known to have a pleasant aroma despite its strong germ-killing power. What we like about it is that it's safe on food contact surfaces, doesn't use harsh chemicals, nor does it emit fumes.
Pro Tip: Wipes are great for on the go, but if you're looking to be really eco-friendly, this solution is available in a spray bottle, too. Other brands that are offering similar benefits and channel the power of Thymol include Bioesque Solutions, Benefect, and Sol-U-Gard … but for a gift, you're going to want the cute packaging of CleanWell.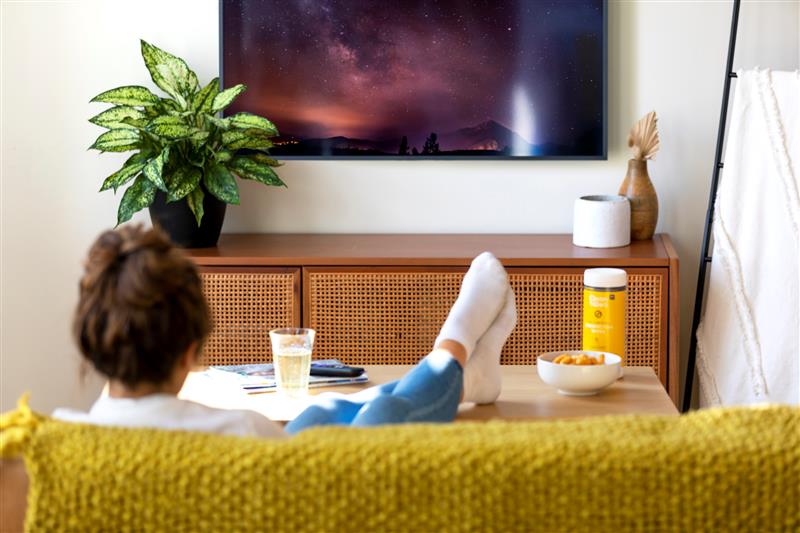 Invisible Skin-Defending Gloves $12.95 and up
With all the rough, alcohol-based hand sanitizer we've been using, many of our hands are an itchy, dry mess. Gloves in a Bottle is designed to address that and solve this uniquely pandemic problem. This isn't just your typical hand cream, which saturates or coats your skin in substances, leaving your skin even drier as it wears or rubs off and makes your skin dependent on it (e.g. the Chapstick effect). The tech behind this lotion is that it bonds to the outermost layer of skin and lasts through multiple hand-washings and four hours of wear. In fact, it's heavy-duty and clean-ingredient enough to be approved for staff use in hospitals and even operating rooms!
Pro Tip: Dry skin, SPF 15, and eczema/psoriasis formulas are available, so you can choose the one that best suits your recipient and show additional thoughtfulness! It also comes in 2-oz two-packs for pockets and pocketbooks, as well as larger 3.4 oz bottles that are TSA-friendly. Larger bottles for home are available with pumps.
Immunity Boosters $4.99 and up
We could all use a little help for our immune systems right now, COVID-19 or not, as the cold weather sets in. Supplementation is sworn by by many travelers, and some of the latest ones provide more benefits than your standard C. For instance, ayurvedic Three Hermits shots are available with moringa (the "miracle tree") and ashwagandha, which has been traditionally used in India to strengthen the immune system after illness, as well as protect against stress and cortisol. Then there are brands like science-based Hydralite, who provide packets of water additives that flavor this essential liquid even as they hydrate faster than plain water. Their low-sugar Immune System Boost powder sticks are filled with electrolytes, zinc, vitamin C, and elderberry to help travelers feel more assured of their health while on the move. And of course, there are classics like Airborne and Emergen-C if you don't need the bells and whistles.
Pro Tip: Supplements are never a substitute for caution and science. They're enhancers, which means that they can provide help, but their benefits are not necessarily FDA proven.
Breathe Easier $7.99 and up
Between COVID and other important headlines dominating news in 2020, being able to breathe well has never been more important. Boost Oxygen portable oxygen is designed to help folks do exactly that as it provides respiratory support in the form of 95% pure oxygen—an astounding percentage compared to the 21% oxygen found in the air around us. As you may know from the oxygen bar craze that popped up on resorts and at hotels we sold only a few years ago, supplemental oxygen is awesome for recovery for athletes, senior citizens, post-partiers, and those at high altitude. Today, this is a great solution for those who are nervous about being away and experiencing shortness of breath, since it can play a role in first aid and resuscitation, as well as help COVID-vulnerable populations, such as chemotherapy patients and asthma sufferers, breathe easier in every sense.
Pro Tip: Boost is made with 95% Aviator's Breathing Oxygen, which is different from prescribed Medical Oxygen. That stuff is rated at an over 99% concentration and should be reserved only for healthcare provider use and under their guidelines and supervision. And although it can be of help and provide a type of safety net for those concerned about breathing, like other supplements and aids, its benefits aren't FDA-evaluated nor are they promised miracles.
Hands-Free Snacking $18.95
Using your hands to eat while you're on the move isn't exactly sanitary during normal times, so during these "extraordinary" ones, where you may even have trust issues with utensils, inventions like The CrunchCup® are to-go must-haves. Specifically invented for cereal, the ultimate quick breakfast solution, this keeps your milk and cereal separate and allows you to eat a portion-controlled "bowl" of your favorite one without ever touching it. This means no need to pack a spoon, find a disposable one, or letting the kids shovel it straight out of the box on those road trips we're all taking, which leads to dirty hands and germ transmission. Leave out the milk and you can "drink" up your favorite dry snack, too, without having to touch a thing … except lives around the world: 5% of this company's annual profits are donated to help end world hunger.
Pro Tip: Worried about the consequences of leaving milk in your CrunchCup®? It's dishwasher safe and won't hold onto odor since it's made of durable, BPA-free Tritan plastic that's been tested to survive being run over by a Prius (seriously). It comes in a bunch of whimsical colors—bright pink, bold yellow, and a light cyan—and can be part of a great road trip essentials basket, with games as well as cereals and snacks. Complete the kit with Smelly Proof bags to bring your trusted, clean, home-sourced treats with you and keep your car from taking on that road-trip stink.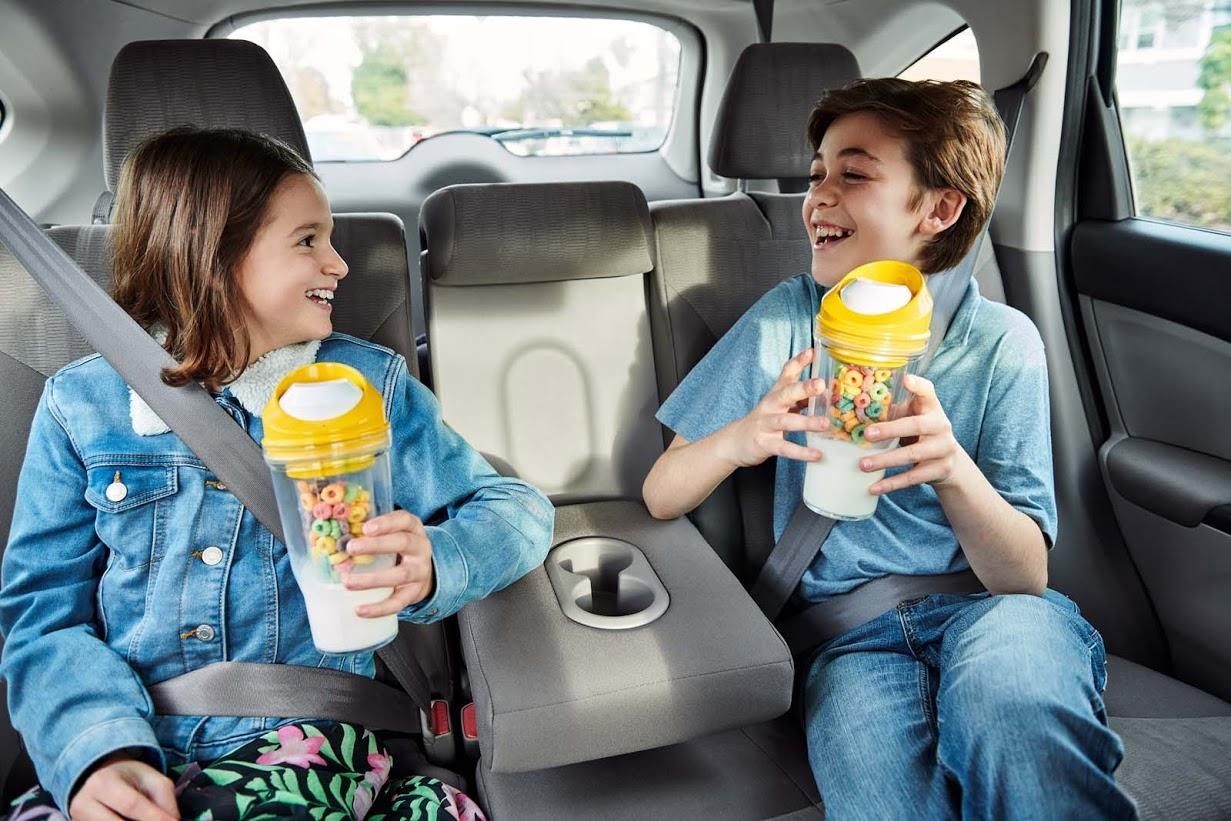 Peace of Mind & the Freedom to Change $59.99 and up
"Stuff" aside, for anyone planning to get away in the near future, there's no better gift than that of the safety and security ALG Vacations'™ Travel Protection Plus with Cancel for Any Reason can provide. There's no better way to thank the faith customers are putting into you, us, and our industry than perhaps tossing this trip insurance toward their package. ALGV is one of the only brands still offering Cancel for Any Reason coverage, and we're supplementing it with up to $50,000 in medical coverage; emergency evacuation; trip interruption and travel delay reimbursements; hurricane protection and credit; travel accident; and more. Plus, we boosted our offer with a low price guarantee and eliminated first-instance brand change fees and brand cancel fees.
Pro Tip: Three refund options and pricing tiers let customers decide the combination of investment and return that works best for them. They can pay less per person for the travel voucher-only package; a little more to have it split between voucher and dollars paid; or get a full cash refund with the slightly more expensive choice. Either way, they can cancel up until the time of scheduled departure for something even as minor as a broken nail or a case of the "I don't wannas." Best of all, no matter what they do, your commission is protected—up to $200 per booking with the voucher only TPP.