Where in the world should out-and-proud travelers jet to for the beach vacation of their dreams? Keep reading for answers.
There are a few truths that are universal, and speak to all of us in one way or another. "Love is love" is one of them; it's a force beyond any control. Another one? That we could all use a beach vacation. Gay, bi, trans, straight—no matter our sexual orientation, we are tired and a week or more of ocean views, toes in the sand, and watercolor sunsets are no less than all of humanity deserves right now.
Fortunately, this beautiful planet has plenty of places that will fit that bill. Now that travel is opening back up, it's time to make up for lost moments. Here are the ALG Vacations® top picks for LGBTQ travelers (paired with insider recommendations travel advisors can book through VAX VacationAccess!) … and allies who want to support destinations who welcome all with open arms.
Cancun, Mexico
The Hotel Zone of one of the world's most famous white-sand beach getaways is known as vacation central for couples, families, groups of friends, incentive groups, and spring breakers. Because if there's one thing this destination doesn't do, it's discriminate! Any and all types of travelers are welcome in this region designed specifically for global tourism. The entire area is gay-friendly, but for a higher concentration of LGBTQ folks, check out Playa Delfines to see and be seen. It has rougher waters that are good for surfing, but it's well-known as a sunbather's haven.
Recommended Resorts: Check out the Coral Level at Iberostar Selection Cancun, a new, chic, adutls-only tower right on the beach facing the Caribbean. It shares facilities with the Iberostar Selection Cancun next door (so make sure you're clear with your agent which property you want!), and offers unobstructed views as far as the eye can see. Another similarly stylish all-inclusive on this strip is Secrets The Vine, a wine-inspired high-rise with ocean and lagoon views from every room and a rooftop pool for Preferred Club guests. Don't miss the fitness center at this one—it's spacious with floor-to-ceiling windows for a truly "uplifting" workout.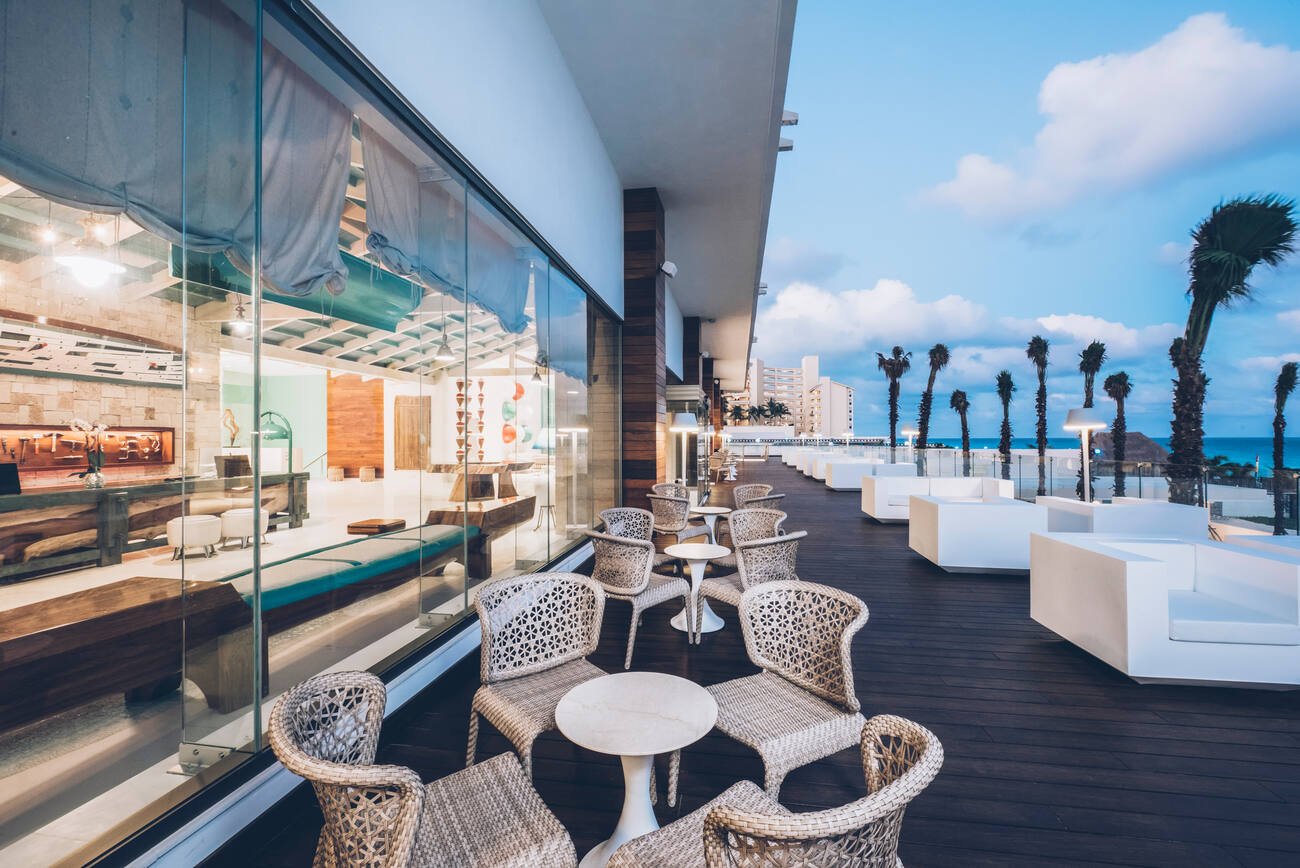 Riviera Maya, Mexico
For something a little more genteel or quietly posh, venturing just outside of Cancun's Hotel Zone offers plenty of reward. While downtown CUN offers urban nightlife, Riviera Maya's resorts are whole-world havens, with on-site entertainment and luxurious digs spread out across spacious grounds for privacy, romance, and general quality time.
Recommended Resorts: The Gourmet Inclusive® El Dorado line of resorts and spas by Karisma are outstanding picks for well-heeled couples and are scattered throughout Riviera Maya. If you're looking to get more serious with your honey, consider the Valentin Imperial, which is proud to offer offers same-sex weddings, and experienced with them, too. But for a party before the party, you can't go wrong with Breathless Riviera Cancun, a dynamic, sexy, and trendy Unlimited-Luxury® resort that encourages getting a little naughty.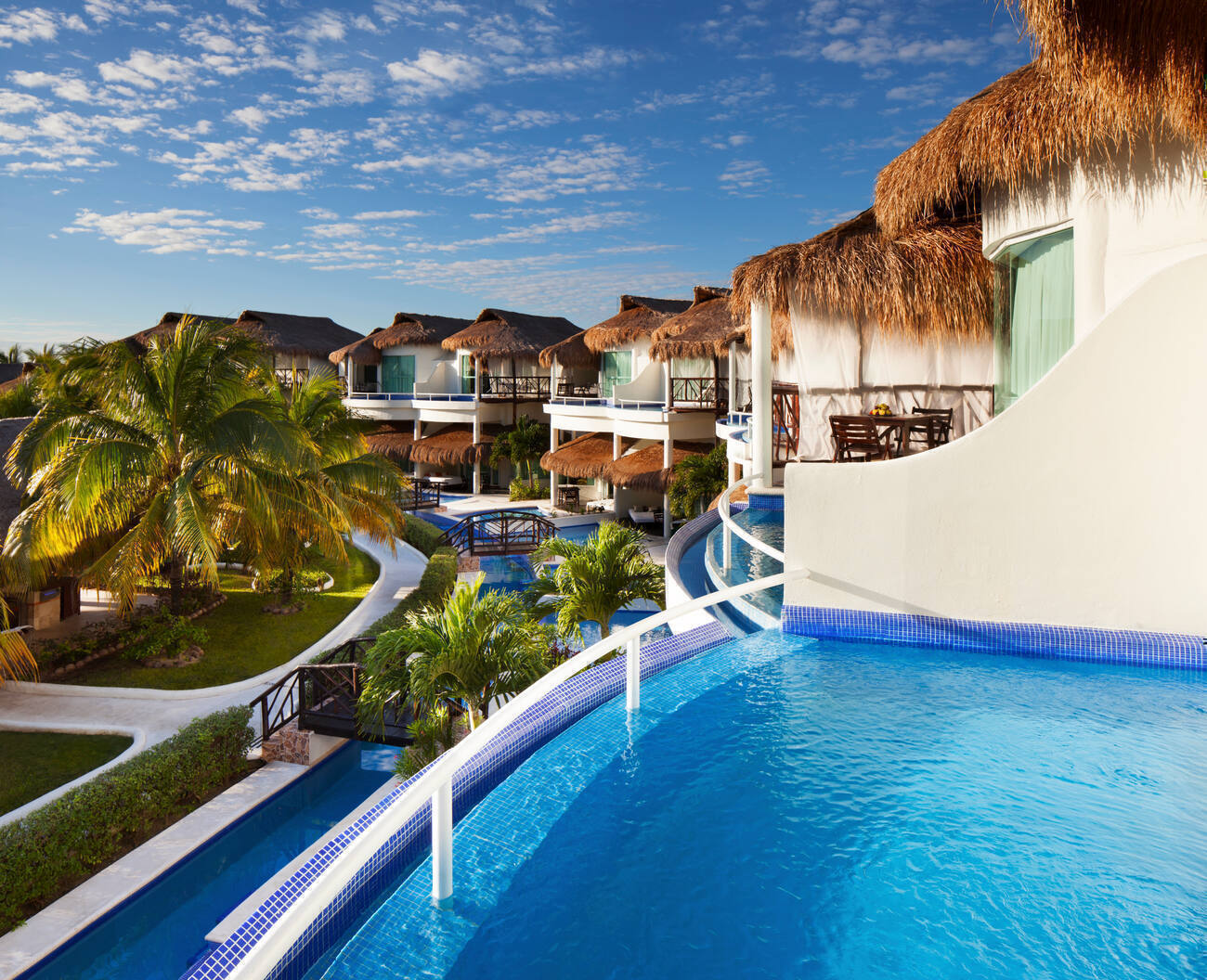 Puerto Vallarta, Mexico
It's been decades since this destination has become one of the best resort town destinations for gay vacationers, and all of the other colors of the Pride rainbow have followed. The Romantic Zone is a particular hot spot for couples of all kinds, and is part of the biggest gayborhood in Mexico. Bars, clubs, and restaurants keep things popping, but the south end of Playa Los Muertos is another great place for LGBTQ diversity.
Recommended Resorts: Like anywhere on Mexico's coastlines, there are so many terrific resort options for all-inclusive beachfront luxury—this country just nails it. Casa Velas Puerto Vallarta is one such resort, with a boutique style that puts you right on top of an impressive marina and15 minutes from the city center and its mile-long boardwalk. Secrets Bahia Mita Surf & Spa Resort in Punta Mita is a highly anticipated addition to this region, and gives you access to family-friendly Dreams Bahia Mita next door, too. For something more casual but gay-only, Blue Chairs Resort by the Sea is a popular stand-by.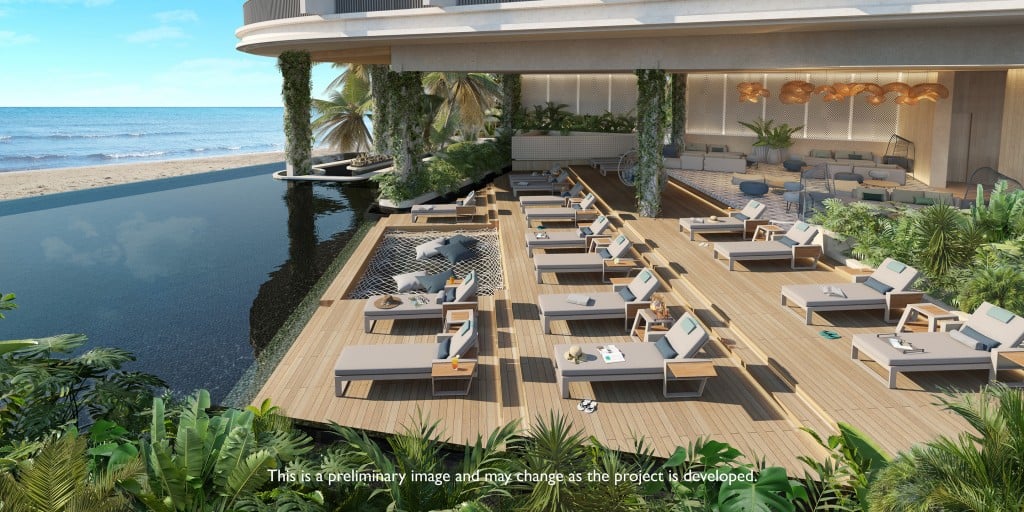 Curacao, Caribbean
This cheerful Dutch island doesn't just have a more tolerant outlook than some of its colonial neighbors—it fully embraces the diversity of its residents and guests. In fact, Curacao hosts one of the few Pride celebrations in the Caribbean, and if you're worried you missed it, fear not. Theirs is in early autumn, so you're not too late! Year-round, the lively capital of Willemstad has clubs like Cabana Beach, which hosts several gay events. Fellow ABC Islands Aruba and Bonaire join this hurricane-proof destination as welcoming to LGBTQ visitors, too.
Recommended Resorts: Dreams Curacao Resort, Spa & Casino is probably the most Caribbean-feeling property of that line in the Inclusive Collection, part of Hyatt Hotels and Resorts, and is conveniently just 15 minutes away from the airport for an instant transfer to vacay-vibes. If it's the city center you want, think about booking Renaissance Curacao Resort and Casino in downtown Willemstad, which may not be all-inclusive but more than makes up for that with a private elevated beach and all of the capital's restaurants and bars just outside the doors.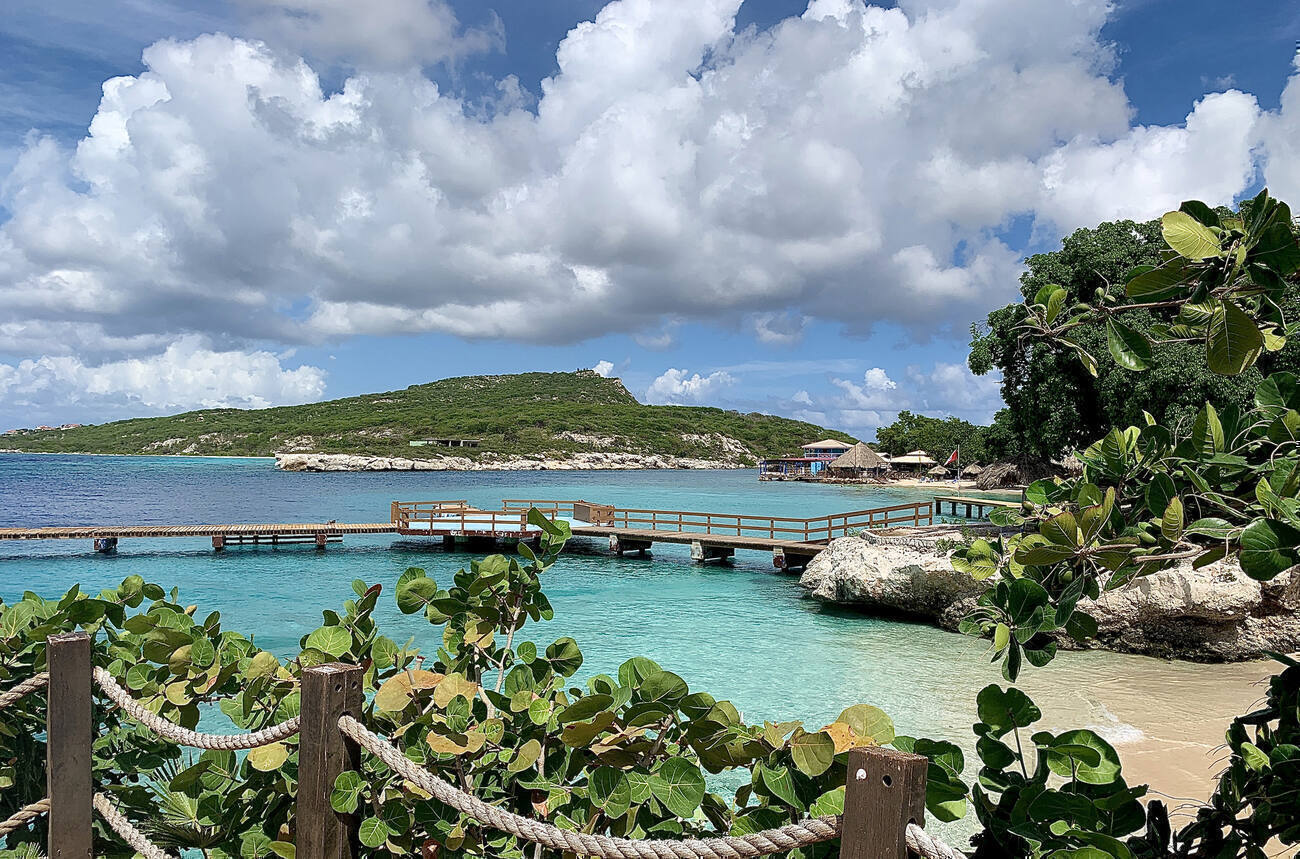 St. Bart's, Caribbean
Ahead of the American curve, same-sex marriage became legalized in this stylish, classically glamorous Caribbean island in 2013 when France passed the legislation abroad. Granted, the entire area is only ten square miles, but this banner achievement was a big win for LGBTQ rights in the conservative Caribbean. As a playground for Hollywood elites and international influencers looking for low-key, quiet breaks, the visibility of this freedom and the social clout of this island shows that every inch of hard-won progress is important. Check out clothing-optional Saline Beach for even more freedom to just "be."
Recommended Resorts: Just because the island is small doesn't mean you won't have some good choices here. Take a look at Le Barthelemy Hotel & Spa for contemporary elegance by Grand Cul de Sac; Hotel Villa Marie Saint Barth if you prefer to be closer to Gustavia Harbor; Christopher Hotel if you like a chic feel; Hotel le Toiny for a light, bright, and airy stay; and Hotel Manapany for more of an island feel.
St. Martin/St. Maarten, Caribbean
Two sides, two cultures, two languages … one government stance on LGBTQ acceptance. As if this half French and Dutch island didn't have enough going for it, what with its majestic mountains, duty-free shopping, nostalgic casinos, and scores of beaches! Speaking of which, famous Orient Bay Beach and Happy Bay Beach on the French is where you'll want to see and be seen on the French side, while Cupecoy Beach is an LGBTQ haven on the Dutch. At night, check out Eros Club in Marigot—it's small, discreet, chill, and the only gay entertainment club on the French side.
Recommended Resorts: The Sonesta Ocean Point is a great resort-within-a-resort experience, giving you access to everything at Sonesta Maho Beach Resort but keeping all of your upscale extras exclusive. The private Edge pool with a mini beach, upscale bars, and their excellent Azul restaurant are definitive upgrades from the base resort. Newer still is Secrets St. Martin Resort & Spa, whose Unlimited-Luxury® has wowed since its grand opening as the first and only all-inclusive on the French side of the island. Belmond La Samanna is also highly recommended for more established luxury.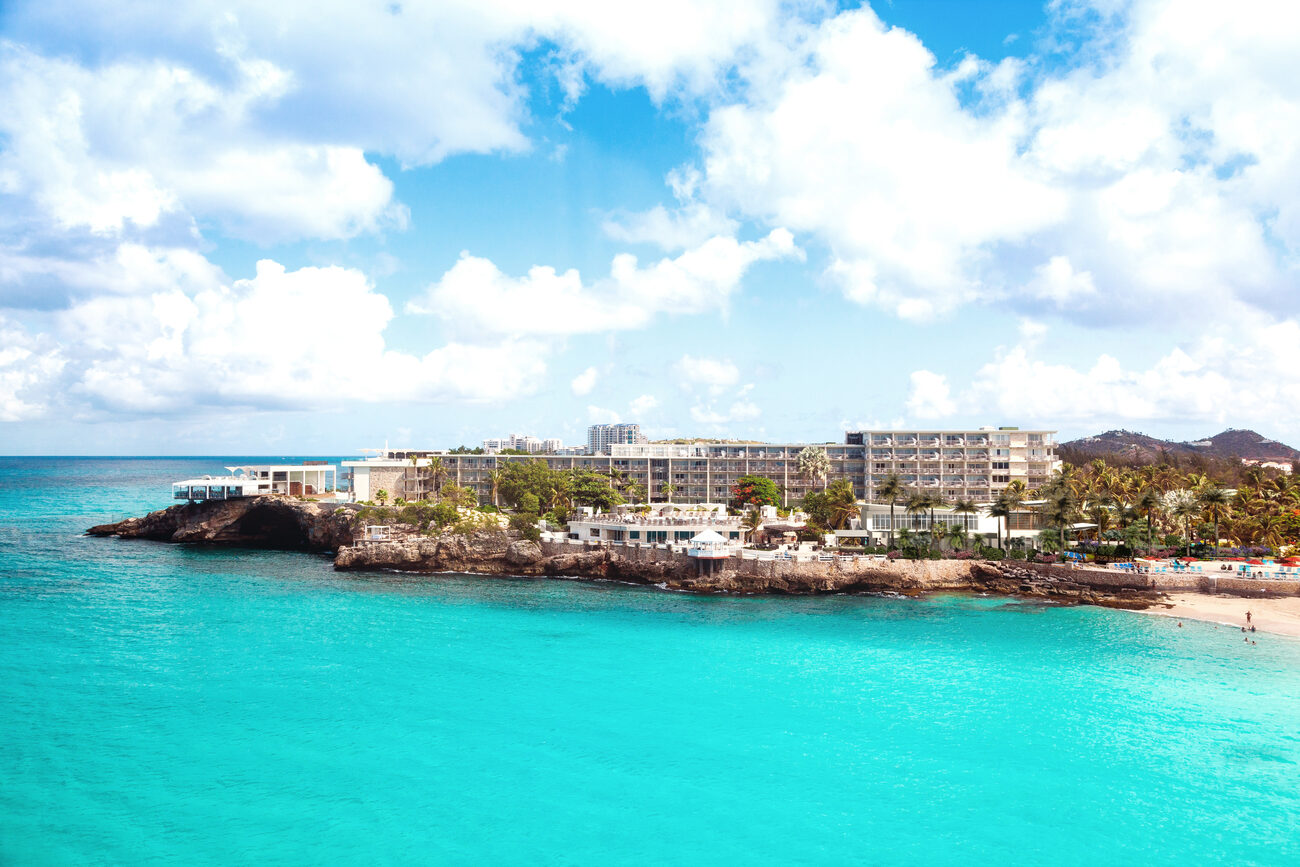 Manuel Antonio, Costa Rica
Volcanoes aren't the only thing that's hot in this area of Costa Rica—it's also host to a thriving LGBTQ scene. Playita Beach (also known as Playa Dulce Vita) is an open-secret stretch of the region's most popular beach, Playa Espadilla, and a quiet haven for LGBTQ visitors. It's located just over the large rocks heading north of the main strip. Folx also love private, hard-to-get-to Playa La Macha, where clothing is optional and crowds barer than any skin y
ou'll see.
Recommended Resorts: It's tough to beat Hotel San Bada for proximity—it's literally steps from Manuel Antonio National Park and just a minute from Manuel Antonio Beach. If you want to be near to the park, we also suggest Gaia Hotel and Reserve, which is adults-only. For something more upscale, think about going to the other side of the country. All-inclusive Planet Hollywood Costa Rica is wow-worthy on a black-sand beach, and Secrets Papagayo Costa Rica is also in Guanacaste. Just be aware you'll be hours from Manuel Antonio, though, so expect more seclusion but more luxury.
Rio de Janeiro, Brazil
Beautiful beaches, beautiful bodies, and a beautiful attitude, with GLS as their common acronym for Gay, Lesbian, and Sympathizers—what more could you ask for in an exciting beachside gaycation? On famous Ipanema Beach, find your VIP LGBTQ section on Rua Farme de Amoedo, with the start of the area immediately identifiable by large rainbow flags. Club promoters frequent this spot, too, so you can easily plan out your night from your day. Then there's Bolsa in front of Copacabana Palace, a favorite among transgendered folx. Share your space with said "sympathizers" at the more removed Reserva in Barra da Tijuca and nudists at Praia do Abrico. The only thing they're intolerant of there is taking pictures of fellow free spirits.
Recommended Resorts: If you can't stay in the heart of the action, Copacabana Palace, be on the beach at Hilton Rio de Janeiro Copacabana, whose outdoor pool overlooks the sands and beachside service make you feel a queen no matter your orientation. We also like the JW Marriott Hotel Rio de Janeiro as a beachfront option, where you can be above it all and within it all at the same time, via their Moonlounge Rooftop Bar & Truck, featuring international street food.
Barcelona, Spain
Yes, the Catalan capital of Barcelona is one of the most exciting cities in Western Europe and an important urban hub for Spain. But did you know it's also on a beach? And a beautiful one, to boot! There are plenty of gorgeous hotels on the shores, but also a boatload of accommodation options and activities just minutes away in the posh Eixample district, affectionately nicknamed Gaixample. Even closer to the beaches is the famous Las Ramblas and Barri Gotic neighborhood. Best of all, the city is notably progressive. It legalized homosexuality way back in 1979 and gay marriage in 2005, becoming the third in Europe to do so.
Recommended Resorts: The dramatic sail-shaped W Barcelona on the Barceloneta Boardwalk was designed by world-renowned architect Ricardo Bofill to create a glamorous, best-of-all-worlds travel experience. Not only is it the only resort directly on the beach, but every room makes sure you don't forget it, with views over the Mediterranean Sea and the city of Barcelona. Then literally on top of that is a rooftop bar.
Ibiza, Spain
One of the Balearic islands off the coast of Spain, this small but hard-partying haven is actually one of the most popular gay travel destinations in all of Europe. Its nightlife is legendary, with so many bars, dance clubs, and events for all, plus a plethora that cater to an LGBTQ crowd. Ibiza Town is the heart of the action, and diverse Ses Salinas is popping with beach bars. Toward the south is gay beach Es Cavallet, and couples may also also love Port Des Torrent. On the other hand, if you need a break, sunbathers who need R&R prefer Figueretes.
Recommended Resorts: Did you know that the Inclusive Collection recently expanded into Spain? While Secrets Resorts & Spas can be found in Mallorca, you can also book AluaSoul Ibiza to experience another Hyatt brand.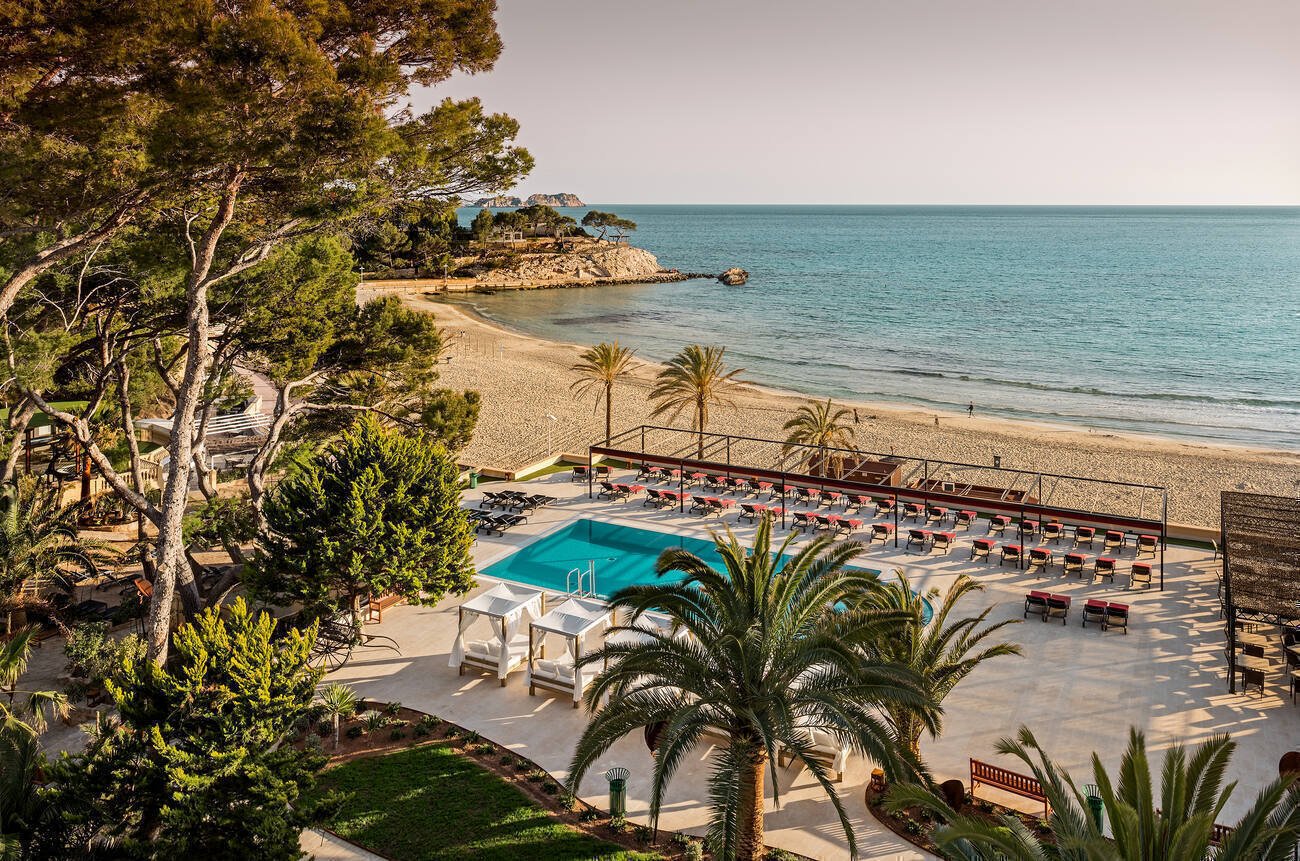 Mallorca, Spain
Another Balearic Island, this destination is often named in the same breath as Ibiza. It's got a force of its own, though, and hosts one of the biggest international lesbian festivals in the world at the end of the simmer. It's called ELLA and is only one of the LGBTQ-focused activities in Mallorca. The rest of the season, you can go bar and club-hopping in Palma, and there are even gay bars with cruising areas, such as that in XY, home of the island's "best gay after-party," Sala Secreto. Smaller, unspoiled hidden towns lie just beyond, though, so venture out for a change of pace.
Recommended Resorts: Stay at one of the first Secrets Resorts & Spas in Europe, Secrets Mallorca Villamil Resort & Spa. Same as its brethren on the other side of the world, this adults-only romantic resort is on a peaceful beachfront. What's different is its castle-style design, for a real taste of grandeur just a short 20-minute drive away from the action. But in the heart of the action, there's AluaSoul Palma.
Mykonos, Greece
A classic gay hot spot, known as a bastion for this community since the 1970s, Mykonos is still one of the preeminent LGBTQ destinations in the world. It's a safe haven with very few taboos, simultaneously cosmopolitan but unpretentious. For these reasons, millions of tourists fulfilling the different letters of the acronym—in fact, it's also been called "The U.N. of gays"—flock to this beautifully preserved island, whose scenery looks plucked right out of the 18th century. Home of the classic whitewashed buildings, thatched windmills, and cerulean blue seas and roofs, this island in the Cyclades is iconic but not stereotypical, offering such Pride points as the most gay-friendly beach in the Mediterranean, Elia Beach, and Super Paradise, for those who want to party. Hang out in Chora, the main town, to be in the heart of the action.
Recommended Resorts: Boutique properties Greco Philia Hotel and Myconian Panoptis Escape—among the Small Luxury Hotels of the World—make it so you don't have to choose between Mykonos and Santorini for that Greek Island vibe—their elevation and infinity edge patio over the sea bring you to that other popular isle while the architecture and design keep you on firm footing on the flats of Elia Beach. For uber-luxury with a Greece-meets-Cabo aesthetic (you know; that upmarket resort feel), we recommend Myconian Utopia Relais & Chateaux. We also love Myconian Avaton – Design Hotels for breaking up the white-and-blue motif of the island to bring in pops of red and gold. It's a little more of a drive, but we like having a reason to explore.
Nice, France
Paris may be the most visited city in France for LGBTQ tourism, but its number two has it beat by one major detail: Nice's beaches. Coco Beach and Castel Plage are specifically known as gay beaches along the Cote d'Azur, but venturing just outside of town leads to two more with that designation. Within the city are more than 35 gay-specific outlets alongside the famous flower market, and the annual Pink Parade, their version of Pride, brightens up the landscape even further.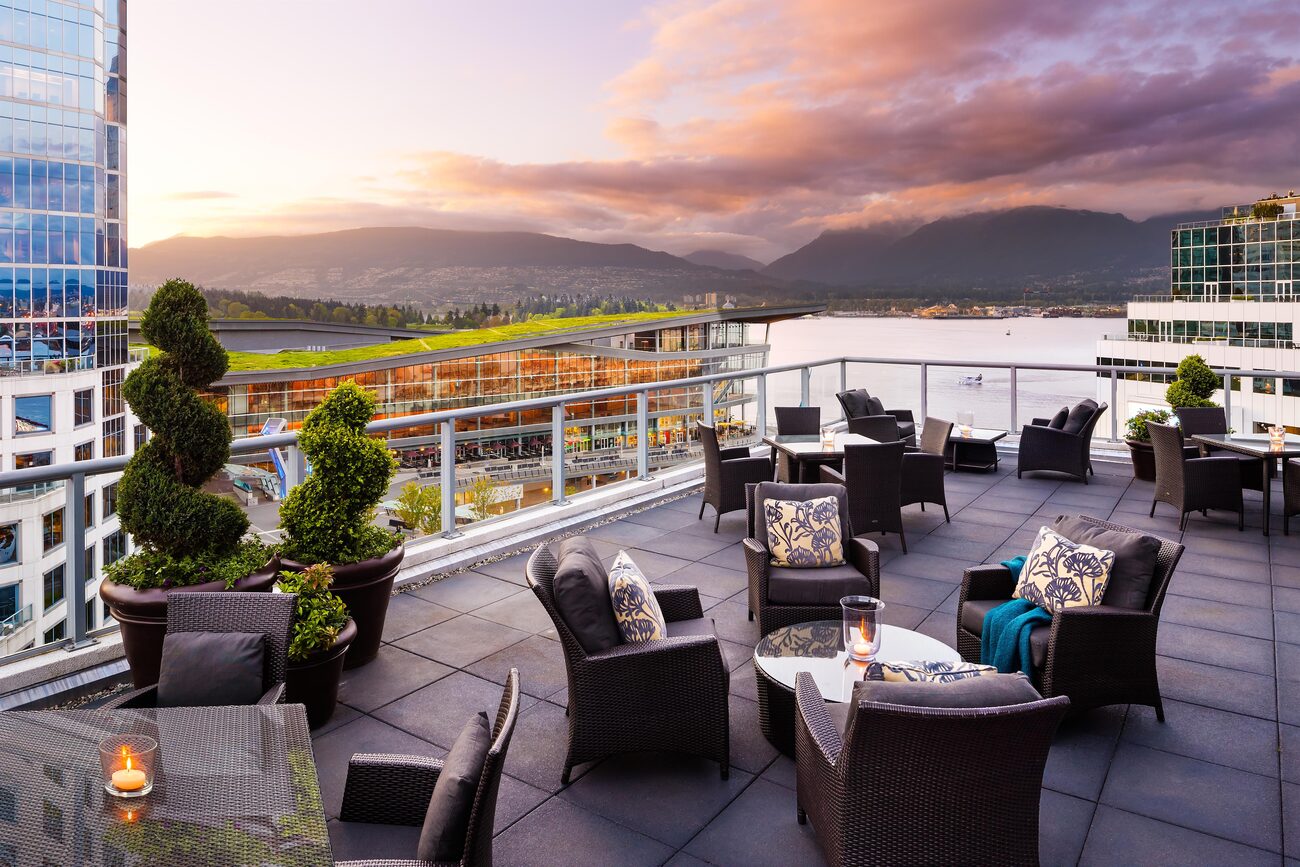 Vancouver, Canada
Fabulous shorefronts aren't reserved for southern climes only—friendly Canada's beaches are nothing to sniff at. Vancouver is rife with beaches, and the ones the LGBTQ community prefer include Sunset Beach, nudity-permitted Wreck Beach, and English Bay Beach on the West End. The latter is most convenient to Davie Street Gay Village, where former businesses have included Dino's Turkish Baths and the city's first drag bar, BJ's. Visit Vancouver Heritage Foundation-honored Celebrities Nightclub, The Junction, Numbers, and Pumpjack Pub to keep your money—and your fun—in the community.
Recommended Resorts: The Fairmont hotels in Canada tend to be particularly special, and multi-million dollar renovated The Fairmont Waterfront is no exception. We love that this fancy high-rise is next to an enclosed walkway that leads to the convention center, but even more that it's got water and mountain views all around it to remind you that there are beaches just around the corner wherever you are in the City of Glass.
Looking to stay stateside? Here are our most LGBT-empowering cities in the U.S. Plus, a round-up of our favorite American beach destinations for the out and proud is in the works, so stay right here on TravelBlogue!