With full-kitchen accommodations and private chef services available, there's no reason why you can't celebrate a home-style holiday in luxurious vacation style.
Especially in light of the restrictions of the last few years, gathered holidays with the family feel even more precious. The image of home-cooked, fresh feasts with all the traditional fixings and some new treats, all before loved ones gathered around a big table, is particularly meaningful.
But just as strong is the pull to escape. Many of us are tired of being stuck close to home, and are ready to fly again. Nothing feels more celebratory than getting away.
So how can we appease both urges this holiday season? The answer: a home-away-from-home experience.
We know this phrase is used flippantly at times in travel, but what we mean by this term right now are luxurious, spacious settings fit for even extended families, with full kitchens that allow you the freedom of making a just-like-home holiday feast … or professional private chef services that will do you one better.
The Fives Beach Hotel & Residences
With four penthouse configurations per building, plus expansive three-bedroom suites, these truly are residences. Separate, fully furnished living rooms and a formal dining area make each even more homelike, with welcoming spaces to gather indoors in addition to the amazing private, furnished rooftop deck just upstairs. There, you'll find a jetted tub, dining table for six, loungers, a pergola, and barbecue grill.
But for the holidays, what's most important is the latter … and the complete kitchens in this room category. Grill, roast, bake, or do all of the above for your family holiday meal. Eat it alfresco overlooking the gardens and pools, or in the privacy and comfort of the dining room. Or, allow arrange private in-suite chef services with their concierge, and do nothing but kick back and relax.
Disney Villas
As a self-contained "world," Walt Disney World has a plethora of options when it comes to accommodations. And luckily for families, that means home-like digs in a variety of themes to suit all … including those looking to recreate their famous holiday specialties while away on vacay. The good news is, the majority of these options are at the more affordable resorts.
Disney's Wilderness Lodge's Boulder Ridge or Copper Creek sections; Disney's Beach Club Villas; Disney's BoardWalk Villas; Disney's Animal Kingdom Lodge (Jambo House and Kidani Village, specifically), Disney's Saratoga Springs Resort & Spa; Disney's Polynesian Villas & Bungalows; Bay Lake Tower at Disney's Contemporary Resort; and Disney's Old Key West Resort all offer one- and two-bedroom units with full kitchens. Just make sure you choose the villa options and not the suites to ensure that you get a total kitchen versus a kitchenette.
Speaking of villas, if cost is less of a factor, upgrade to The Villas at Disney's Grand Floridian Resort & Spa. Those gourmet kitchens are a treat. You'll get a lot of use of any of these kitchens since car rentals are easy to come by in Orlando (ALG Vacations® offers this with our packages!), as are grocery stores, which means getting the goods will be just as easy as doing so at home.
Atlantis, Paradise Island
Just like at Walt Disney World, Atlantis, Paradise Island is a bubble in and of itself. There are six different resorts on the grounds, but for families who are split between wanting a home-cooked holiday and one that puts them in the thick of the world's largest, most exciting aquatic theme park in the world, there's only one clear choice: The Reef.
This building offers two- and three-bedroom penthouses with commanding views of the Caribbean Sea that sleep up to six adults and ten adults, respectively. These enormous accommodations are bigger than some homes, maxing out at 3,100 square feet. The wraparound terrace that surrounds them further increases your living space. Plus, they come with the services of a 24-hour butler! This butler can help you get stocked up to cook in the lavishly equipped kitchen, where you can prepare a just-like-home meal in someplace better than home.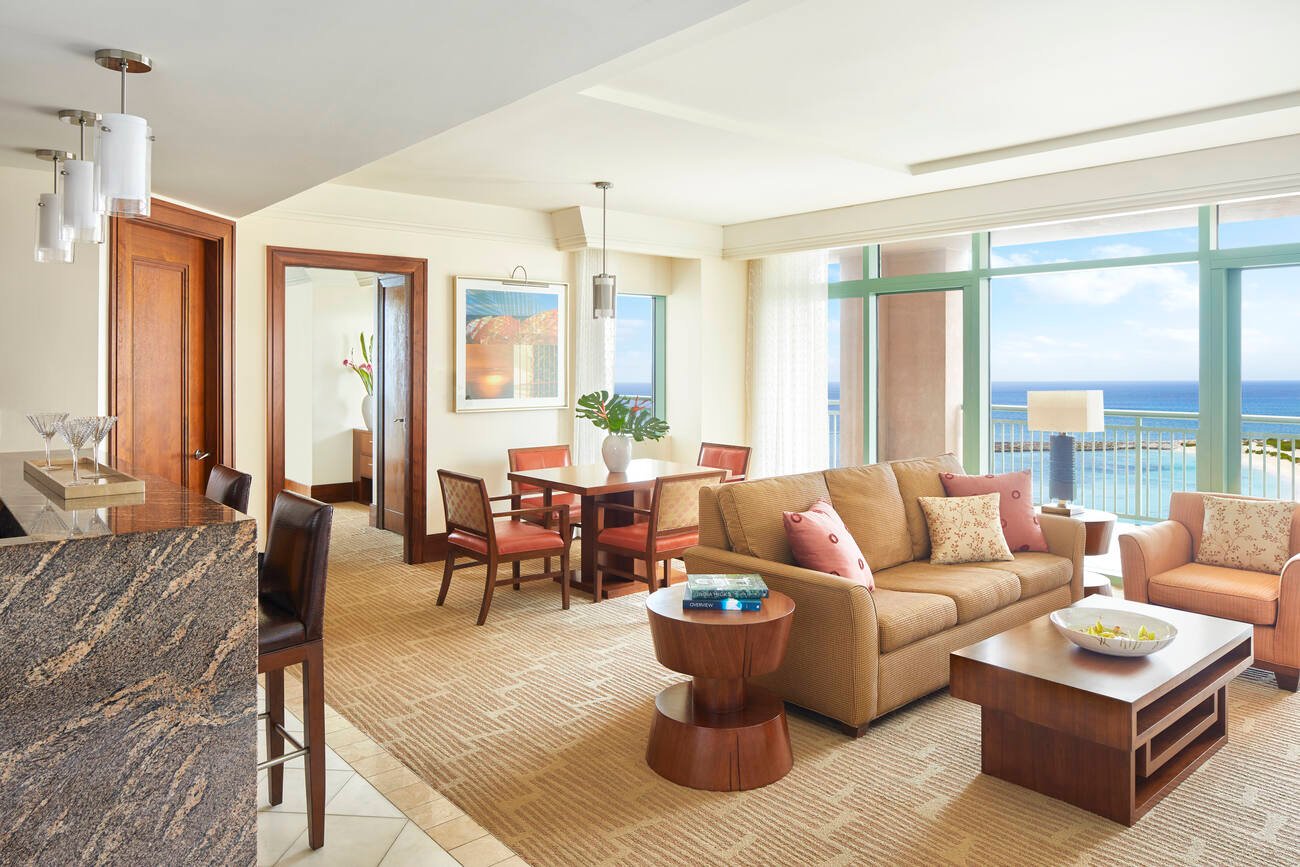 Live Aqua Private Residences
Looking for a refined holiday table, where relaxation is a greater focus than novel environs? Then this brand might be right on-brand for you. The largest resort accommodations in Los Cabos, these sumptuous, contemporary residences have full updated kitchens stocked with plates and dishes for up to ten guests. In fact, the standalone four-bedroom options sleep up to 11 adults, with room to spare at a whopping 3,713 square feet on a single, easily accessible floor.
If Puerto Vallarta is more your speed, there's a Live Aqua Private Residences there, too—in Marina Vallarta, specifically. It's just steps away from the heart of the city, giving you a real, intimate perspective of the destination to make it feel even more like you're living there. The full open kitchen of the two-bedroom condo not only has tableware for six, but also a grill and toaster in addition to the oven, range, fridge, microwave, and dishwasher that are essential to your holiday cooking.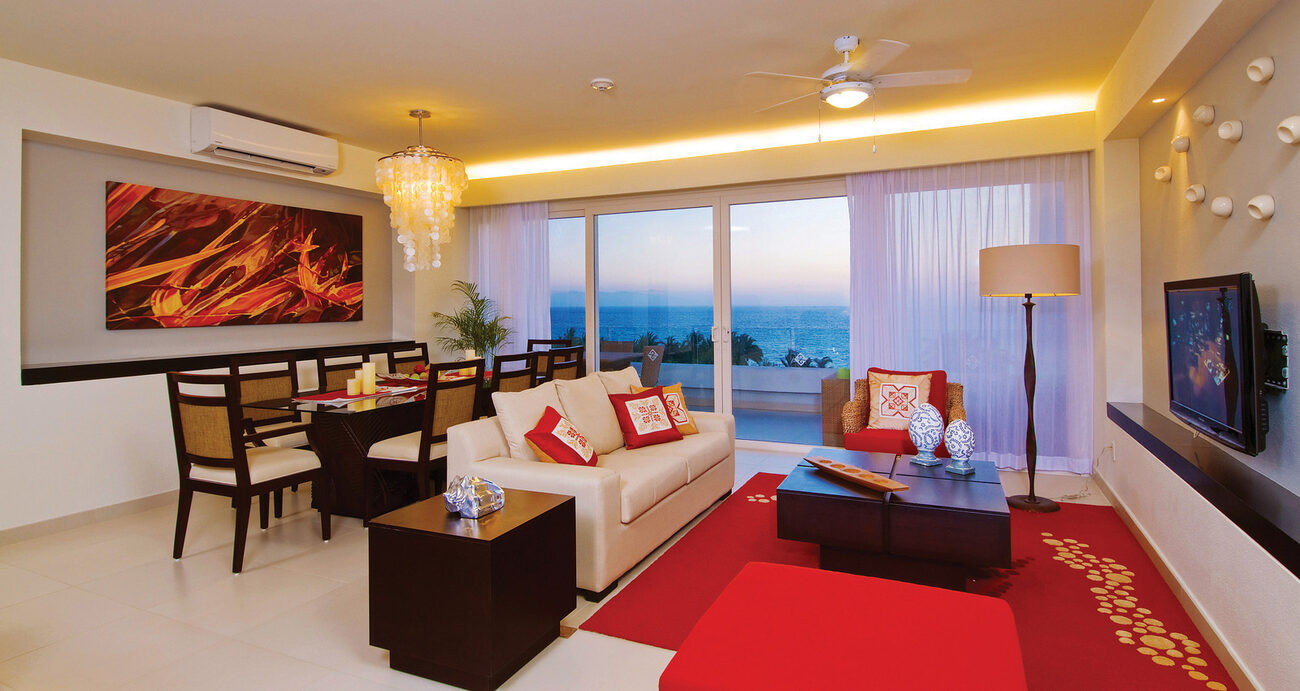 Marival Distinct Luxury Residences
Also on the West Coast of Mexico, in Nuevo Vallarta in Riviera Nayarit, this brand offers luxury living in one- to three-bedroom configurations. Even the "smallest"—a term we use loosely, considering the one-bedroom still clocks in at 1,410 square feet—has a separate dining room, living room, and complete full-sized kitchen. And the appliances aren't the only high-end detail in that room. The dinnerware in the cabinets are made of china, the glassware is fine, and the silverware is high quality.
Better still, you have options here. An all-inclusive package is available at this property, despite all the trappings of home, so if you decide last-minute that you don't really want to make that big dinner … you don't have to! There are five restaurants you can outsource the kitchen and clean-up duties to, right on site. You can even venture out to sister property Marival Emotions Resort & Suites, a short two-minute ride, to partake in six other restaurant choices and seven bars, fully included.
Outrigger Hotels & Resorts Vacation Condos
Whether you're going to Maui, Waikiki, or anywhere else in Oahu, this historically Hawaiian brand has families who want to go whole hog on the holidays covered. This line of residences offer condo-style living, which means full updated kitchens. In Oahu, Waikiki Shore by Outrigger offers spacious one- to two-bedroom ocean view or oceanfront units, and one-bedroom parkviews; the Regency on Beachwalk Waikiki by Outrigger gives you a choice of city or partial ocean views.
In Maui, more choice abounds. Gold Villas in The Kapalua Villas Maui have had all their kitchens recently remodeled, as well as their entertaining and dining areas, and their configurations extend to three bedrooms. Also providing up to three bedrooms are the contemporary suites at Honua Kai Resort & Spa. There's also the Kaanapali Maui at the Eldorado by Outrigger, Palms at Wailea by Outrigger, Aina Nalu Lahaina by Outrigger, and Royal Kahana Maui by Outrigger, which have up to two bedrooms per unit.
And let's not forget Kauai and the Big Island. At the former, your pick of three properties with full kitchens include two-story two-bedroom units at Kiahuna Plantation Resort Kauai by Outrigger, Lae Nani Resort Kauai by Outrigger, and gourmet upgrades like Wolf cooktops, convection ovens, and a Sub-Zero fridge at Waipouli Beach Resort & Spa Kauai by Outrigger. On the main island, The Fairway Villas Waikoloa by Outrigger has granite counters and ceramic cooktops, if that's your comfort, and Halii Kai at Waikoloa Beach does both in expansive spaces—even a loft. Finally, there's Royal Sea Cliff Kona by Outrigger and Kanaloa at Kona by Outrigger to round it all out.
Plus, ALG Vacations® brands all offer car rentals throughout the state of Hawaii to make getting your ingredients list fulfilled just a scenic drive away.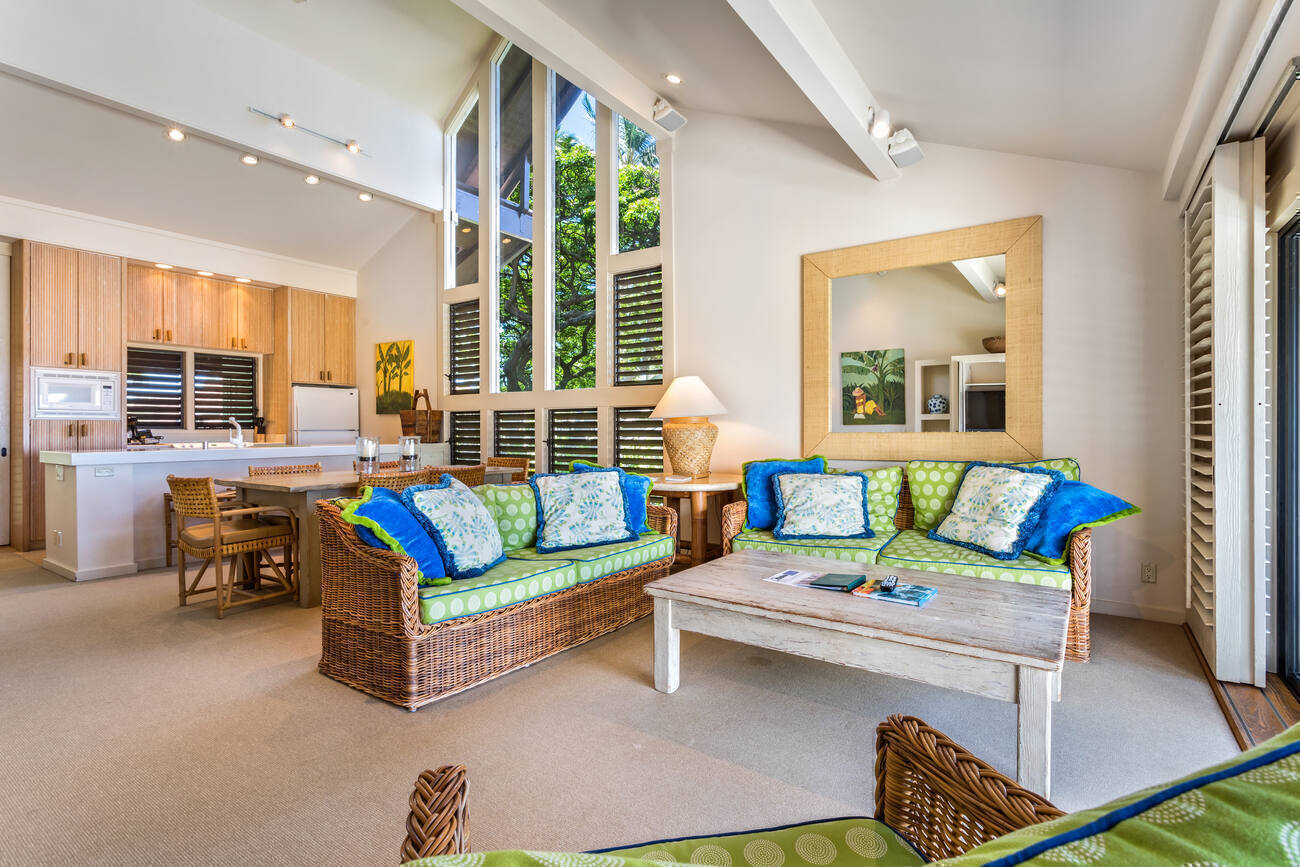 Impression™ Club at Zoëtry Paraiso de la Bonita
"Home-cooked" doesn't have to be taken literally. It doesn't even necessarily have to be made at your home to qualify, and who says it has to be by your hands? Because holiday meals are honestly about the cozy gatherings and the time spent around the dinner table … and having a personal chef only gives you more of that.
This boutique, upscale wellness resort offers the services of an on-demand private chef in the Red Kitchen as a premium inclusion, in addition to butler service, giving your family's favorite traditional dishes a gourmet spin. Your child's favorite dish that's a tremendous pain to make? Not your problem. Your partner's dietary restrictions to account for? Leave that to someone else. Unwieldy mains and botched butchering? Not this year! This option gives you all the holiday trappings without the shopping, cleanup, or fuss, but with all of the long, late nights of laughter. Endless Privileges® indeed.