Nothing goes better with a pristine oceanfront than all-inclusive service.
Seas of sparkling topaz. Soft, sugar-fine sands in shades of pearl and gold. Awe-inspiring sunsets that cut across the sky like fire opals. The beaches of the Caribbean are more perfectly crafted than the finest gems, pristine paradises that can fill you with peaceful happiness as easily they take your breath away. Some of the world's most famous coastlines call this region—one of the most visited on earth—home … as do a comprehensive collection of all-inclusive resorts from which to enjoy them.
Complementing sun and sand with exceptional service, these properties are the ultimate gateways to beaches as beautiful as you could ever imagine, proving that you really don't have to go far to find the exceptional—or a vacation you're "shore" to remember.
ISLANDS OF THE CARIBBEAN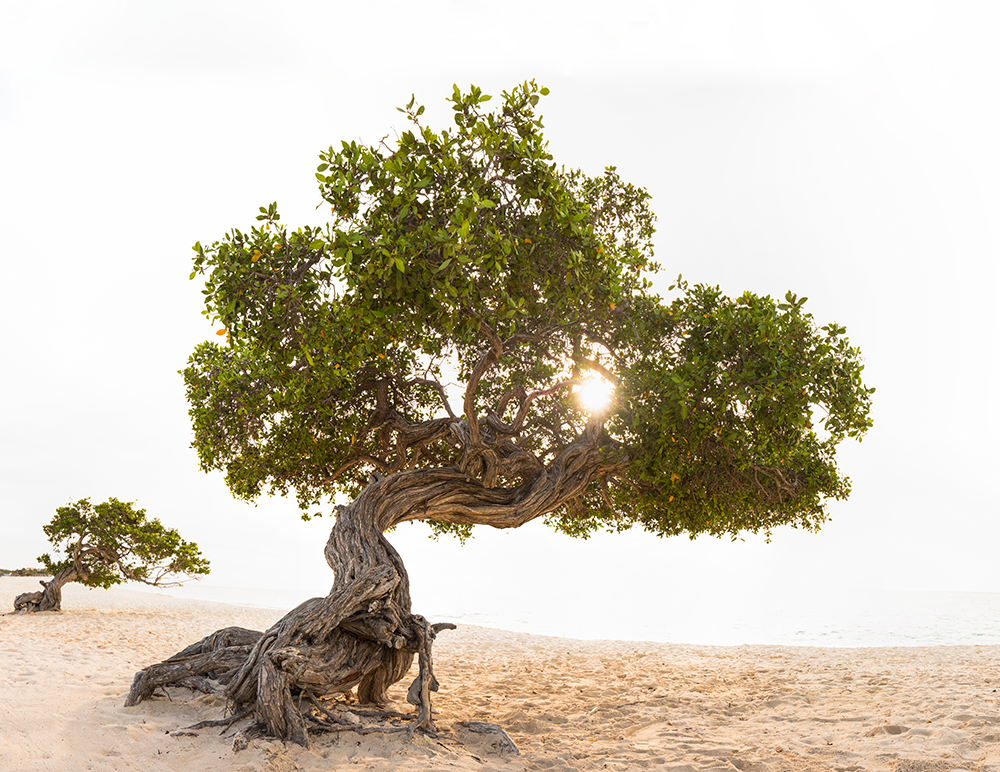 Aruba: Eagle Beach
On an island known for happiness, it's only fitting that its highest-ranking beach is a source of such sun-soaked bliss. Considered one of the best beaches in the world, Eagle Beach is as awarded as it is loved, laying claim to honors like the 2022 Tripadvisor Travelers' Choice Award for the third-best beach in the Caribbean and the fifth-best worldwide. Professionals and casual content creators alike share the enthusiasm; no other beach in Aruba is more photographed. With its unspoiled white sands and picturesque fofoti trees to admire, it's no wonder.
Beachgoers may visit for the views, but they stay for the water; ample snorkeling, sailing, and windsurfing have guests dive right into fun. Nature lovers will find their stride here, too, hoping for a glimpse of one of the island's four species of sea turtles. Plenty of parking means plenty of opportunity for all to enjoy.
Where to Enjoy It From:
A wide selection of nearby resorts gives the benefit of a quick drive plus access to included food, drink, and entertainment. Palm Beach in particular is known for its upscale resorts, and is less than ten minutes away. Families will love options like Barceló Aruba and Riu Palace Aruba, while the adults-only Riu Palace Antillas is a sure win for couples, friends, or solo adventurers.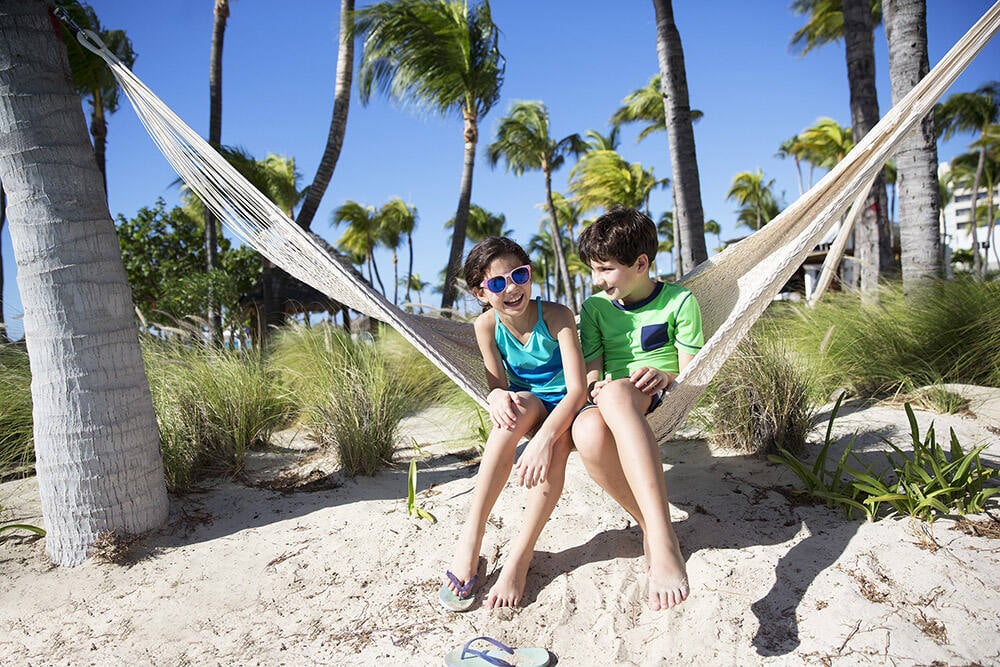 Aruba: Palm Beach
If you like a little bit—or a lot—of luxury with your beach day, there's no better place to find it than this popular Aruban seashore. Known for its palm-studded white sands and clear, warm waters, Palm Beach is all about location, location, location. Natural splendor is of course its biggest draw … but instant access to incredible dining, shopping, and entertainment keeps the buzz going from dawn to dusk and January to December.
Water sports, often included at compliments at the area's all-inclusive resorts, ramp up the energy; treat-yourself extras like spa treatments or private dinners on the beach tone it down to sheer relaxation.
Where to Enjoy It From:
Palm Beach is the all-inclusive scene in Aruba. RIU and Barceló both make for an excellent choice, offering a range of cuisines, activities for kids and adults, and an incredible location right on the beach. Don't hesitate to get out and explore offsite, though. Hadicurari Beach, a fishing spot great for surfing; Mangel Halto, a calm, secluded beach with Aruba's best snorkeling; Malmok Beach and its crystalline waters; quiet Boca Catalina and Tres Trapi on the bay; and laid-back, family-friendly Rodgers Beach are all a short drive away, and well worth the trip.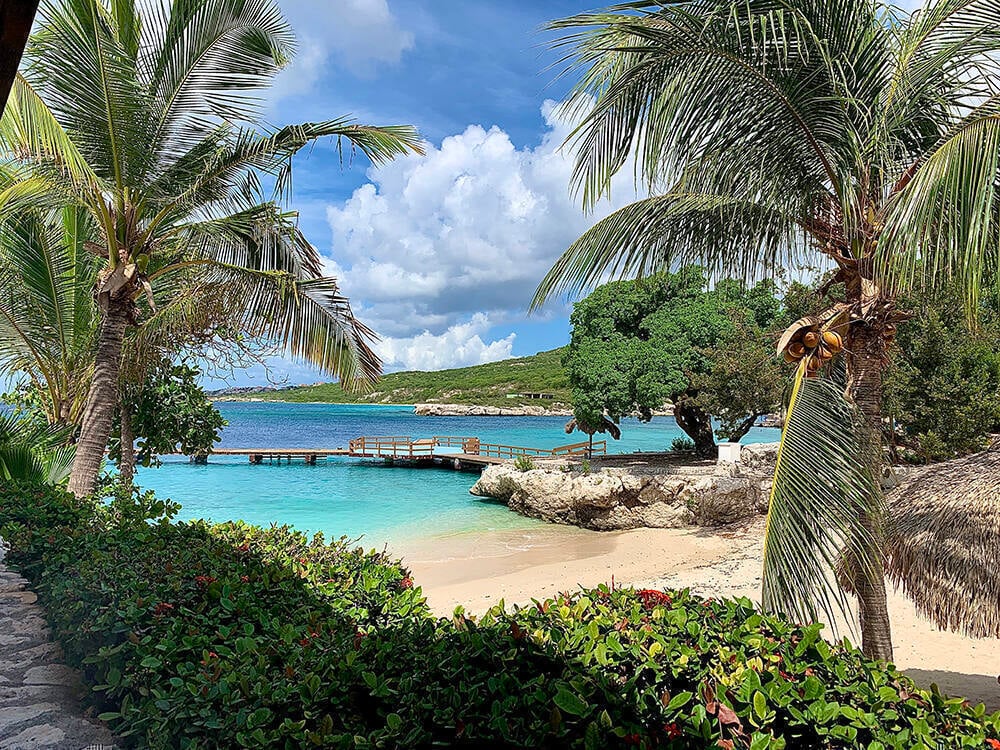 Curaçao: Piscadera Bay
The island of Curaçao is a diver's dream come to vivid, aquatic life, and Piscadera Bay is the ultimate base for discovering all the wonders it holds. Only 15 minutes from Willemstad's city center and ten from the airport, Piscadera is conveniently close to just about everything you'd need. Yet it's the world below the surface that will truly dazzle. World-class diving sites—ranked the greatest on the globe by World's Best Diving & Resorts: Sports Diver Edition—have put this destination on the map, and many resorts (including our pick below!) offer PADI-certified dive centers to help get you there, as well as scuba lessons in the pool to get newcomers started.
Travelers who prefer to stay on land will have plenty to enjoy without stepping foot off the sand, thanks to the panoramic views. Nearby, the largest national park in Curaçao, Northern Christoffel Park, offers even more along its nature trails. Peep for wild birds and white-tailed deer, then head to the 300,000-year-old Hato Cave to experience living history and the petroglyphs that have preserved ancient heritage.
Where to Enjoy It From:
The most luxurious hotel on the island. Zoëtry Curaçao Resort & Spa, newly opened as of October 2022, not only has Endless Privileges®—organic dining, top-shelf spirits, Bvlgari® bath amenities, shuttles to Willemstad, a free 20-minute spa treatment per guest—to indulge in on site, but full use of all the facilities and services at Dreams® Curaçao Resort, Spa & Casino. A quick walk or golf cart ride away, this sister property is located right on the bay, with its own exclusive, Bali bed-lined beach area reserved for Zoëtry guests, plus complimentary snorkeling and kayaking.
Of course, the perks don't have to end there. Just in time for the winter travel season, guests can add on extra VIP benefits with the Art of Indulgence package. Access to a private beach or pool spot with wait staff, a private dinner for two, and rose-and-sparkling wine turndown service up the romance, making this the perfect special touch for honeymoons and anniversaries.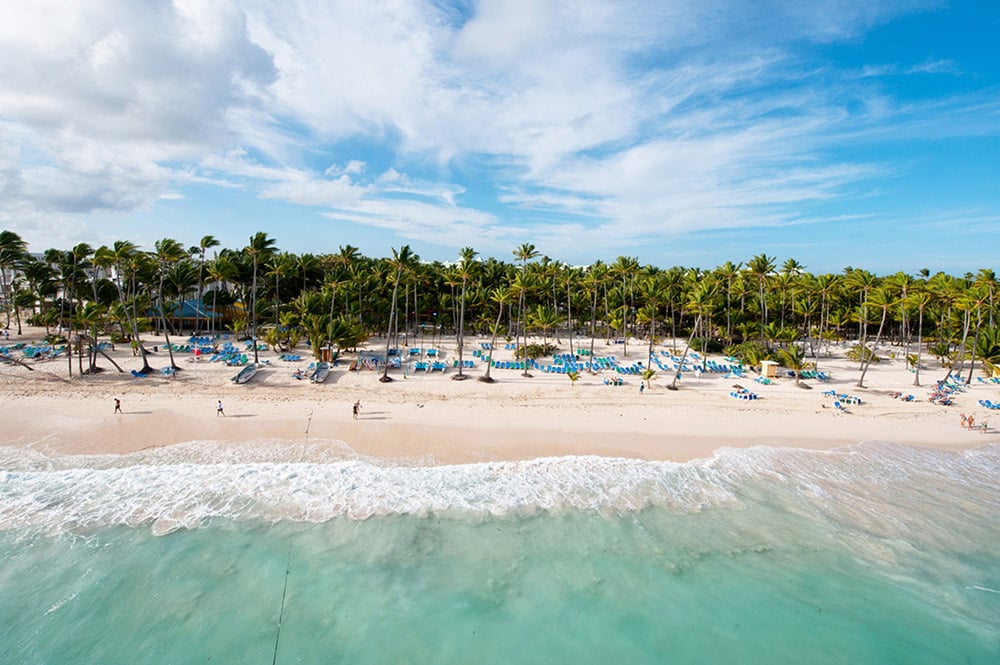 Dominican Republic: Playa Arena Gorda
Punta Cana has become a world-class sun-and-sand vacation destination, and with beaches like Arena Gorda, the acclaim is every bit deserved. Soft, palm-studded white sands and clear, warm azure waters have landed this spot a listing on many a bucket list for families, couples, and solo explorers alike.
Flanked by premier all-inclusive resorts, Arena Gorda is connected without being overly crowded, maintaining a laid-back, welcoming vibe. Whether a swim or a stroll, a yoga session or a cocktail brings you here, the vibrant charm of this Dominican playa is undeniable. There's always something to do and somewhere to be seen—and ocean panoramas that never end.
Where to Enjoy It From:
Why choose one all-inclusive when you can have an entire resort complex? RIU Hotels & Resorts offers exchange privileges for all the properties within their grounds—each with direct access to Arena Gorda. Consisting of four family-friendly hotels, Riu Bambu, Riu Naiboa, and the upscale Riu Palace Bavaro and Riu Palace Punta Cana, and the adults-only Riu Palace Macao, the RIU complex unfolds across over half a mile of white sands. Between hotels, a Caribbean Street lined with shops, a photo studio, and the Pacha nightclub; Splash Water World, free for guests of all ages; conference rooms and event spaces; a casino; Riu Party venue, where DJ-led themed parties are hosted multiple times a week; glittering pools; and a diverse range of restaurants and bars provide plenty of seaside entertainment.
No matter where you stay on the property, the beach is only ever a short walk from the lobby, and from many of the main attractions on site. Wedding, bachelor(ette), and birthday groups in particular will appreciate the scenic convenience; photo ops are as plentiful here as the amenities. Only a few steps away, the spacious, adults-only Riu Republica makes for a lively option as well, offering all the services and amenities couples or groups could want from their beach retreat.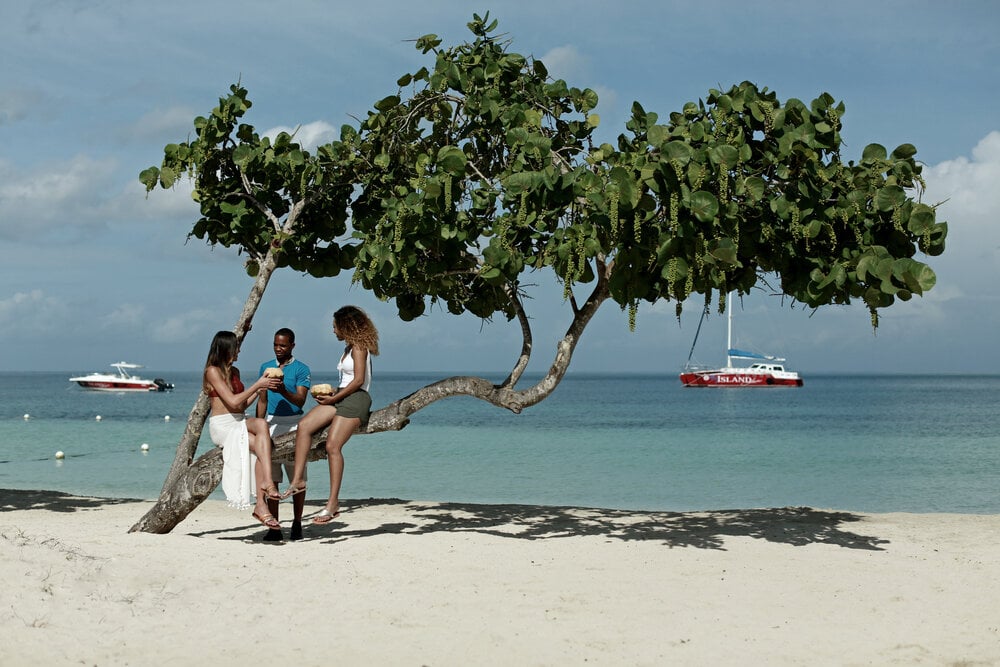 Jamaica: Seven Mile Beach
Lauded and loved, Jamaica's most famous beach does indeed occupy a full seven spectacular miles of the Negril coastline. Prized for its sunsets as much as its golden sugar-fine sands, the Jamaican icon was ruled by pirates once upon a time; now, an all-inclusive hotel scene has taken up the crown, their famous "no problem" hospitality the treasure beachgoers seek.
The shore itself, however, holds just as many, its calm waves ideal for snorkeling, diving, kayaking, sailing, paddleboarding, and—an essential island experience—horseback rides. But for Seven Mile Beach's top experience, all it takes is a glance at the horizon. Watching the sun set over the Caribbean in a vibrant wash of color is a must for any visitor. World-renowned Rick's Café, perched cliffside at the edge of the sea, offers prime front-row viewing, as does a charming collection of oceanfront resorts.
Where to Enjoy It From:
Perfect for families and couples who prefer some pampering with their beach vacation, Azul Beach Resort Negril, by Karisma delivers to the tune of four AAA Diamonds. Set directly on the Seven Mile sands, the 282-suite hotel features Karisma Hotels & Resorts' award-winning Gourmet Inclusive® service, dedicated to providing a sumptuous experience, from the elevated cuisine and sprawling spa to an entire Azulitos Playhouse for kids. Supervised entertainment lets the 12 and under set bond with new friends over a planned menu of games, crafts, and age-appropriate adventures.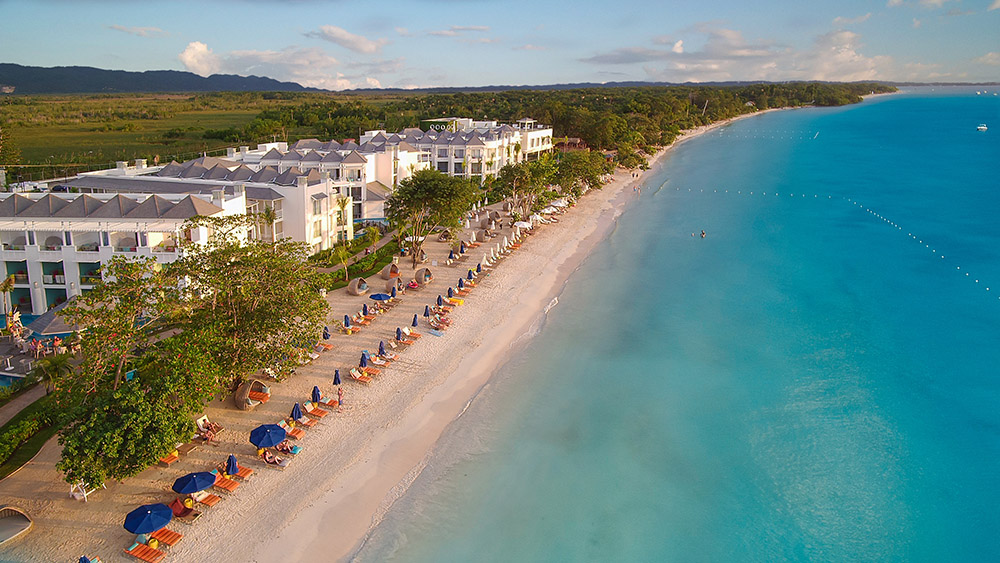 Adults, however, will want playtime of their own at the oceanfront Seven Mile Bar. Serving up tropical libations as satisfying as the vistas, it's one of the resort's most hyped hangouts, and unmissable for sunset. Complimentary non-motorized water sports offer more opportunities for a closer look.
MEXICAN CARIBBEAN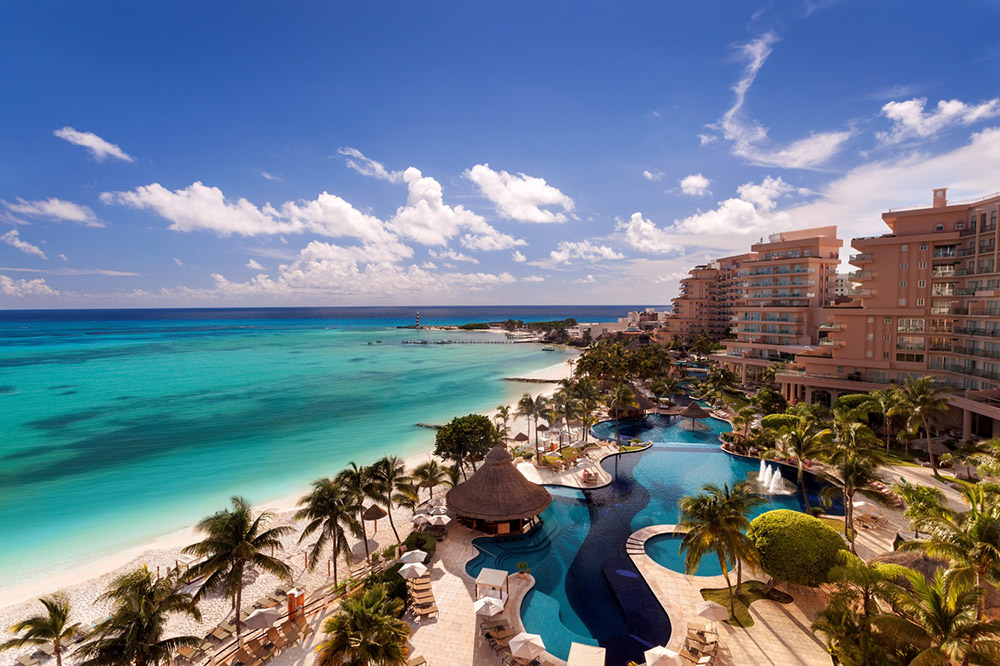 Cancun: Punta Cancun
The Cancun Hotel Zone isn't just home to world-class resorts. It's also where you'll find world-class beachfronts like the stunning Punta Cancun. Picture-perfect, sargassum-free white sands. Brilliant turquoise waters ideal for swimming. And all of it only moments away from a buzzing nightlife and shopping district. Unspoiled natural splendor rarely comes with such connectivity, and the local scene gives this beach an energetic vibe no matter the season.
Contrary to the excitement of water sports and daylong entertainment, the breezes and the waves are gentle, and cheerful birds and lazing lizards frequent the shore as often as two-legged guests, making Punta Cancun a winning pick for adults and kids alike.
Where to Enjoy It From:
If the Hotel Zone is all about options, the Grand Fiesta Americana Coral Beach Cancun All Inclusive Spa Resort is all about exclusivity. Their Infinite Luxury® certainly gives no shortage of choices, whether for premium dining (at seven restaurants and five bars), sophisticated suites (falling into ten room categories), or family-friendly activities (from a kids club to golf course). Palm-shaded pools with swim-up bars further tempt sunseekers to pause their white-sand adventures … but complimentary kayaks, snorkeling equipment, paddleboards, and, for Infinite Club guests, jet skis have them racing right back.
Yet for those who favor privacy above all else, it's the rentable cabanas, available on the beach and by the pool, that will make for a truly rewarding experience. Personal towels and a complimentary bottle of sparkling wine start off a day of relaxation in style.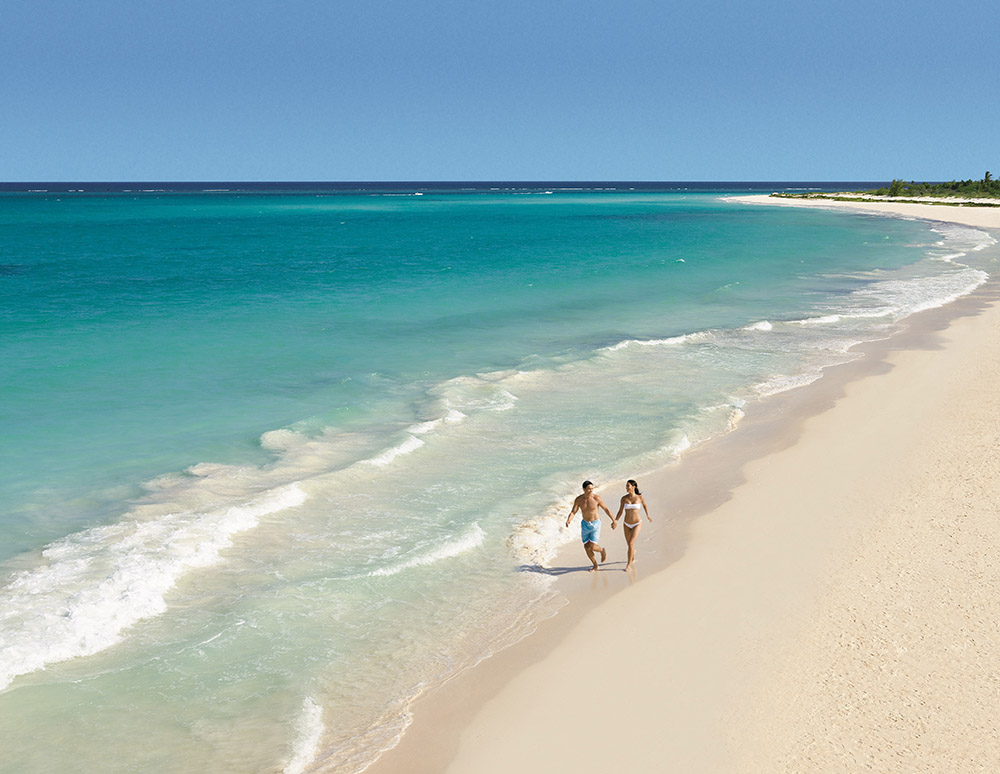 Riviera Cancun: Maroma Beach
Just 35 minutes away from the Cancun airport, this stunning beach is one of Mexico's finest, a favorite for its powdery white sands and lush, rainforested surrounds. Sunsets here are absolutely spectacular—especially when viewed from an oceanfront restaurant, terrace, or suite. The water, too, is remarkable in its clarity. Tropical temperatures and cooling breezes keep it ideal for a dip year-round, welcoming sea-goers seeking a refreshing swim, kayak, or snorkel … and earning Maroma Beach the honor of being one of the Travel Channel's World's Best Beaches.
Proximity to other Mexican landmarks both natural and man-made only adds to the appeal. Making for easy, guided day trips via local destination experts Amstar™ DMC, the underground Rio Secreto and hidden cenotes, underwater marvels of Cozumel Reefs National Marine Park, and awe-inspiring Mayan ruins of Chichen Itza and Tulum leave impressions just as lasting.
Where to Enjoy It From:
If your party is adults-only, there's no better option than Secrets® Maroma Beach Riviera Cancun. The resort calls an impressive 500 acres of pristine beachfront its own, and its complimentary beach wait service, water sports, and activities like beach volleyball and sunrise kayak tours mean you can enjoy it to the fullest—a sentiment that carries through each element of a stay here.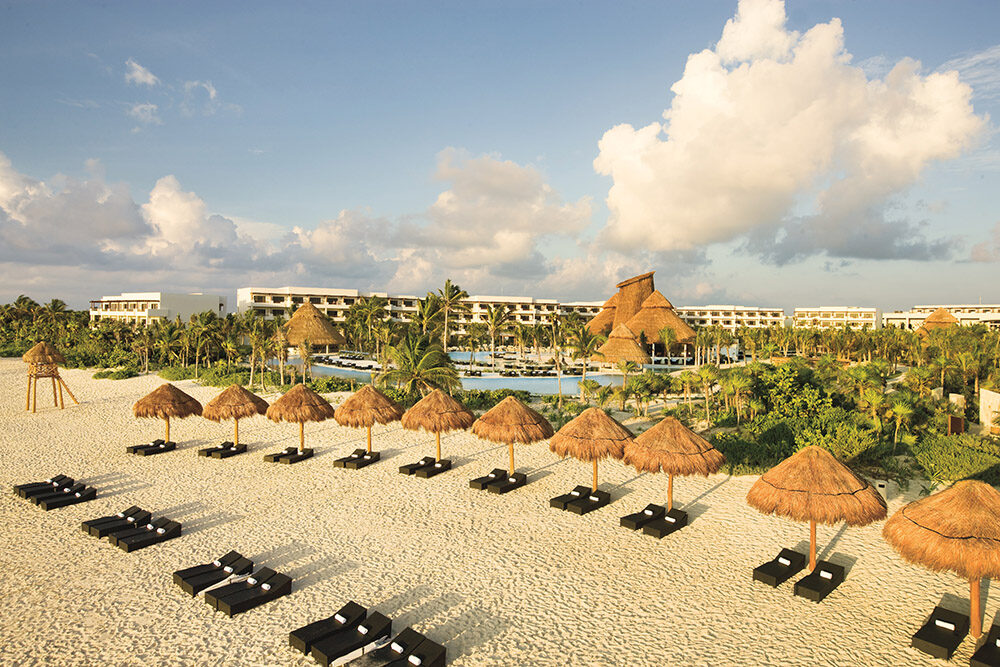 That comes as no surprise at a property whose Unlimited-Luxury® inclusions have earned it AAA Five Diamond status since 2014. Immediately evident in the all-suites accommodations, elegant gardens and poolscapes, and refined international dining, the experience here is every bit as sumptuous as the location would lead you to demand.
The Caribbean is famous for its natural beauty—and not just its beaches! Read up on what else makes our list of must-do vacation activities.