Right before every Valentine's Day, resorts start ramping up their romance quotient. You start seeing packages that celebrate soulmates, added values that encourage intimacy, a stronger focus on couples getaways and activities for two. And they're all great! Who doesn't love love?
But February isn't the only month for special occasions and milestones between pairs, and certain resorts keep the lovey-dovey sparked up year-round. From recharge-and-reconnect travel to just-the-two-of-us escapes to honeymoon specialists, here are some of our staff's top picks for flints that keep the fire lit.
Zoëtry Paraiso de la Bonita Riviera Maya

There are few things that ignite romance more than feeling like it's just the two of you in a world of your own. That's where boutique resorts like this one shine. Their Endless Privileges® approach means you are the center of their staff's world, with individual attention that is also somehow unobtrusive while also predictive as they see to your needs before you even identify them. What that means are fewer distractions to take you out of moments with your significant other. Moments like afternoon tea with live plant infusions, an hourlong catamaran sail with sparkling wine to toast to the two of you, a Thalasso Seawater Experience, or a wellness treatment—all of which you can participate in at this extraordinary, award-winning luxury resort.
That's already a lot, but if you want to get deeper into your feelings, enhancements can help turn things up. The Impression Club's nine villa-inspired accommodations offers butler service and even more exclusive gourmet dining options—we recommend an intimate dinner in the sexy Red Kitchen, where a private chef caters to just the two of you. Another add-on to consider is the traditional Temezcal healing ritual, a ceremony that will cleanse and bond you even further. And keep an eye out for the Presidential Treatment upgrade promo, which gets you butler service, sparkling wine in your room, a welcome dinner on the pier, and a private one in La Mesa del Patron wine cellar.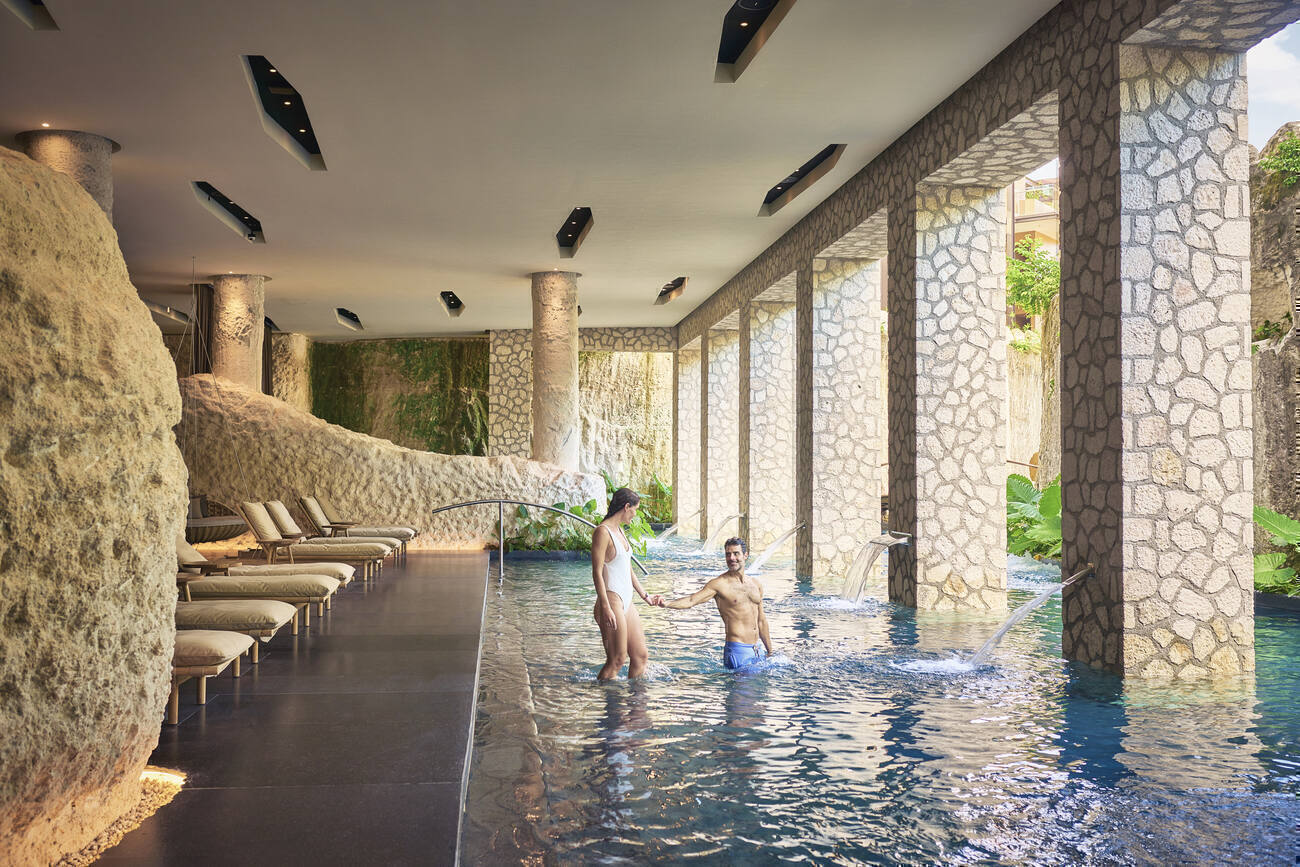 Hotel Xcaret Arte
You don't need to rule out all-ages resorts for romance, as Hotel Xcaret proves. But its new sister resort, Hotel Xcaret Arte, gives you the option to mingle with adults only, while enjoying the complimentary access of all of the brand's eco adventure parks that made its original property such a hit! Couples will find adventure easily jumping from ziplines to amphibious vehicles to cenotes and evening party boats, but for romance, they barely need to step foot out of their stunning, newly constructed suites. Never far are the private nooks among the caves and grottoes throughout the highly unique grounds—they're pure magic for otherworldly moments, and can be made even more so with add-ons like a rooftop romantic dinner. Multiple secluded inlets are enough to make you feel like you have a private beach to yourselves, too, while beachside service reminds you you're not.
The romantic atmosphere pervasive throughout the property extends to activities, like a choice of artistic workshops across four themed buildings that let you do explore arts like painting or dancing with your partner. Make it a priority to book a tasting table experience at Encanta by Michelin-starred Chef Paco Mendez, too, and plan a night out dancing to live music at speakeasy-style El Deseo. And while those celebrating anniversaries, honeymoons, and babymoons are eligible for free bonus amenities, if you really want your occasion to shine, it's worth it to spring for a private wine tasting or a meal at Xaak. And definitely book the Massage & Serenade package at the enchanting Muluk Spa, which becomes even more so with a custom massage accompanied by live guitar, saxophone, or harp music. Then, plan your return stay since surely, you won't be able to do it all!
Secrets The Vine Cancun

Beyoncé made it cool to be "drunk in love," but this resort made it swanky. The focus that lends this Unlimited-Luxury® property in Cancun's Hotel Zone its name is an emphasis on wine, a theme as woven throughout any stay as its eponymous plant. Couples who share oenophilia in common will love the daily sommelier-led wine tastings, which include food pairings in the nominal fee. And they'll be really excited to choose a perfect accompaniment from the romantic The Vine Bazaar Wine Cellar for a private dining experience, should they opt into that as well. Complimentary, though, is the Sip, Savor & See exchange programs shared between the Inclusive Collection, part of Hyatt Hotels & Resorts, where they'll be able to explore the dining, ambiance, and wine at nearby participating properties.
On site, though, the Red Vine Piano Lounge is a sultry vibe … but even more intimate are the popular Preferred Club Oceanfront Honeymoon Suites. All of the rooms at Secrets The Vine offer all-encompassing high-rise views of both sea and lagoon, but only these oversized units have a seating area, in-room soaking tub, king-size floating bed with custom headboard, enormous glass shower … and the possibility of being part of a complimentary honeymoon package if certain conditions are met. Of course, you need not be honeymooning to stay here, or to upgrade even more to a Preferred Club Master Suite, which are mega-sized corner rooms with wraparound terraces, living and dining spaces, and swoon-worthy luxe living accoutrements.
La Casa de la Playa
Nothing is more VIP-feeling than total customization, and this brand-new, elegantly sumptuous resort that's designed to spoil understood the assignment … so much so that their entire reason for being is around Tailor-Made Experiences. If you thought the Hotel Xcaret and Hotel Arte came with a lot of inclusions, this property's 63 intimate suites are bursting with them—especially when you consider that guests at this resort have full privileges to the other two, just five minutes away.
The luxury begins even before you arrive, with included private airport transfers in a Tesla or Suburban. After that is when the individual touches begin. Depending on the building you've chosen, between Wellness, Natural, and Fiesta, you get a host of themed special features like benefits at Muluk Spa, the option to get a massage in the cabin next to your room, and an Isla Mujeres "Xailing" experience. But it goes far beyond what's on-site. Tequila and mezcal tastings at Bodega, chocolate truffle and bonbon tastings at Chocolateria, and restaurants helmed by award-winning chefs across Latin America are just where it begins. You can also book a private, included jazz dinner at Cenote Rio Azul off-site at Xcaret Park, go backstage before having a dinner by famed chef Martha Ortiz in the Gran Tlachco, share a purification ceremony with your significant other at Xel-Ha, or add on a wine and cheese tasting in the spectacular Cava wine cellar. Clearly, there's a whole lot of falling in love at this new boutique resort, and it may not be just between the two of you!
Secrets Puerto Los Cabos Golf & Spa Resort

This sprawling resort is simply built for nooks and hideaways. In fact, the entire all-suite property is in a hideaway—the exclusive community of Puerto Los Cabos. Its Spanish Colonial design overlooks the crashing Sea of Cortez, from an elevated position that gives you commanding views of the mountains, golf course, and waterfront. One of the best ways couples can savor it is from a first-floor suite, all of which have privileged swim-out access, perfect for private in-pool canoodling. Other "secret" spots can be found alongside the three-mile beach, kept pristine and uncrowded due to the sea's notorious currents; terraces with U-shaped seating and fire pits; and the many meandering pathways you can wander hand in hand. Then of course, there are the multitudes of posh restaurants with tables set for two, private dining opportunities at additional cost, and five bars and lounges, including an exclusive Preferred Club one.
Sip, Savor & See lets couples explore even further with a dinner experience at Breathless Cabo San Lucas downtown or Dreams Los Cabos Suites Golf Resort & Spa—all by the Inclusive Collection as well. Or you can discover a new passion! Lessons in cooking, Spanish, or massages let you share enrichment experiences, as do tequila and wine tastings. You can take what you learned on the road with bike tours to the marina, where you can also opt to do some sport fishing, or just wander a pedestrian village with gardens and an artisan walkway for picture-perfect kiss-cam moments. Five minutes further and you're right in downtown San Jose del Cabo, which is also ideally dreamy for snapshots.
El Dorado Maroma, by Karisma
Who hasn't heard of the Palafitos by now? These overwater bungalows were in the first in Mexico, bringing the French Polynesian vacation fantasy much closer to home. Set on one of the calmest waters in Riviera Maya, this stretch of peaceful, soft-sand shorefront is considered one of the most exquisite beaches in all of Mexico, and the uber-romantic Palafitos puts you literally right on top of it … and beyond, into watercolor seas.
These lavish accommodations are a honeymooner's dream, especially with glass-bottom floors, ladder access to the ocean, a private pool, and outdoor showers. But you don't have to shell out top dollar for romance, because El Dorado Maroma has a whole, comprehensive resort just steps away. What some may forget is that this property was its own beloved, romantic free-standing destination even before these bungalows were built, and award-winning in its own right. The main hotel is Gourmet Inclusive® and adults only, like all of the El Dorado Spa Resorts, and plenty of room categories also offer private pools the signature Aguas del Amor™ outdoor shower, hammocks on terraces, and spacious living. Plus, now all the romantic restaurants are that much closer when you stay in the heart of the grounds. But best of all? The complimentary Taste of Romance and Memorable Moments packages mentioned for El Dorado Casitas Royale, by Karisma apply to Maroma as well.
Valentin Imperial Riviera Maya
Special occasions deserve special treatment, according to this hotel brand that gives out complimentary amenities like candy—which they do also give out, in the form of chocolate covered strawberries, truffles, and other such treats. This all-inclusive adults-only property is heavy on the hot, with lots of couples-specific bonuses for every relationship milestone. Just notify them ahead of time, and you'll feel showered in celebration.
For example, choose to pop the question here and get a special room decoration, bottle of sparkling wine upon arrival, and those strawberries we'd just mentioned. Spend an anniversary here and find yourselves congratulated in the Valentin Journal, treated to nightly turn-down, plus the decoration and bubbly. Honeymoons of 3 – 6 nights receive the same, but stays longer than that scores you a fruit platter, too; an in-room breakfast the day after your arrival, which you'll need to schedule with your concierge; a special honeymoon dinner that same staff member will assist you with; plus a 10% discount on treatments at Valentin Imperial Aromance Spa. That's a sweet deal for one more night—which you'll want anyway! Plus, travel advisors can even use available Fan Club Reward program points toward additional amenities for their VIP pairs—just another exclusive benefit of working with a travel professional!
El Dorado Casitas Royale, by Karisma
Adults only and geared toward luxury for couples, all El Dorado Spa Resorts can be counted on for romance. This one, however, kicks it up a notch with gorgeous villa-style living, a freshwater pool set right before the ocean, and Aguas del Amor™ outdoor showers. That long list is all in addition to the Gourmet Inclusive® standard, which is anything but, especially at this particular property. They share amenities such as bars and restaurants with the El Dorado Royale, gated within the same complex, which increases the opportunities for romance and picturesque spots that will help you freeze time. That provides more than plentiful locations to choose from for big events like proposals and weddings, or smaller but no less important ones for which a private candle-lit dinner on the beach might be perfect.
These features also lends this resort to well thought-out romance packages at additional cost, including that proposal we just mentioned, and babymoons, too. The Taste of Romance package for honeymooners and Memorable Moments Honeymoon and Anniversary packages are complimentary if certain terms and conditions are met—you'll get turndown service with gourmet sweets, a spa service discount we heartily encourage you take advantage of (The brand's Náay Spa is truly a treat), welcome amenity in the room, and late check-out with the former. Memorable Moments is much more than a taste, though. A "Romance Maître-d" will set you up for a four-course meal on the sand, breakfast in bed, rose petal decorations in the suite, a BOGO offer for beachfront Sky Massages, and a free night on when you return for your anniversary.