Every day is a coffee day, but only today is International Coffee Day. Here's where to get the best cuppa while on vacay so you never miss a bean.
Every day, millions of people around the world pay homage with a drink that's more precious to many than even water: coffee! We honor it daily with our rituals, our research, our loyalty to certain roasters and regions and brands. But today, on International Coffee Day, we're highlighting some of the best spots to get a cuppa while on vacay. After all, your day's not started without your good friend Joe, right? Here's where to go if you don't ever want to miss a date with your favorite morning companion.
Coco Café
You can find these great specialty gourmet coffee shops at any Secrets or Dreams Hotels & Spa Resorts by AMR™ Collection, but some of the most standout will be in Jamaica. Secrets Wild Orchid and Secrets St. James in Montego Bay source their coffee locally from the famous Blue Mountains of the island. But no matter where in Mexico, the Caribbean, or Central America the Coco Café may be, ALG Vacations® Social & Sales Development Manager Sarah Rau lauds the AMR™ Collection brands for having one of the widest selections of milk alternatives. Personally, I appreciate the fact that decaf is available, the beans are ground fresh for every drink … but I love the wide array of cookie and Parisian café-style individual pastry accompaniments even more.
Star Café
Former BDM and now Senior Manager of Group Service for ALGV, Richelle (Nicoletta) Ballangee is a fan of Iberostar's on-site specialty coffee shop, no matter where in the world it's located! "I don't know what kind of coffee they have, but I love it … and the pastries!" she says. My pro tip? The one in Cancun, Iberostar Selection Cancun and its hotel-within-a-hotel Coral Level has airy, crispy meringue cookies in jars at the counter that are not to be missed.
Fuel Coffee
When in Costa Rica, you can expect nothing less than impeccable coffee, and the Planet Hollywood Beach Resort in Guanacaste doesn't disappoint. A big menu of special-recipe coffee drinks made from locally grown and locally roasted Britt beans leave little to the imagination, and the wide selection of chilled sweets, finger sandwiches, and pastries leave, in turn, little else to be desired. And to further emphasize the importance of coffee to Costa Rican identity, they even bring in experts to conduct tasting and educational experiences at Fuel, which ALGV Senior Manager of Host Accounts and I were lucky enough to attend while going #OnLocaTIon for the #TIGetsPHamous social media takeover for Travel Impressions' Facebook and Instragram several years ago.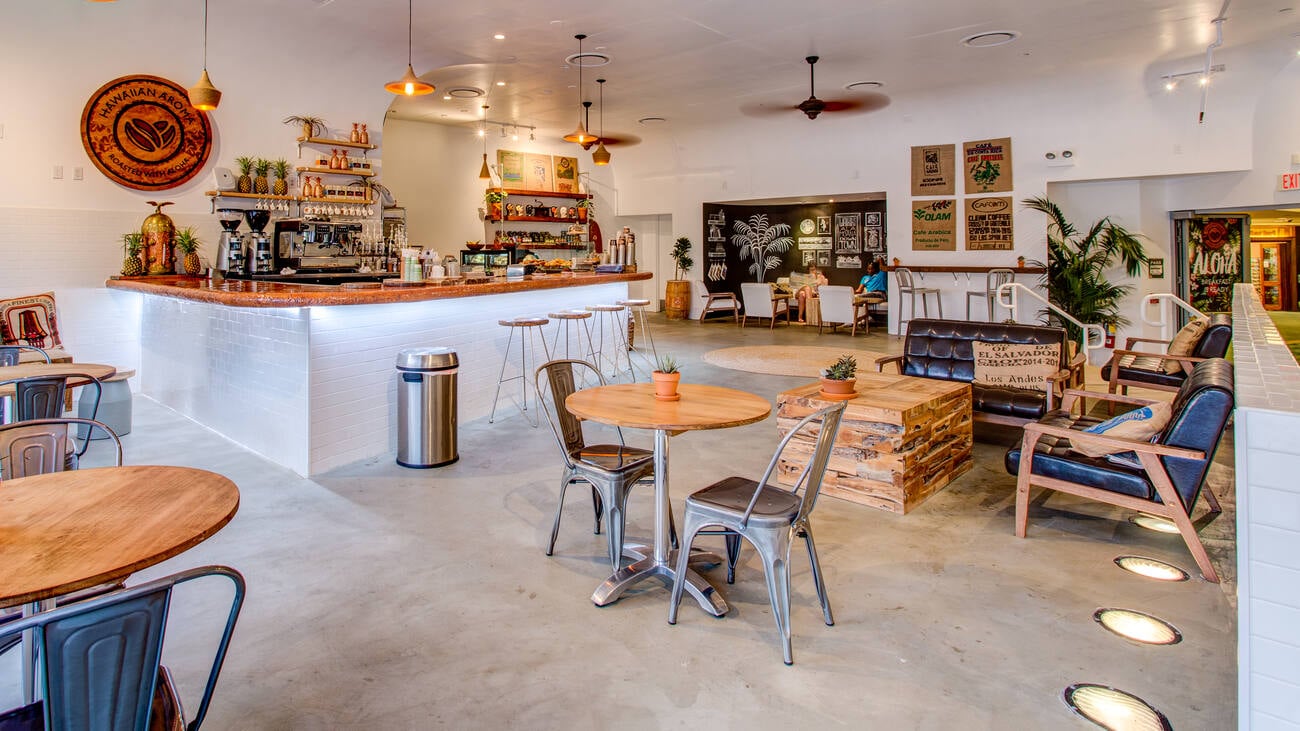 Hawaiian Aroma Caffe
According to ALGV BDM Mandi Wetzel, this is one of the most Instagrammed spot in Oahu, and it's right there in Waikiki Beachcomber by Outrigger Honolulu. It's known for its modern architecture, Hawaiian motifs, surf-inspired elements, and retro-chic feel … but more importantly, its coffee is local and the brand has won awards for pushing out the best espresso in town. Their most lauded roasts are made in collaboration with Hawaiian Paradise Coffee, which include Kalama Roast, High Surf, and 100% Kona Roast. These coffees are roasted and distributed right in Kapolei.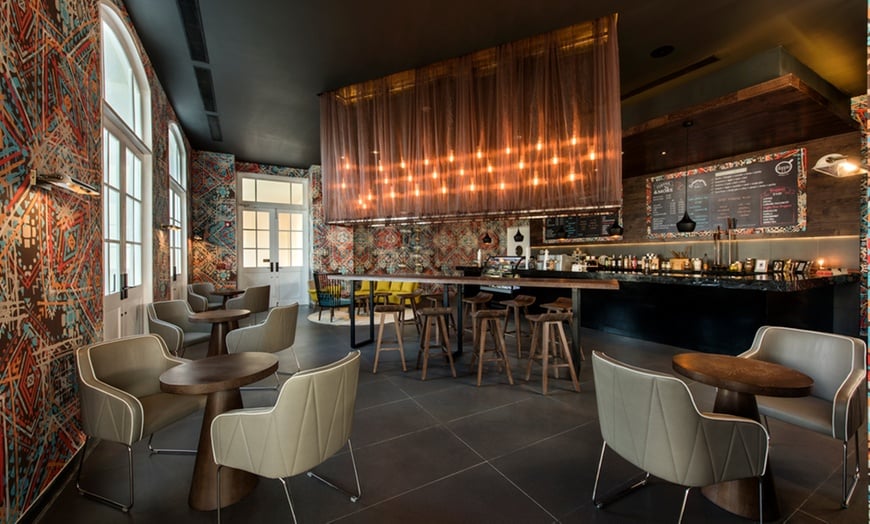 Doppio
It may sound surprising that Nickelodeon Hotels & Resorts, Punta Cana, a decidedly kid-friendly resort has a full-service gourmet coffee shop on premises. But think about it: it's Gourmet Inclusive® and the adults definitely need something to keep up with the kids! Their chill and modern coffee and tea café serves Italian favorite Lavazza espresso, and excellent scones alongside fresh-made doughnuts, cookies, and other sweet and savory snacks. During a Travel Impressions social media takeover dubbed the #NickResortReport, my colleague and I spent a good bit of time in the peace and quiet of this low-key oasis.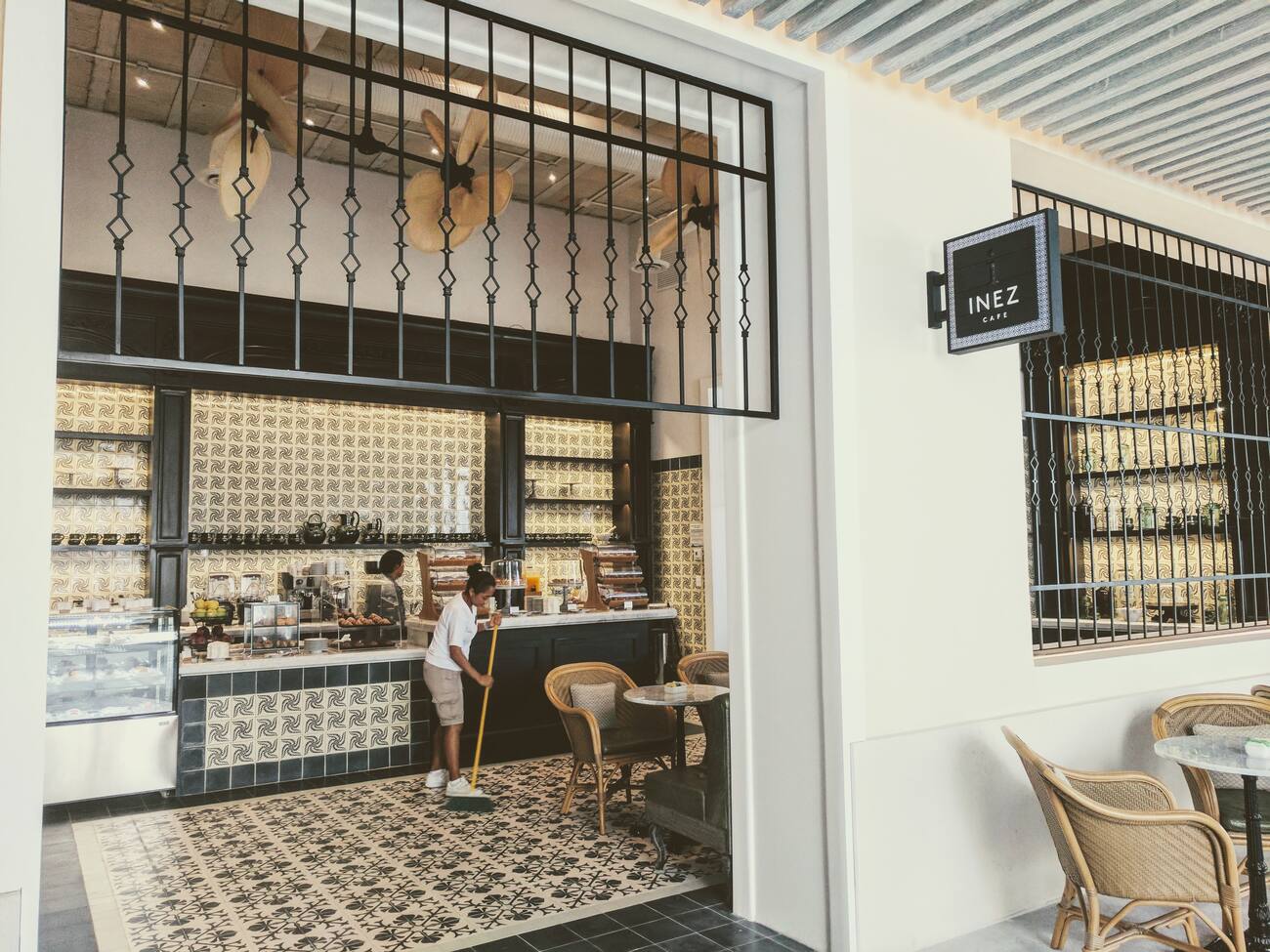 Café Inez
In the Riviera Maya, Unico 20⁰87⁰ keeps the cosmopolitan, upbeat vibe going into the wee hours, serving up great coffee drinks from 6 AM until 2 AM. Sure, the sweet baked goods and pastries get swapped out for sandwiches, paninis, and salads later during the day, but they keep that espresso machine going at every hour, in an austere, sophisticated European-inspired setting with gorgeous touches. The comfortable chairs and gorgeous tile work make you forget you're only steps from the lobby.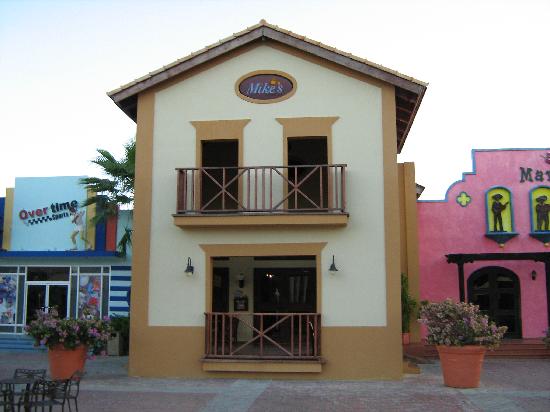 Mike's Coffee
Oceans by H10 was one of the earlier adoptees of the on-site specialty coffee shop concepts, and at Ocean Blue & Sand in Punta Cana, Dominican Republic, they popped theirs in an adorable mini streetscape set in the middle of their resort "town." The DR is already a destination known for its coffee, so it's worth a pit stop for a slice of cake and a cup while you're out and about. After all, it's already included anyway!
Grand Velas
This resort chain may not have a dedicated coffeehouse, but like all things edible with this brand, they do black gold gloriously well. In all of Rau's experience, "Grand Velas was the best with milk alternatives," which is right in line with their wellness-oriented, fresh- and local-focused, fully gourmet approach. Already home to the best resort dining I've personally ever experienced—including no-added fee molecular gastronomy restaurant Cocina de Autor and AAA Five-Diamond rated restaurants—it's not surprising that their specialty coffee drinks are also exemplary. You can find their properties in Riviera Maya, Puerto Vallarta, and Los Cabos.
The Springs Resort & Spa
Another property that doesn't have a traditional coffee shop but serves exemplary coffee, this Costa Rican retreat brews up beans grown, picked, roasted, and ground right close enough to the Arenal Volcano for it to have all the best qualities of having been raised in its mountainous soil. And because it's locally produced, it's literally illegal for it to be anything less than 100% Arabica, the highest quality available in the world. Every cup I had here at this resort was impeccable, and I there was no better start to a morning than a cup with those light-as-a-cloud(forest) pancakes that are unique to Costa Rica.
Take your coffee to go … or have it to stay. We tell you why you can go ahead and do so with our expert-sourced article Is It Safe to Dine Indoors Again?