First there was Xcaret, the most popular eco-park in all of Mexico, showcasing Mexican pride in all its creatures, culture, and landscape. Then a series of other parks followed, with different emphases on the same, from watery wonderlands with Xel-Há and floating parties on Xoximilco to Xplor's adrenaline-jumping adventure and mind-bending experiences at Xenses. And then, to crown this incredible collection of distinctly Mexican and utterly creative concepts, Hotel Xcaret México, a dazzling all-funinclusive resort unlike anywhere else, full of hidden beaches and grottos, naturally fed waterways, and incredible cuisine.
Grupo Xcaret, it seemed, had reached its peak … or so it seemed.
But clearly not a developer to rest on its laurels, it's pushing the envelope and raising the bar even more with the grand opening of Hotel Xcaret Arte, which just took place in July.
The premise? Paying homage to the best artists in Mexico and the rich cultural heritage of this wonderful country.
Each of the 900 suites reflect that, with décor sourced from artisans of vulnerable populations. For example, you'll find gorgeous handwoven hammocks using traditional methods and wooden frames all from Merida on every balcony; painstakingly crafted mosaics with European and Moorish designs with Yucatanean and Mayan symbols like trees of life and hipiles; tapestries made by the skilled embroiderers of Tenanfo de Doria in Puebla near Mexico City; and onyx snail lamps that are each unique and handmade by artisans from Tecali de Herrera, also in Puebla.
And more importantly, these works were acquired under fair trade criteria and values, and with community development in mind. That means with every stay, you're helping to play a role in supporting local arts and culture, and keeping time-honored artistic traditions alive.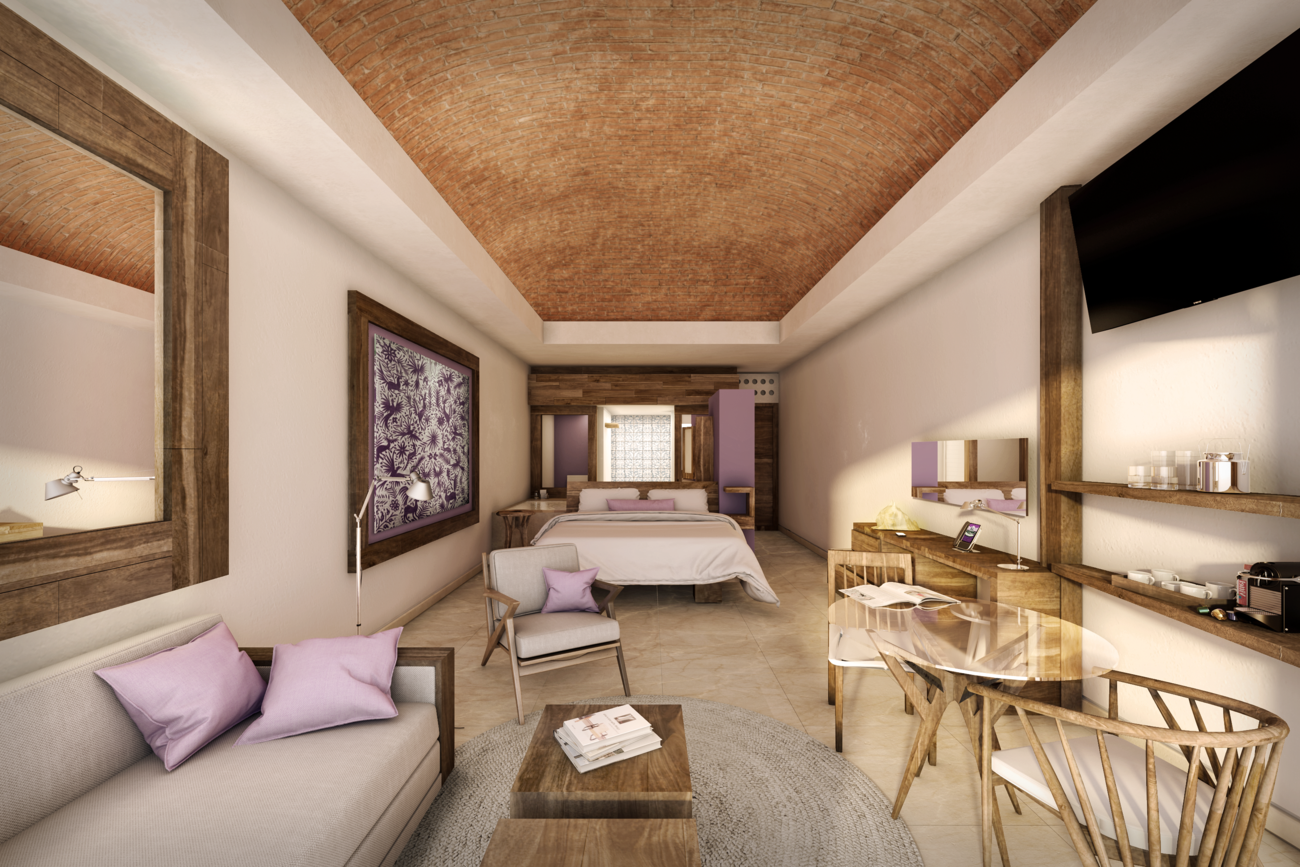 Even more, a stay at Hotel Xcaret Arte puts you right in the middle of it for total cultural immersion. Not only do they offer All-Fun Inclusion—which covers guests for unlimited access to all eight Grupo Xcaret parks, premium dining experiences, round-trip express airport transfers, alcoholic and non-alcoholic beverages, and daily and nightly entertainment and activities—they make enrichment part of every stay. Each of the six buildings called Casas has a different art focus and complementary—and complimentary!—workshops for guests to explore.
At Casa del Diseño, they host weaving workshops for hands-on experience of this ancient and practical art form, which visitors to Xcaret Park (admission for which is complimentary to the hotel's guests) only get a brief glimpse of in the Mayan Village. Casa de la Pirámide also showcases useful craft, this one being pottery. Guests have a rare opportunity to shape their own from raw clay, fire it up in the kiln, and paint it. Ceramics are also available for painting.
If painting on a flat surface is more your style, we recommend staying at the elite Casa de los Artistas for the painting, drawing, and linocut workshops. It's one of the amenities exclusive to this building, in addition to having its own gym, Kibi Kibi Yucatan-Lebanese restaurant, library, and rooftop bar.
Meanwhile, some folks express themselves best through movement. For them, Casa de la Música would be the best choice, where dance workshops teach them salsa, cumbia, bachata, mambo, and other Latin rhythms that they can show off in Cantina Vi.Al.PY later on. Or, they can explore movement through swim; this building's rooftop has a musical pool, where song accompanies every stroke, whether you're underwater or above it.
Last but most certainly not least: the culinary arts.
Hotel Xcaret Arte has two buildings that specifically focus on food, one gourmet and the other with an emphasis on health. The latter can be found at Casa de la Paz, whose every feature centers around wellness. It's where you'll find Muluk Spa, the gym, and aerial yoga, and where they offer a literature workshop.
Casa del Patrón, on the other hand, is all about eating for pleasure, with four restaurants and a Cafeteca (coffee café) right in the building. Oaxacan Cantina Vi.AI.PY Chef Alejandro Ruiz, is located here, along with contemporary Japanese at Chef Luis Arzapalo-led Tah-Xido and Chino Poblano by Chef Jonatan Gomez Luna, who merges Chinese cuisine and that of Puebla. And for authentic Mexican from across the country, Juan Licerio, the executive chef for the entire hotel curates it all at Mercado de San Juan.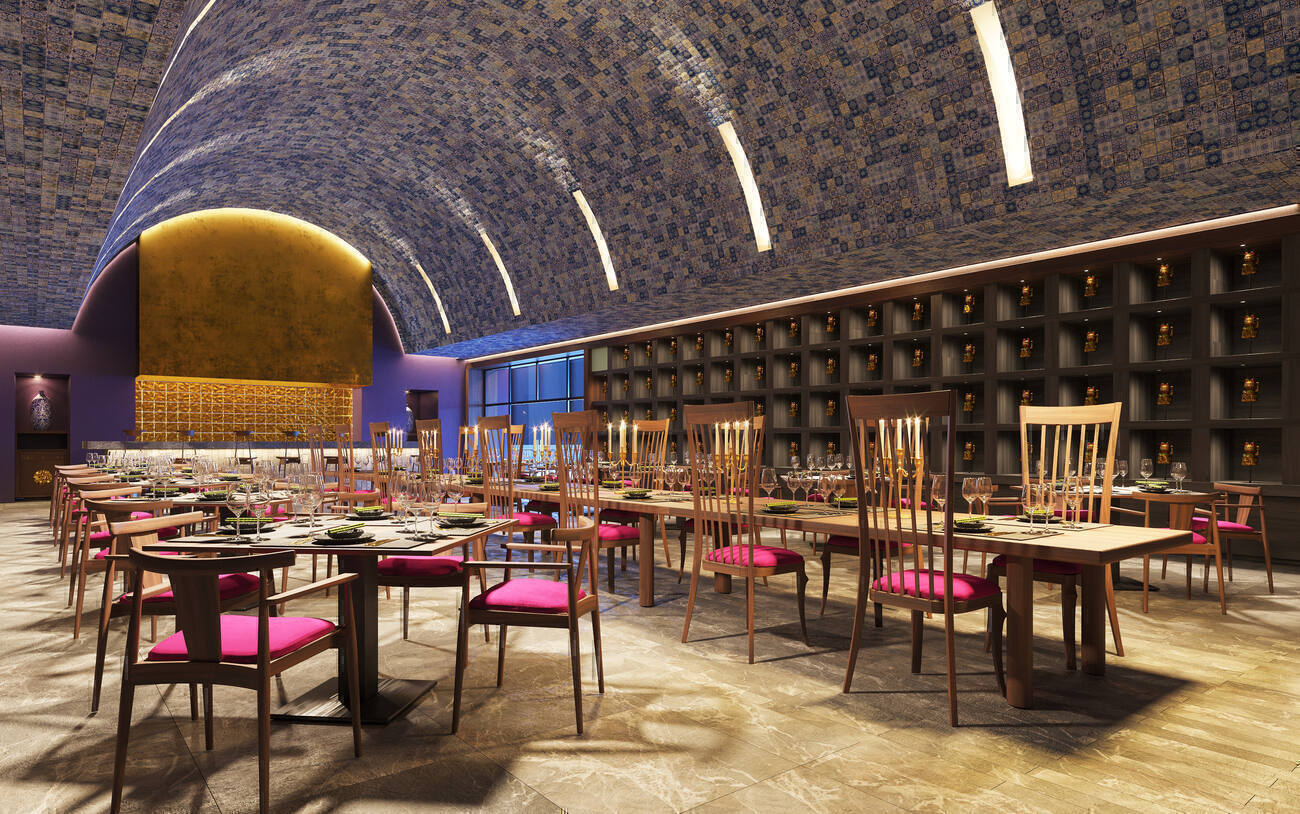 As diverse and plentiful as that selection is, that's not the limit of the food-first options at this new resort. Every building has its own restaurant, and they're all headliners in their own right. Don't miss the chef's tasting "author" concept Encanta by Michelin Starred Chef Paco Mendez—a rare inclusion with no extra charge! Then there's Cayuco, which taps into the talent of famous Italian chef Franco Maddalozzo to merge Mediterranean and Mexican flavors for its menu while Chef Orlando Trejo stays local with comfort food from the region at Arenal.
Plus, nearly all of the buildings have rooftop bars, plus extra watering holes, like El Deseo Speakeasy and Wet Bars for drinks at the pool. We'll just nest these under the category of the art and craft of mixology.
Because in this world, all that is beautiful is art. And the new Hotel Xcaret Arte makes sure that every day is exactly that, elevating daily life on resort into the art of living—life as it's meant to be in its finest form.
Looking for other things you can only enjoy in Mexico? Read an article on our ten favorite experiences there right here! Plus, for another resort experience that's just as unusual and unique, check out Far from 'Wasting Away' in Margaritaville.