Figuring out who sleeps where and how much privacy or access parents grown-ups and kids want can be a challenge. Guaranteed adjoining rooms and special family suites take the guesswork and arguments out of the equation and add memories into it.
Working out rooming situations on a family vacation can be tough. The teenager insists they'd "rather die!" than be caught dead sharing a room with their parents … but wouldn't mind sharing a bed if they can bring their best friend. Meanwhile, the middle one insists on playing "I'm not touching you" late into the night if bunking with the little one. Or one kid can't sleep with the parents because of Dad's snoring, or another can't sleep alone. And for safety, of course no way are ANY groups of kids allowed to have a room the adults can't have access to.
And because families—and their struggles!—are often universal, the hospitality pros at many top-name resorts have come up with family suite solutions that resolve their own family rooming disputes … and likely yours and those of your clients, too!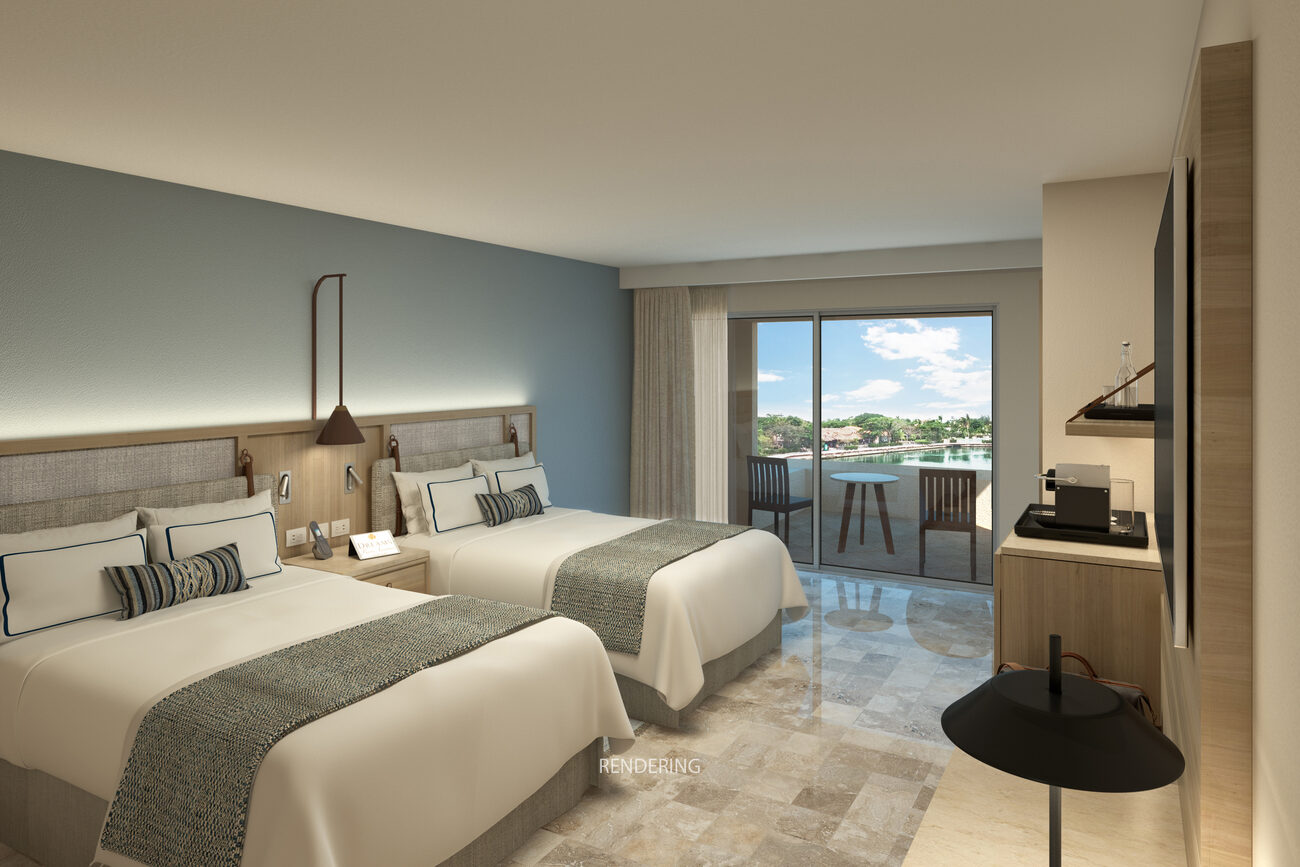 Dreams Aventuras Riviera Maya by AMR™ Collection
The moment the Dreams brand celebrates are those with family, so naturally, their suites leave very few stones unturned. The newly renovated Dreams Aventuras Riviera Maya is no exception to this rule, but it is certainly an exception in and of itself. Recently, 35 new swim-out suites were added to the accommodation options—a perfect category for families and parents who want to get right to poolside leisure and refreshing splashes without having to pack up and trek out.
To match these swank newcomers, all of the other guestrooms and suites have been updated as well, with refreshed décor, indoor and outdoor furniture, linens, and accessories. Some even sleep up to six! Hallways now have enhanced lighting and decoration, too, but even beyond what's just outside of personal doors, they've been busy upgrading the property. The welcoming lobby received some elegant touches, all à la carte restaurants have been redecorated, and Coco Café and the kid favorite Gelato Factory have been moved and totally redone. A new gym with a multi-purpose court adds another recreation option for parents and their older children, but the younger ones will love the new Kiddie Splash Zone (in addition to two new slides in the main pool area), renovated Explorer's Club for Kids, and new outdoor lounge area and Core Zone Teens Club.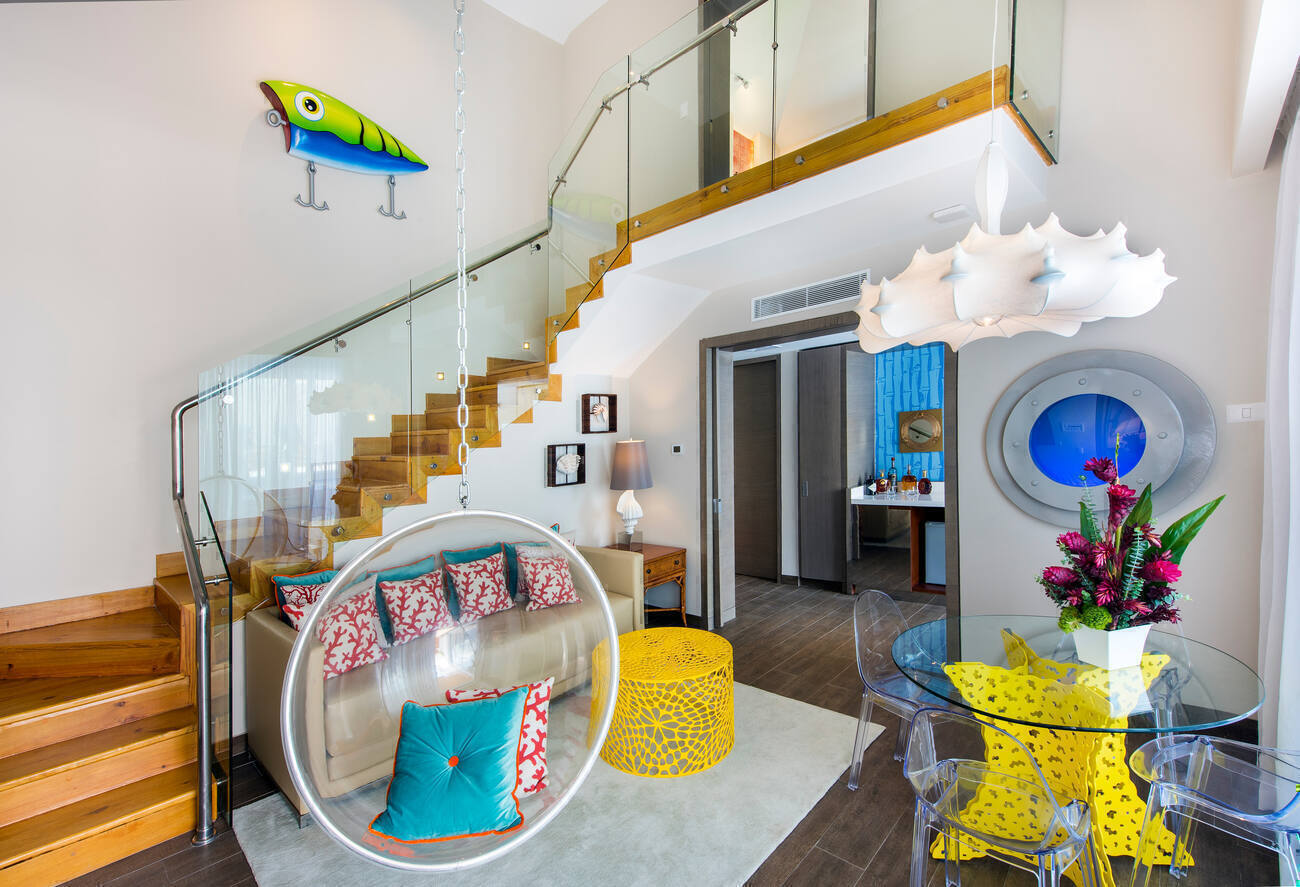 Nickelodeon Hotels & Resorts, Punta Cana, by Karisma
The digs are fantastic, don't get us wrong … but they're only the beginning at this whimsical resort for families and the young at heart. To start, there are nine suite styles to choose from, with configurations that can incorporate a master suite and pull-out sofas to enable living room-style lounging. Then there's the crème de la crème suites: the famous Pineapple, inspired by SpongeBob Squarepants' home in Bikini Bottom, which offers two bedrooms and three bathrooms in a two-story dwelling with loft living space, a personal infinity pool, and butler. The two-bedroom, three-bathroom Pool Super Villa matches the novelty of Conch Street with luxury, and similarly sleeps up to six with the same features imagined differently.
But you don't have to book one of those bucket-list designs to get the VIP treatment for the family. All guests receive Slime smoothies upon arrival and access to the Aqua Nick water park, as well as the assistance of a Nickelodeon™ Concierge and vacation planner services. Other family-friendly extras include an amazing kids club, Gerber brand baby food, strollers, cribs, bottle warmers, kid-sized spa robes, in-room step stools, and kid-sized food displays at the buffet. On top of that, you can add on character breakfasts for something even more memorable than the included standard meet-and-greets!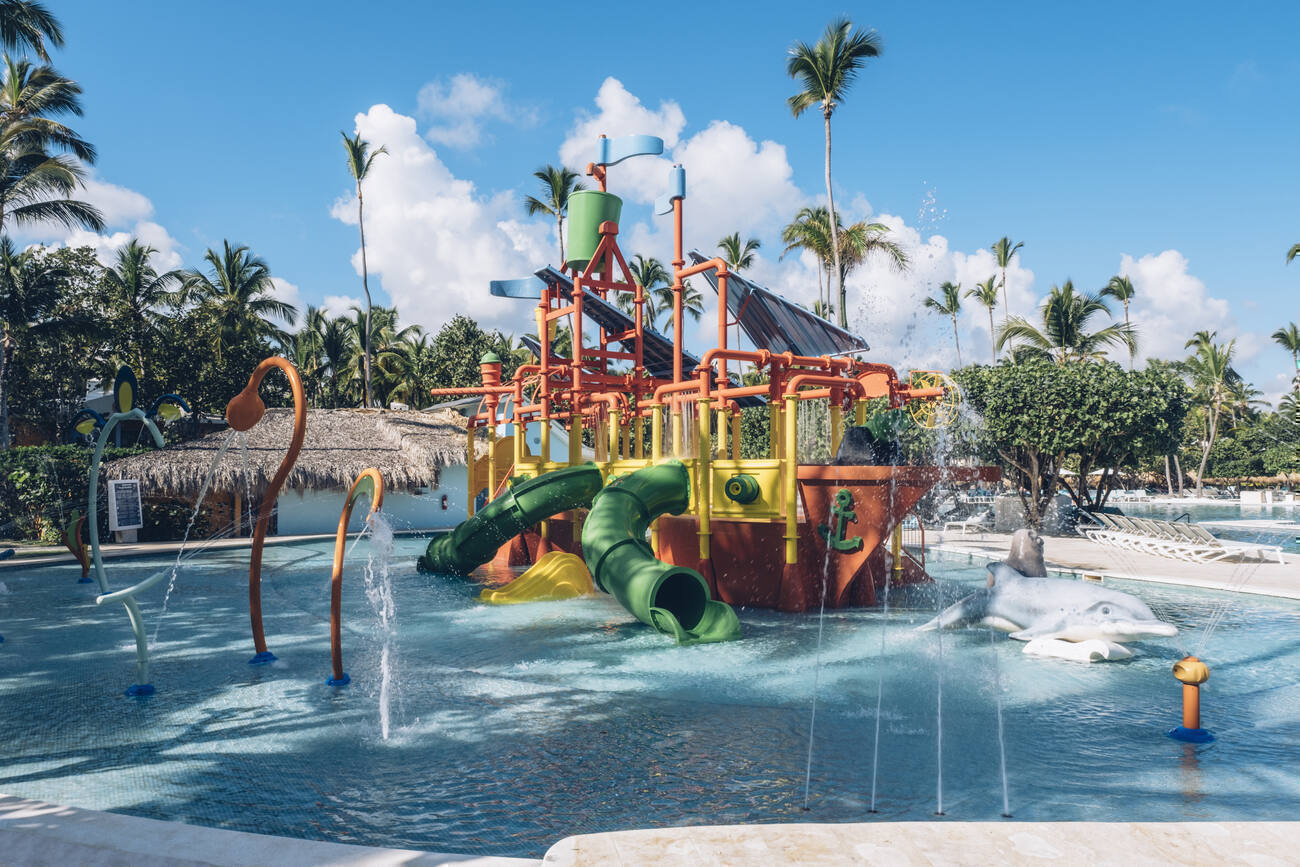 Iberostar Selection Bavaro & Coral Level at Iberostar Selection Bavaro
If you're worried about the availability of family suites that sleep up to six, or about the kids not having enough to do … don't be. Just pick this resort to simplify the matter. A whopping 48 family suites are available at this mega-resort's main hotel, and another 30 are up for grabs in Coral Level for a grand total of 78. These family units are all composed of two connecting junior suites, offering as much privacy or access as the grown-ups could want. And the kids will have plenty to keep them behaved when left to their own devices—a PlayStation device, to be more specific, which are available upon request! Plus pint-sized bathrobes and toys.
Out of the room is the Star Camp for all-day fun for 4 up to 17 years of age, then family enrichment activites like the coral nursery that's part of the brand's Wave of Change program, which we wrote about in "When Caring is in a Resort's Culture, Kids Benefit Now and In the Future." This program gets even more hands-on at their resorts in Mexico, including the Playa Paraiso Complex and Iberostar Selection Playa Mita, during turtle-release season, which we featured in "Release … the Turtles! At These Environmentally Responsible Resort." Best yet, between Iberostar Selection Paraiso Lindo and Iberostar Selection Paraiso Maya, there are 30 family suites to choose from, both offering access to a brand-new aqua park with dramatic water slides to help make this family vacation a splash.
Then, 76 more guaranteed connecting rooms are available between Iberostar Rose Hall Beach and Iberostar Selection Rose Hall Suites to create 38 family suites for those looking for a change in destination pace.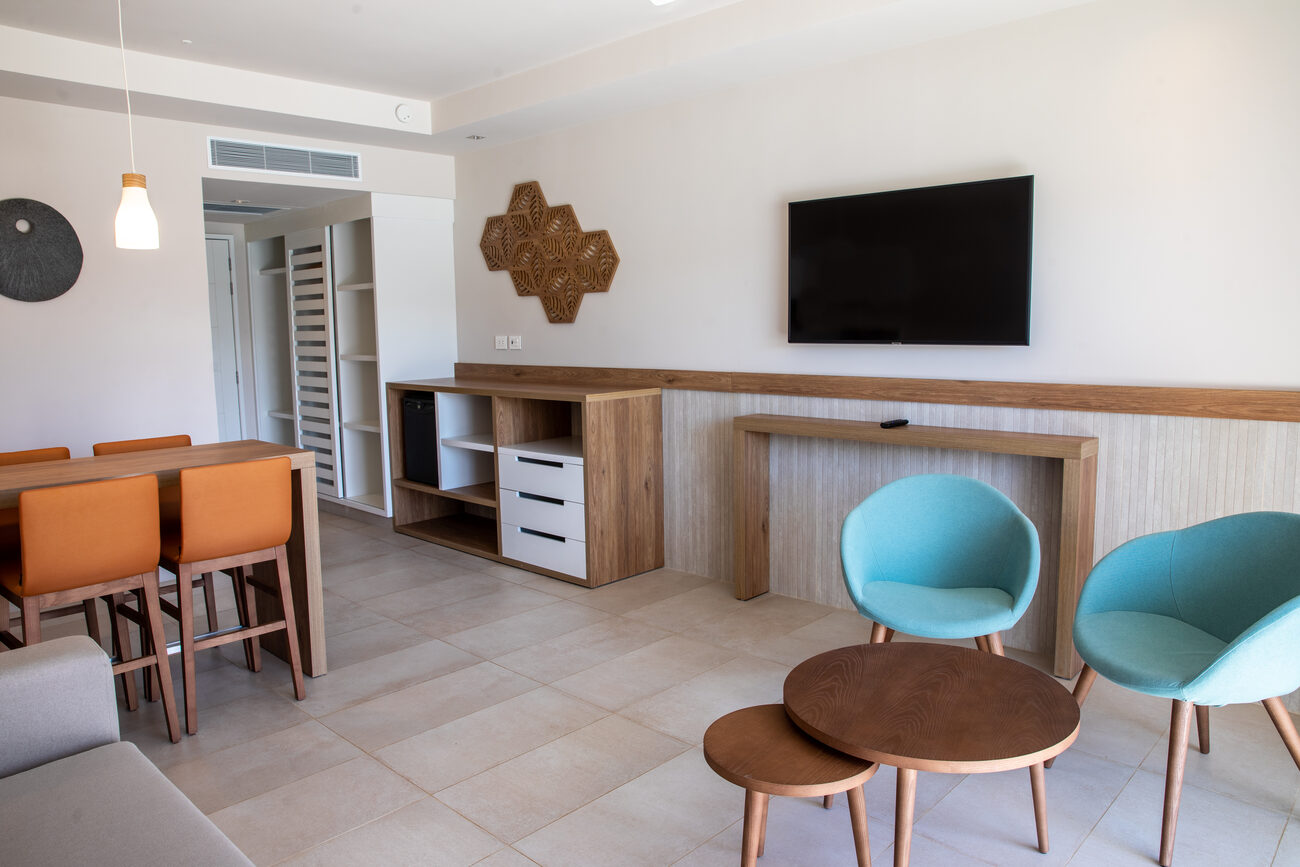 Bahia Principe Grand Tulum
And if the availability of adjoined rooms is tantamount, you'll be thrilled when you hear wait until you hear the stats on how many are available at this freshly renovated resort! An extensive effort that was the banner achievement of 2020, Bahia Principe Hotels & Resorts used this opportunity to introduce a brand-new room category that sleeps up to five—four adults and a child. These enormous suites have two full bathrooms and a living area, making the accommodations comparable to an apartment. Plus, they're close to the playground, water park, main pool, two snack bars, and the beach.
The magic number? A mind-blowing 204 family suites! The next closest for available connecting junior suites is 50, at Bahia Principe Luxury Akumal, Bahia Principe Luxury Esmeralda, Bahia Principe Grand La Romana, Bahia Principe Grand El Portillo, and Bahia Principe Grand Jamaica. After that, Bahia Grand Bavaro and Bahia Principe Grand Punta Cana offer 30 each.
With that many family suites on offer at Bahia Principe Grand Tulum, it's no surprise that the family amenities are no slouch, either. A Teens Club designed with the input of teens themselves; children's water park; comprehensive kids club in the amazing Zama Fun Area—a mini recreation of Tulum with Mayan education-related activities—and Bahia Scouts program keep everyone busy.
Want more water parks? Find our picks for Six On-Site Water Parks for Hassle-Free Fun, then find out how to keep your skin safe during all-day fun with Let the Sun Shine On with Eco-Friendly Protection. Or, read Everything You Need to Know About Planning Your Next Family Vacation for the 101.