Sea turtles are adorable and beloved, but also endangered. Here are resorts doing their part to change their status, and how you can participate, too.
One of the cutest residents of the deep blue, sea turtles are a poster child as to why we should care about the state of their home. Over the years, pollution of their waters, illegal slaughtering, habitat destruction, climate change, and other manmade threats have made three of seven global species critically endangered. This month, with June 8 being World Ocean Day, what better day to highlight both these animals and the opportunity to reverse some of the damage done by our fellow man? And leading the forefront is the travel industry.
Luckily, ALG Vacations™ partners with a ton of environmentally responsible resorts who lead in protecting the marine-, wild-, and plant-life of the places we love. And even better still, several of them allow their guests to take part in their efforts for conservation, expanding the network of responsible travel. Among the most popular global projects have been sea turtle hatchling release programs, which occur worldwide at properties in destinations where they nest.
Here are some of the best ones around the world.
Iberostar Hotels & Resorts
From May to October, some of the most important guests to the Playa Paraiso Complex, Iberostar Selection Playa Mita, and Iberostar Selection Cancun are green and four-flippered as no less than five species of these precious creatures nest on their beaches. As a brand who has made an aggressive commitment to protecting our planet with their Wave of Change program—part of their extensive How We Care promise—they take great pains to ensure the safety of their turtle nests. This includes setting up camps to defend against predation of all kinds, creating a non-disruptive environment, providing ample space, and educating staff and guests on this cause. They even have an in-house management and conservation specialist at their largest property, the Paraiso complex!
The babies hatch sometime after 50 – 60 days from nest establishment, and under expert staff supervision, guests may take part in guiding them to the ocean, helping to give the next generation a better chance of surviving and thriving.
Secrets Akumal
This AAA Four Diamond resort is known for and named for its green sea turtles—so much so that the name Akumal literally means "place of turtles" in the native Mayan language. The bay has recently been declared a protected refuge for sea life, and the team at this Unlimited-Luxury® hotel is proud and protective of this designation. After all, the largest population of them regularly hang out at this resort, which is a gift from Mother Nature. Two species visit and nest here between May and November—Loggerheads and Hawksbills—and join the green turtles seasonally. The regularity of the presence of the latter gives guests the opportunity to swim with sea turtles only a few meters out from the property's beach. For their safety and yours, please don't touch, ride, or feed them—the resort does a good job of reminding guests, but we need to say it, too!
Other ways the staff protects this precious population is by placing signs on wooden stakes with ropes around nests so that guests don't accidentally disturb or step on the eggs. They also work with local authorities to track and record the number of nests.
Now Amber Puerto Vallarta and Dreams Puerto Vallarta
During hatching season, the concierge at this Unlimited-Luxury® property can help provide details on how to join in on helping baby sea turtles make their first adorable steps into the ocean. They typically take place in the evening by the lifeguard tower, and will include the event in their daily bulletin or update should you be lucky enough to be there when these cute little guys make their ways out into the world, which can be any time between July and December. The nests are monitored carefully for any signs of emergence, so if visiting during that time period, be on the alert!
The nearby Dreams Puerto Vallarta is also heavily involved with local authorities and conservationists, monitoring the beaches daily for signs of new egg nests. With the help and supervision of local protection agencies, nests are moved if needed. But best yet, when the time comes, daily egg hatching reports are provided for guests for the ultimate family activity.
Zoëtry Villa Rolandi Isla Mujeres Cancun
This retreat is far and safely removed from the main beach activity of the region … and that's just how the turtles like it. From this family-friendly (but not family-geared) boutique luxury wellness resort, it's a short hike to the Isla Mujeres turtle farm, a sanctuary to endangered sea turtles. The entrance fee is only $3, which includes visits to exhibits featuring seahorses, fish, and small sharks. Although turtle releases are only from July through November, tours are available all year.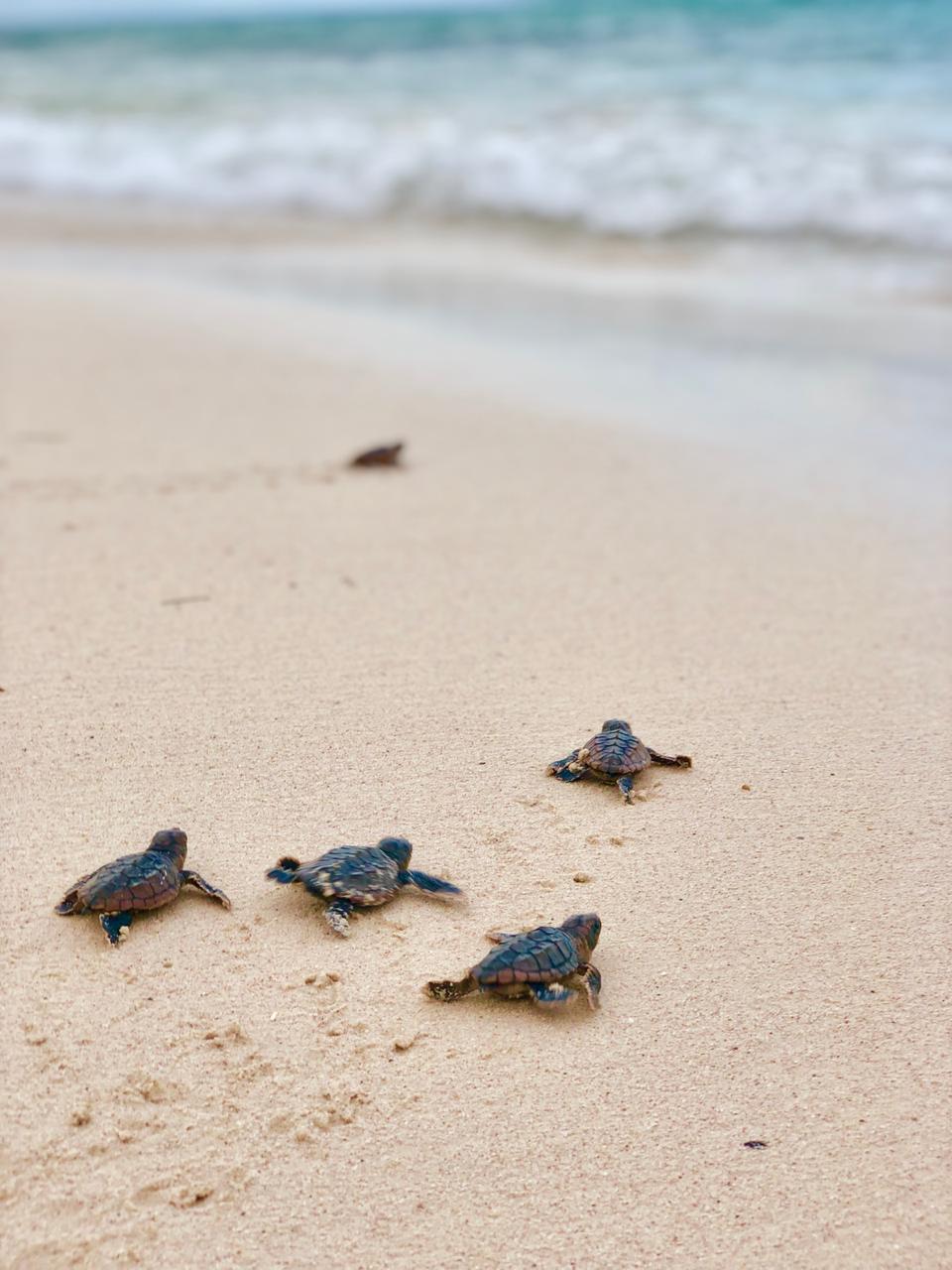 Now Jade Riviera Cancun
Mother Caray Green Sea Turtles are the species that like to lay their eggs on this beach, and nesting begins in May and ends in October. At this resort, releasing the hatchlings is a hands-on activity, so lucky guests who happen to be at this property when the shells start cracking will get to actually handle the newborns to help them out to sea at no additional cost! Of course, this is done under the guidance of local biologists, with whom the resort team works closely to protect fragile nests and vulnerable babies.
Dreams Huatulco
From July through January, you might be sharing a beach with sea turtle eggs on the verge of breaking … in the best possible way! In this hands-on experience, guests can take part in witnessing and assisting hundreds of tiny little sea turtles to safe harbor.
Dreams Las Mareas Costa Rica
Three types of turtles nest at Jobo's Beach: Baula, Hawksbille, and Green. You'll find them emerging from the waves to dig out a corner their own personal paradise from March to September, after which, the resort's staff take over guardianship, with 24-hour security to ensure their safety. During this time, guests are welcome to attend talks to learn more about these seasonal visitors, or participate in hatchling release to the waters of this Central American destination. Nearby, Grupo Santa Elena organizes the enriching Turtles Festival in the community, which brings cultural and educational activities centered around sea turtles to guests and locals.
Marriott Grand Cayman
Sea turtles are incredibly important to this destination—so much that they're featured on the island nation's currency and their flag! So it comes as no surprise that the robust Cayman Turtle Centre Island Wildlife Encounter experience is highly recommended by this hotel brand. Here, interactive exhibits chart the life cycle of green sea turtles, starting with Turtle Touch Tanks where you're allowed to handle them, continuing on to snorkeling in the Turtle Lagoon among islands filled with iguanas and peacocks, and watch feedings for these creature as well as others, like an 11-foot crocodile and in a Predator Reef.
More unusually, the resort's sands become the site of more mature turtle releases, in partnership with the Cayman Turtle Centre. As of only four years ago, they were proud to report that 54% of the nesting population in the waters around the Cayman Islands could trace their genes back to this preservationist group's earlier efforts. Over 31,000 year-old turtles have been released by this group since 1979 through this Head Start hatch-and-release program, allowing them to be cosseted and cared for during their most vulnerable life stage before they join their wild brethren.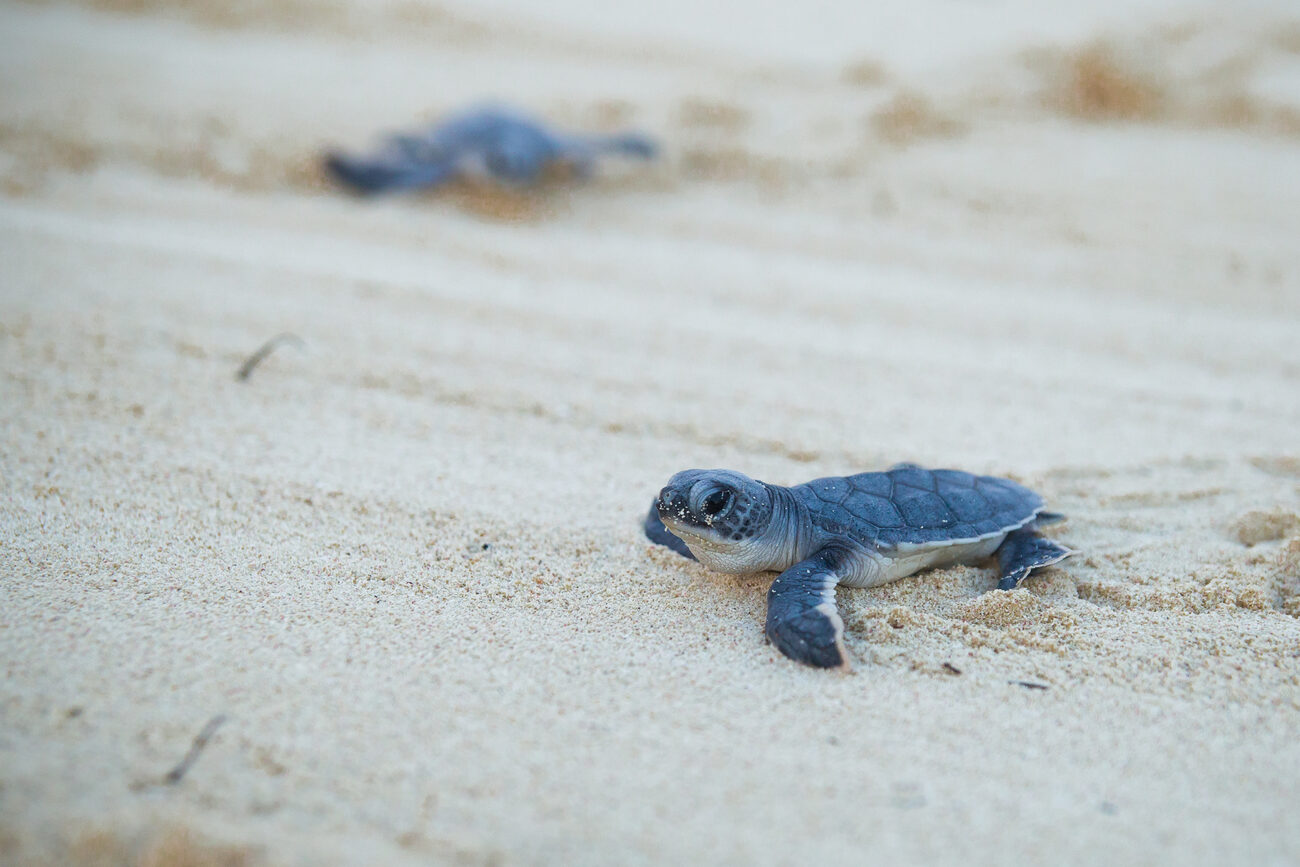 Mauna Lani Auberge Resort
True, Hawaii is part of the United States, which makes Independence Day just as valid there as anywhere on the mainland. But at this resort, they have a little more to celebrate on that date: Turtle Independence Day! On the fourth of July every year since 1989, turtles that are lovingly reared in the hotel's saltwater ponds under the direction of conservationist Sea Life Park in Oahu are released to the ocean. These are bigger than the palm-sized hatchlings by quite a bit—they're only sent back into the wild after 2 – 3 years of careful caretaking through the hotel's Malama Honu turtle program.
Should your visit dates not coincide with this wonderful event, the hotel does host regular Malama Honu Turtle Talk education sessions. These complimentary talks are limited to ten guests for up-close-and-personal encounters and Q&As with the Aloha Aina Natural Resources team at the hotel.
Le Meridien Bora Bora Ecological Center
This wildlife resource set beside the inner lagoon of this luxury dream resort is only 21 years old, founded in 2000 when a guest brought in a single injured turtle for care. From that first patient emerged a robust Ecological Center with an active Turtle Center project at its core—one of only two of its kind in French Polynesia. Today, the ecological center also works with coral preservation, but the emphasis on sea turtles remains. The resort's own team works with Bora Bora's Ministry and the Delegation of the Environment to take care of the area's turtles, and hosts programs for guests to learn about their work. Unique activities to this resort and center include observation of their behavior, their care, and participation in their protection measures. It's complimentary to guests, and begins with a morning feeding of the turtles and meeting with the biologists who devote their lives to caring for these wonderful creatures. On-site are a touch pool with various other wildlife; a museum with paintings, posters, and models; educational aquarium tanks; and a natural inner lagoon with an exhibition area and panoramic window that allows you to see the life under the sea while on land.
Special packages anyone can opt for are healer for a day experiences, which includes a full day at the center and two-course lunch, as well as round-trip boat transfers to and from Vaitape.
Riviera Nayarit, Mexico
Every year, thousands of Olive Ridley sea turtles emerge from the ocean to nest and lay eggs, with only a small number of the babies making it to sea. In this part of the world, they're vulnerable to black market poachers, as well as predatory birds and iguanas. To combat this, Mexico government agencies and marine biologists have been very active in their defense, and have created some great touristic programs around the amazing experience of helping the hatchlings to the water's relative safety.
Brevard County, Florida
Not far from Orlando, on the Sunshine State's Space Coast, the Barrier Island Center has made it a priority to help protect and teach about sea turtles on our very own coast. They partner with the Sea Turtle Conservatory in June and July to host guided sea turtle walks that feature loggerhead and green turtles—a wonderful way to enrich any family's Orlando theme park vacation. It's only an hours' drive in a rental car (which you can easily add onto any VAX Vacation Access booking) from those attractions, and close to Cape Canaveral for those doing pre- or post-cruise stays. Space is limited to only 20 per night, so book early.
Want to learn more about resorts that are making waves in responsible travel? Read Greener Pastures: Environmentally Responsible Resorts to Support for our top recommendations and why.