You're six months out … is it too soon to think about prepping for departure? With recent passport delays, the answer is, it's not soon enough.
Very often, people don't think about taking a vacation until they need a vacation. Close-in booking, particularly when the travel environment keeps shifting due to crises such as new variants, and its ripple effects, including staffing issues across the board. So in the new normal, planning ahead, preparing for the worst and hoping for the best is the … well, best we can do.
So then is six months too soon to think about your next trip?
Normally, we might say maybe, but with recent passport processing and renewal delays, the answer from many experienced travel advisors is that it's not soon enough.
Whitney Norman from SunLover Travel posted this to her agency's Facebook page in early August, bringing up critical and valid points.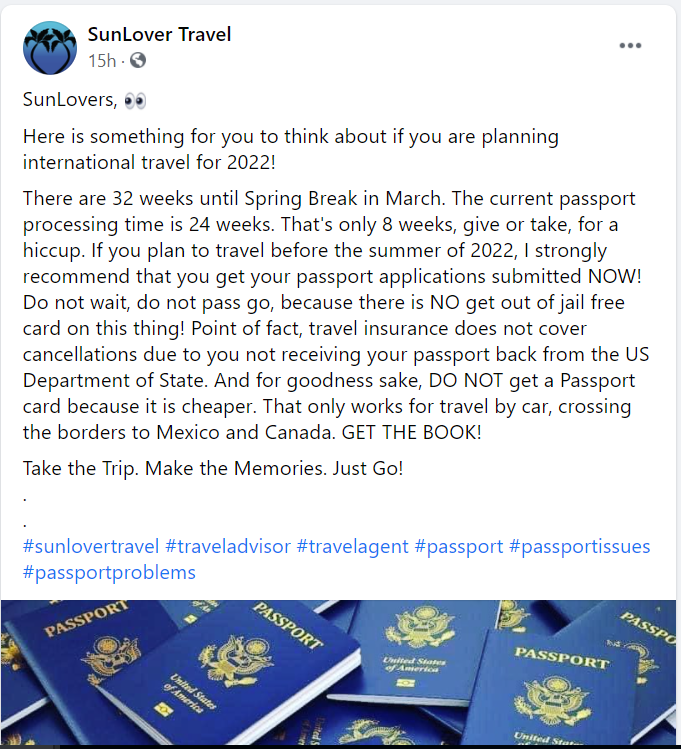 That was posted with 32 whopping weeks to spring break. Six weeks of safety net timing. And not nearly enough time to account for potential processing snafus, delays, or greater surges in demand that ended up further slowing down the Department of State.
Terri Jobe from Blue Water Travel echoed the same in a post with a slightly more favorable processing timeline, which further reinforces the fact that these passport processing delays are fluid, unpredictable, and create risk for those looking to travel.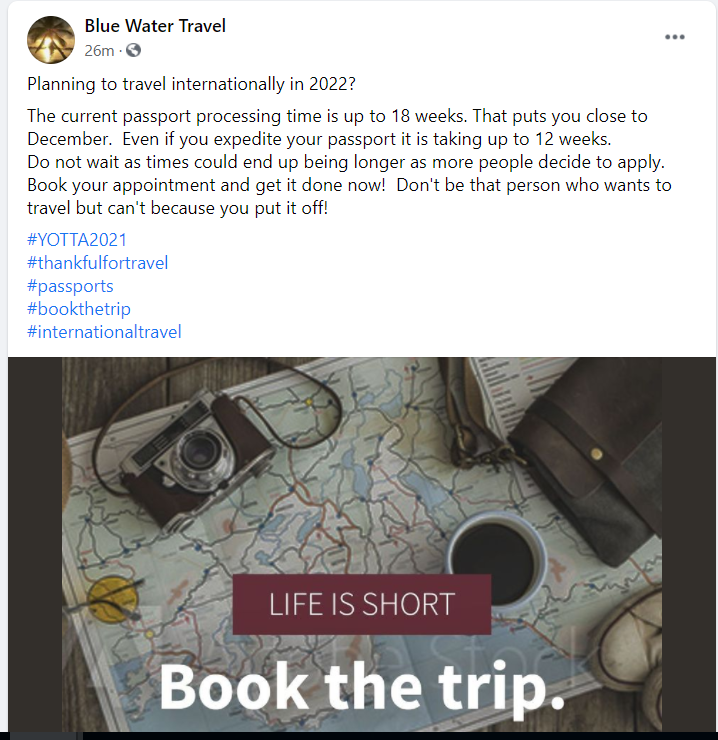 And so, what best to do? ALG Vacations® spoke to both of these advisors to get their tips on how to urge your customers to go ahead and renew their passports early to avoid putting their future travel plans at risk. Here are the most frequently encountered questions your travelers may present to you, and the best ways to answer them.
How soon should I be planning ahead for travel?
"If you need a passport, you should not be planning travel for closer in than 18 weeks," Jobe advises, but Norman cautions that 24 weeks is the current waiting time for any passport activity, which ALG Vacations® is echoing to better err on the side of conservatism.
Back when this article was first posted, in August, she had said, "If you plan to travel before the summer of 2022, I strongly recommend that you get your passport applications submitted NOW," Norman says emphatically. Jobe adds, "If you want the best deals and best flights available, you should be looking at six months to a year in advance. Last-minute travel has very limited availability, and you must be very flexible, especially if you are looking at traveling over Christmas and New Year's Eve."
Why is passport processing delayed right now?
It all boils down to health being tantamount. "The offices were closed during COVID and are still not operating at 100%," says Jobe. This led to a backlog in requests. Labor in every field has been impacted from the pandemic, and the Department of State is no exception. There's only so much each person can do, which leads to a ripple effect of consequential delays.
Why is it important to have a valid passport?
Quite simply, because you can't leave or enter the country without one. Especially as international travel tightens due to current circumstances, having buttoned-up credentials as to your identity and citizenship can only be an additional safety net. If you try to use an expired passport, "you will be turned away at the airport," Jobe states flatly. There are no exceptions.
Can you still book international travel without a passport?
"While you can 'book' travel without a passport," Jobe concedes, "it must be valid upon departure. The names and dates of birth must also match." So advisors can go ahead and close that sale, but should emphasize strongly that booked or not, they can't travel without valid documentation.
Does travel insurance and Travel Protection Plus cover passport-related cancellations or if you are turned away due to an invalid passport?
The short answer is no. The only loophole would be through utilizing ALG Vacations'® Cancel for Any Reason coverage, offered through the purchase of Travel Protection Plus. Although they will lose the amount they paid for that protection, it pales in comparison to losing the cost of the entire trip, which would be the case otherwise. Jobe points out, "Not all companies offer this and some that do don't cover at 100%. ALGV does, though, and it's been a huge reason why my clients and I keep booking with these brands."
How long should one's passport be valid for?
Passports are automatically assigned or renewed for ten years at a time. However, bear in mind that for many destinations, your passport cannot expire outside of six months of your travel date. This is so important that Norman keeps this as a reminder on her email signature to ensure that clients don't miss this fine point. That means if you're planning on traveling in December and your passport expires that same month, you may face issues returning home since it needs to be valid through June, which is six months after.
How do you submit a passport application?
The U.S. Department of State offers several options to apply for a passport, much of which can now be conveniently done from home. Your first step is to fill out the appropriate form, choosing from new applications, renewals, data corrections, or to replace a lost or stolen passport. Then you'll need to gather your citizenship documents and get a passport photo taken and printed for submission. Be sure that it's unfiltered, in color, not a selfie, against a white background, and that eyeglasses are removed, or it will not be accepted. You can view examples here.
What is the best path to getting a passport?
Jobe recommends doing it all through your local post office and being prepared when you arrive. "Go to www.travel.state.gov and print out the full application ahead of time so that it's completed prior to your appointment. The post office can actually do the pictures and your application all at once and they will go through your paperwork to confirm that everything is filled out correctly." However, she notes, "Most post offices now require appointments, so be sure to plan ahead and make one!"
What is the cost of a passport?
Passport fees vary, and expediting tacks on additional costs. A fee calculator and fee chart are available through the Department of State. First-timers who are 16 or older must pay an additional $35 on top of the $110 or $140 application fee that is standard. Passports for those under 16 cost less. And if you're in a hurry, special services such as expediting may cost upwards of $60—another reason to get ahead of it.
Why do I need the passport book and not the card?
Norman's words of warning bear repeating here: "DO NOT get a passport card because it is cheaper. That only works for travel by car, crossing the borders to Mexico and Canada. GET THE BOOK!" And Jobe echoes that. "The card is only good for land crossings. To fly to an international destination, you must have the passport book," she cautions.
For more industry and travel advisor business tips, click on Work in TravelBlogue for all of our travel professional-only stories, including Four Ways to Protect Your Customers from Flight Delays and Becoming a Thought Leader for Responsible Travel.