Here's the scoop on this Grand Canary Island-based brand's latest entrant to Dominican Republic's Costa Bavaro
Although they're the leading tourism company on the Canary Islands, with more than 20 hotels there on Grand Canary Island, Germany, Austria, and Spain, Lopesan may not be a name you're accustomed to associating with tourism in the Americas. But no longer—with the grand opening of their new build Lopesan Costa Bavaro Resort, Spa & Casino in Dominican Republic, they're poised to up your options on this side of the world.
This resort, opened just recently in 2019, is their fourth purpose-build property in the world, and they made it a playground, incorporating elements of global travel and world-class service and amenities. Here's are the high-level highlights to catch you up on this Endless Luxury property:
Endless Luxury: What Does It Mean?
Everyone has their own way of saying all-inclusive+ these days, and this term is how Lopesan frames their extras. What's included in that is access to six à la carte restaurants, two buffets, two beach clubs, seven bars, six pools and a kids pool, and leisure and entertainment such as fitness classes, volleyball, snorkeling, teen sports, billiards, and others. You can upgrade your stay by opting to bowl on the Boulevard, play in the arcade, diving nearby, too.
For Kids, For Couples, For Everyone In Between
They bridge the gap between family-friendly and grown-up getaway by providing an extensive 222-room adults-only section with its own pool, a casino, and night club alongside entertainment for the little ones, such as a water park and enormous 8,600-square-foot kids club and area. For the young at heart, a bowling alley, arcade, amphitheater for 790 people, and more are located on the aforementioned Boulevard, the activities hub of the resort.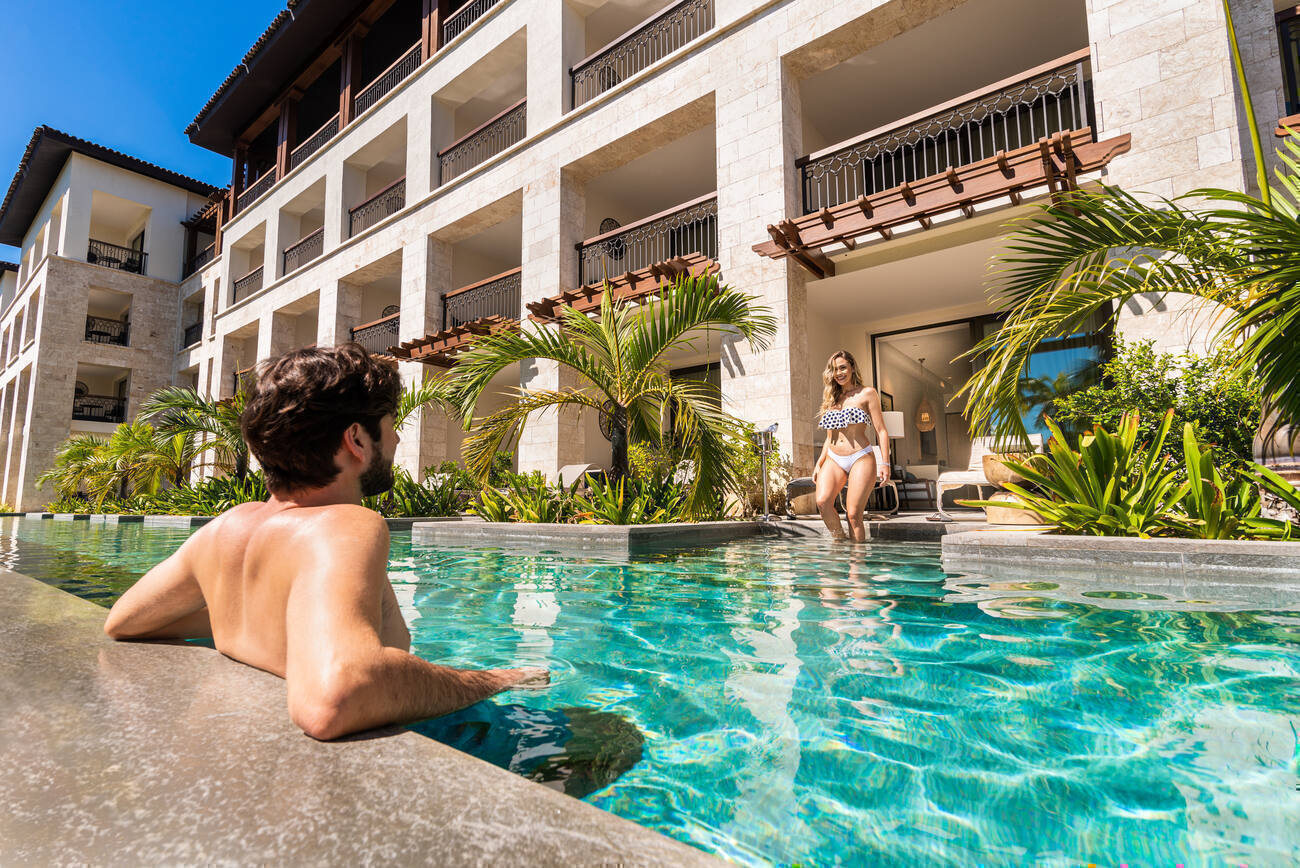 A Truly Unique Club
The most exclusive category of guests at this resort, the Unique Club is one you definitely want in on. What comes with your membership are premium areas in the restaurant and lobby; your own beach club, which provides breakfast service and gourmet bites along with your own bar; beach area wait service; and better rooms in better locations.
Dine Well
We touched on the fact that this resort has six themed restaurants and a full pair of buffets. What we didn't mention is that together, they have a total capacity to serve 1,400 diners, including those with dietary restrictions, such as vegetarians and those with allergies. They only need ask to be accommodated, which every venue will do.
To start, there's American comfort food from across our country at The Valley, like burgers, potato salad, ribs, wings, mac and cheese, and chicken tenders, and even more meat at El Asador, the steakhouse. The Stone Grill BBQ for two is an easy choice, with beef, chicken, lamb, pork, and sausage all.
Of course, there are the staples: Italian, Asian, and French. At these, find dishes like pizza, pasta, focaccia, and risotto; teppanyaki show cooking, sushi, and stir-fry; and onion soup, foie gras, beef bourguignon, duck confit, chateaubriand, cheese fondue, profiterols, and crepes.
Authentic Mexican and Tex-Mex is available at El Charro round out the included global offerings; Mediterranean Mareas is not included. However, the international buffets change their primary themes alongside their staples, so there really is no shortage of options.
What we love about this resort already is that their menus are available on their website, letting you plan ahead on answering the age-old question, "What's for dinner?"
Quench Your Thirst
With seven beverage outlets, all of which sling "top branded alcohol and soft drinks," you won't go thirsty here. Start in the lobby at Caralino, or if you're Unique, check out the private bar in the Beach Club. On The Boulevard, you can make a pit stop at Yolo, where they also have quick bites, or Sport Bar, where you can grab a drink while watching global sporting events and shooting pool. Alternatively, you can stop at Bavaro Coffee for just that and a pastry or three. Quiet Timon Bar, a bit further away from it all, also offers a similar chill vibe along with La Perla in the adults-only section.
Rest Easy
Over a thousand units connected by 14 elevators across five floors make up the contemporary, coastal cool rooming options at this resort. Of these, the vast majority are Junior Suites, some of which are thoughtfully adapted for guests with reduced mobility. Most offer plush king-sized beds, but double queens are available, too. No matter the bedding configuration, all rooms include daily housekeeping and have a 50" TV with satellite channels, coffee machine, daily restocked minibar, safe, rain shower, tub hair dryer, private terraces, and views of either the gardens, pool, or sea.
A dozen Corner Junior Suites add wraparound terraces to the list of features, and 105 swim-up suites take your outdoors time to the water. But if you'd rather relax in the A/C, the 26 full suites with their own separate living spaces may just be the right fit for you.