Why should you have to take your best guess at what tours and excursions you're marketing to customers when we can just tell you?
How many times have you shown a customer a sizzle reel of a destination only to have no answer for the questions, "So what was that?" "Where was that?" and "How do I do that?!"
What a lost opportunity for a commissionable add-on for you and an unforgettable experience for them!
By now, you may have seen the Amstar DMC #YOLO commercial (above) making the rounds online, highlighting exciting or iconic Caribbean and Mexico excursions that live up to the video's namesake phrase, "you only live once." But in order to do just that, you need to know what to search and what to book, right?
To help travel advisors like you, ALG Vacations™ sat down with Amstar and broke this video down frame by frame to point out exactly what we were looking at so that you can easily recreate any of those moments for your customers in VAX VacationAccess.
Here's what you're seeing in chronological order: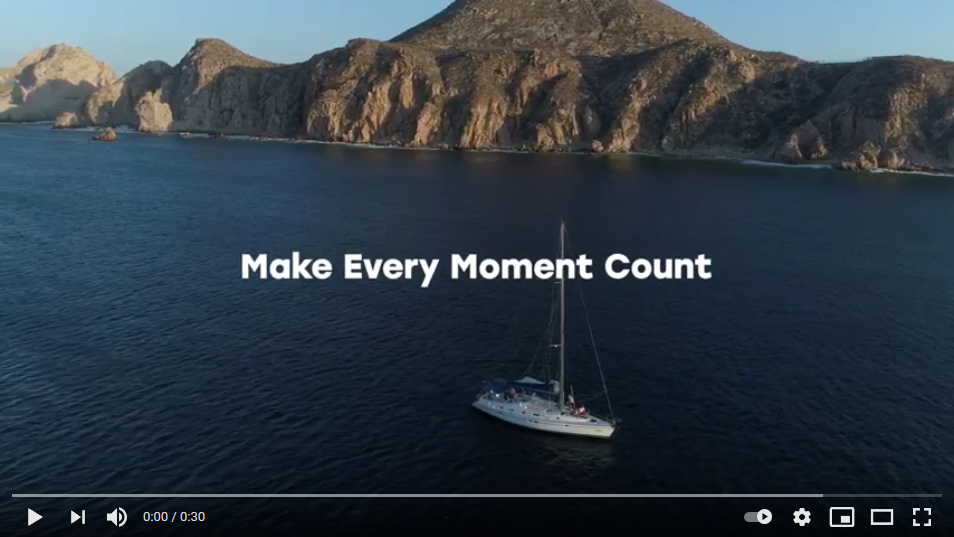 00:01 – Luxury Sunset Sailing, Los Cabos
The video opens with an aerial of a Beneteau single-masted sailing yacht in the sapphire blue Sea of Cortez as it passes along the Baja Coast of Mexico. What you don't see but guests will experience are inside galleries, cushioned decks, an open bar, and gourmet hors d'oeuvre service as the sun romantically sets in the distance.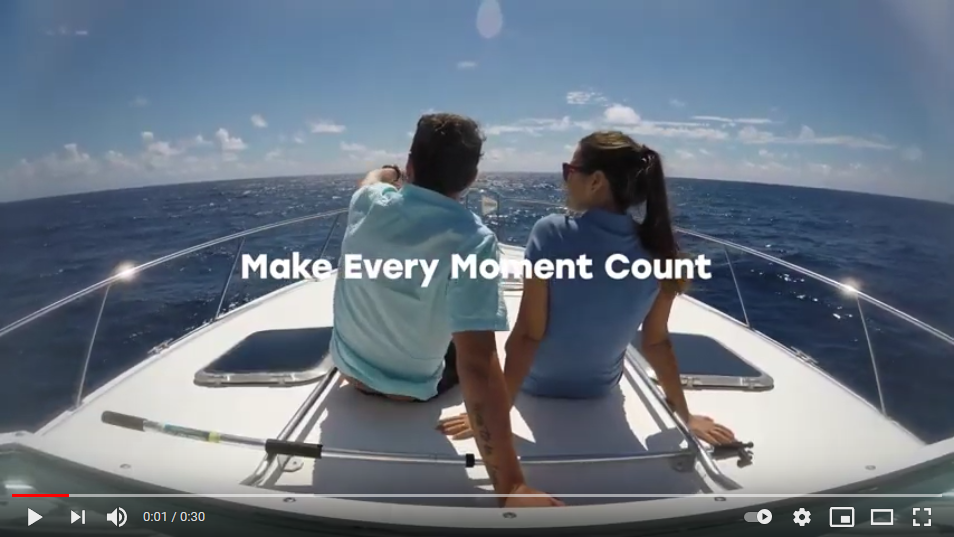 00:02 – Fishing Charter at Cap Cana Signature Experience, Dominican Republic
Blink and you might miss it in the commercial, but go and you'll never forget it. The couple on-screen are perched on the front of a deluxe double-decker, deep sea fishing boat reserved for private groups of up to 8. Included in the experience is an open bar, hotel transportation, and four hours to reel in a catch or catch some rays.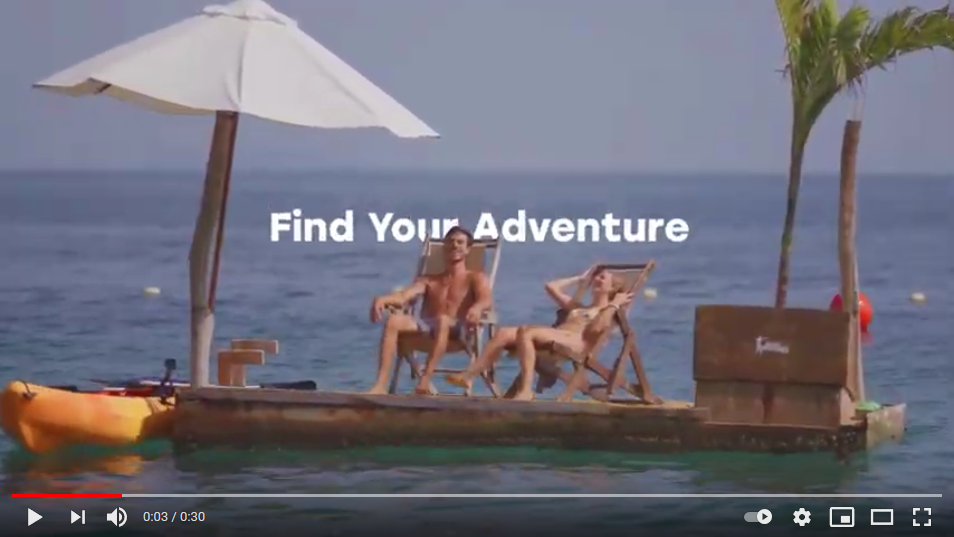 00:03 – Las Caletas Beach Tour, Puerto Vallarta
The floating platform in the video is just one of the ways to relax in this exclusive beach hideaway. A luxury catamaran whisks guests away to film director John Huston's former private home, where a range of activities are within reach. Kayak, take a jungle hike, hang in a hammock, walk the orchid gardens, visit the parrot center, get a treatment at the hilltop Spa Center, or just toast the good life as these folks did.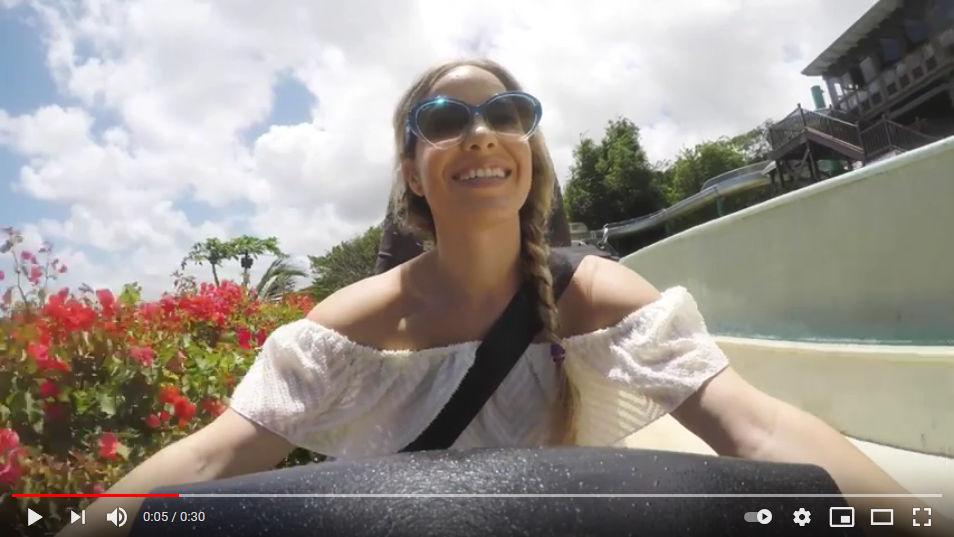 00:05 – Mystic Adrenaline Rush, Jamaica
Also called the Tranopy Mystic Mountain Tour, the Jamaican bobsled ride you saw on screen is only a fraction of the experiences included in this 5-hour excursion. It's awesome enough with its 3,280 feet of mountainous twists and turns, but there's also a Sky Explorer chairlift that takes you 700 feet up into the jungle canopy and a zipline course with Ocho Rios views included. The day caps off with water slides at an infinity pool with access to a restaurant, gardens, and small museum.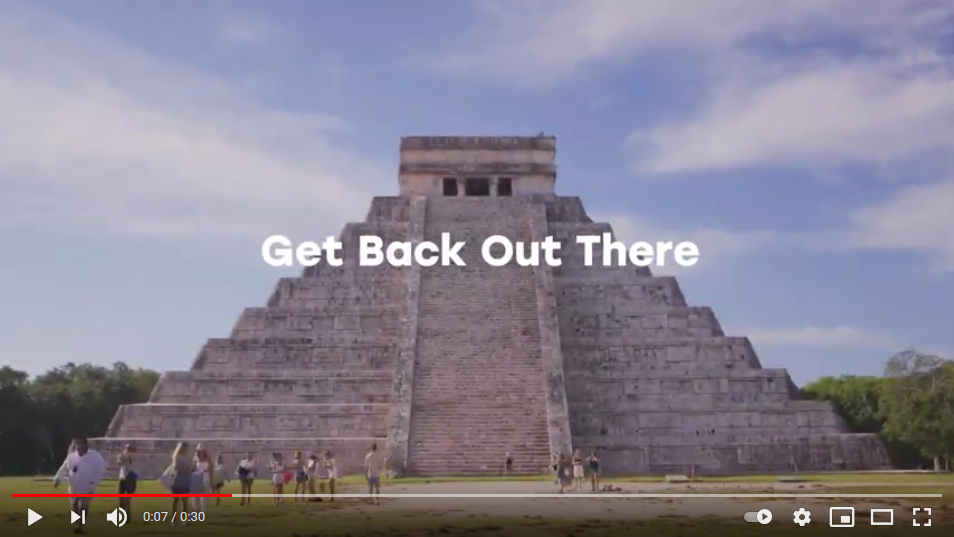 00:06 – Chichen Itza Regular, Cancun
This one likely didn't really need the identification—the ancient Mayan city of Chichen Itza, one of the New Seven Wonders of the World, is iconic in and of itself. The tour that lends itself to this footage includes lunch at a local restaurant, a break to swim at a nearby cenote, roundtrip transportation from your resort, and a guided tour of the archaeological complex.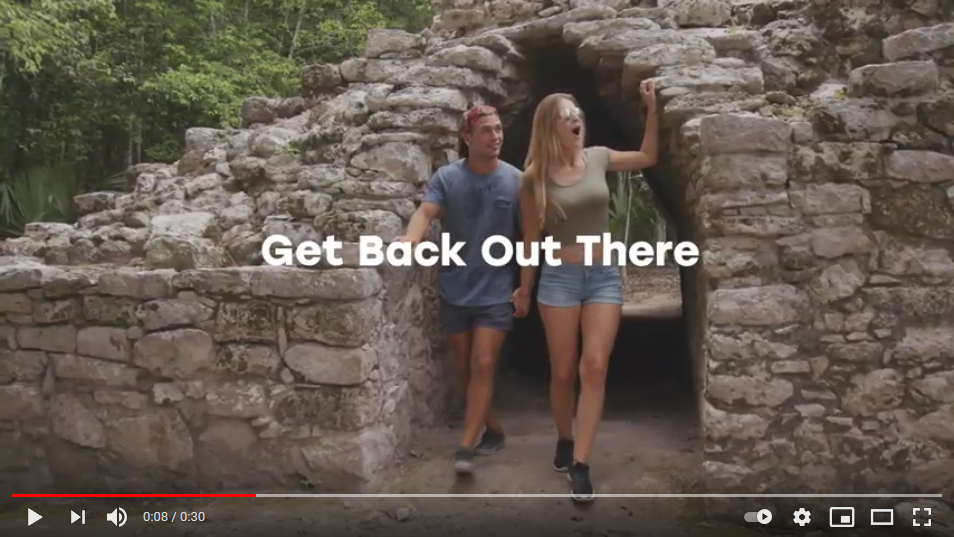 00:07 – Tulum Half-Day Tour, Riviera Maya
Thought you were still in Chichen Itza? Think again, because the Yucatan Peninsula is full of historical sites, and the one this young couple is exploring is that of Tulum, the only ruins facing the Caribbean Sea. It's often a trip to get there, but this tour makes it comfortable with included, door-to-door air-conditioned transportation. A guide helps you navigate the grounds first before setting you loose on the white-sand beach below the city and famous El Castillo lighthouse.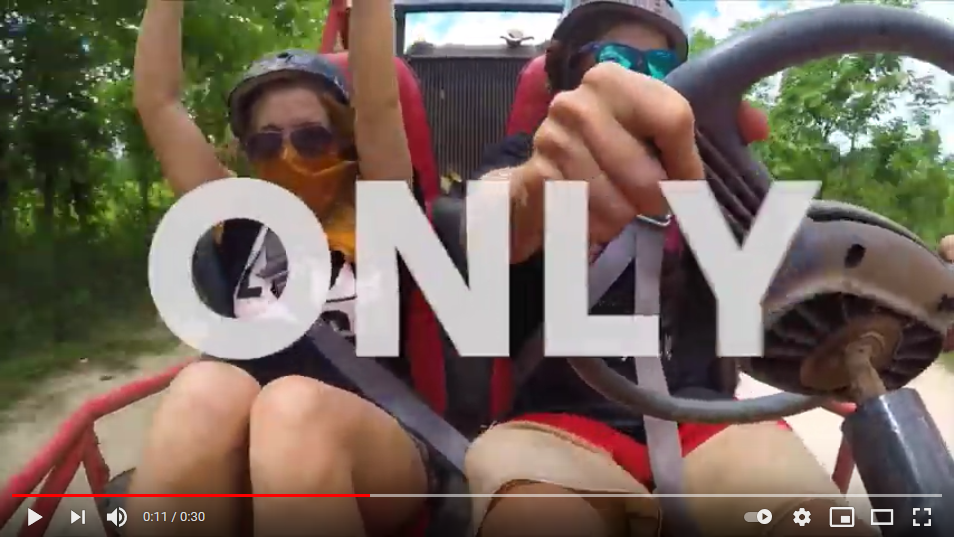 00:12 – Wild Tiger Buggies, Punta Cana
You can't get too much closer to "down to earth" than in these novel buggies! They're the vehicle of choice for this 3-hour joyride off road and into an abandoned quarry, caves with secret waterways, and wide open spaces of the rugged island terrain. Obviously, that's more than can be captured in a couple of seconds on camera, but the exhilaration in the video is really all you need to know.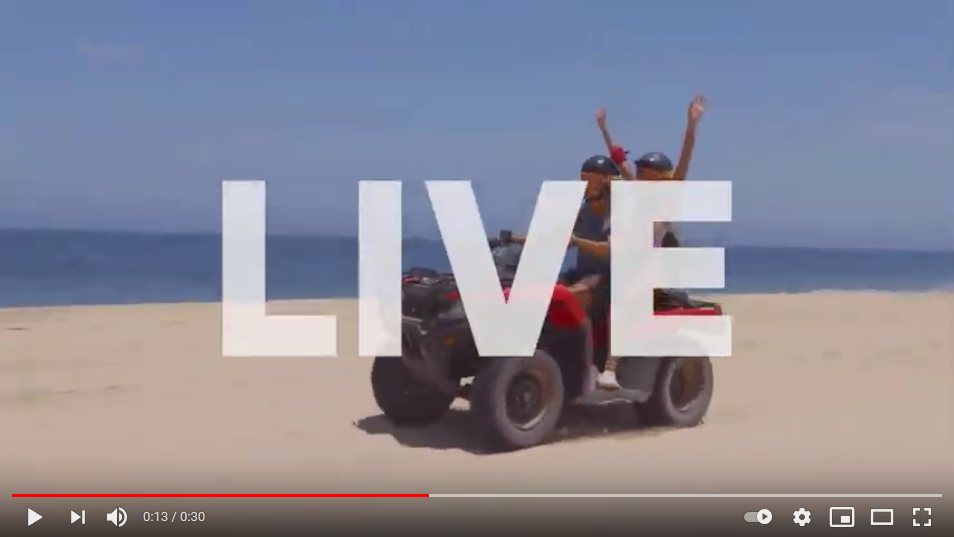 00:13 – ATVs Migrino, Los Cabos
ATV rides have become quintessential for warm-climate adventure tours, but what makes this one special is that instead of tearing through a jungle, you're tearing up a desert. That gives you a lot more freedom to roam down dirt trails, beaches, and back roads for two hours. The tour ends at Herpetat, a reptile center featuring scaly friends and other wildlife from the Baja area.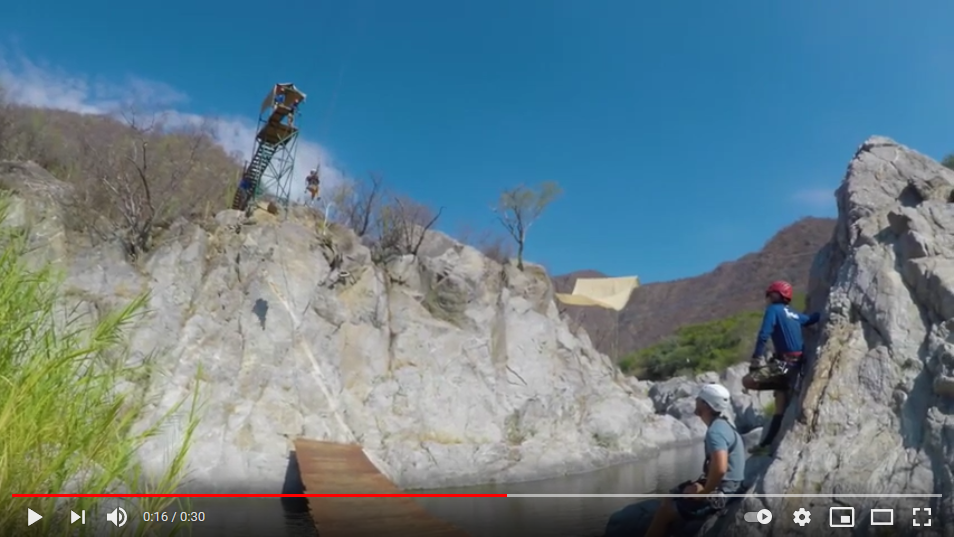 00:17 – Outdoor Adventure, Los Cabos
The dry heat and sunny days of Baja California are ideal for adrenaline seekers that don't want to be slowed down—as is this tour! The video only gave you the briefest of glances at the area's longest, fastest, and highest zipline, where you can reach up to 62 miles-per-hour speeds. But this excursion also takes guests from Boca de la Sierra town to UTV riding through the desert, rappelling along the mountain, and rock-climbing.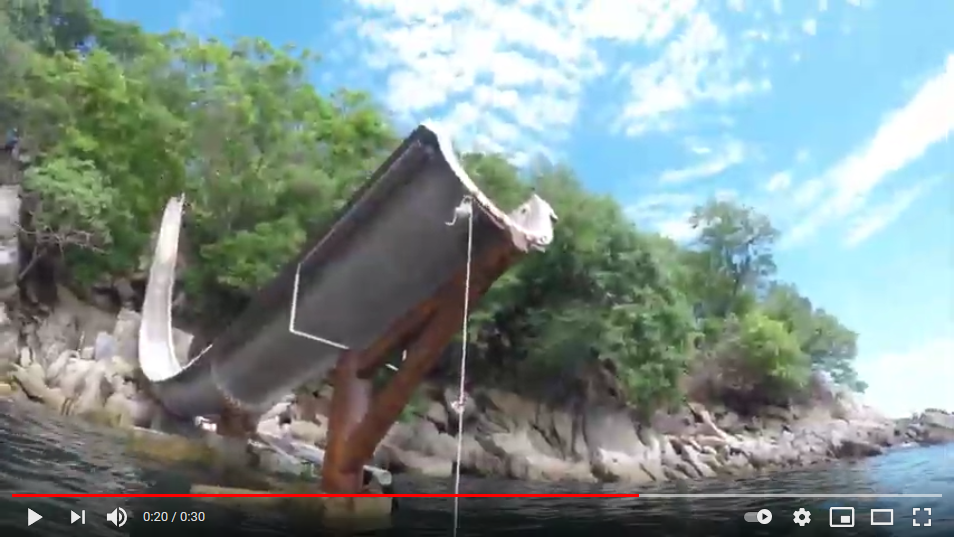 00:20 – Las Caletas Beach Tour, Puerto Vallarta
Back to Puerto Vallarta with this beach tour we gave you a peek of way at the beginning of the video. This outing is so good, we had to show it twice!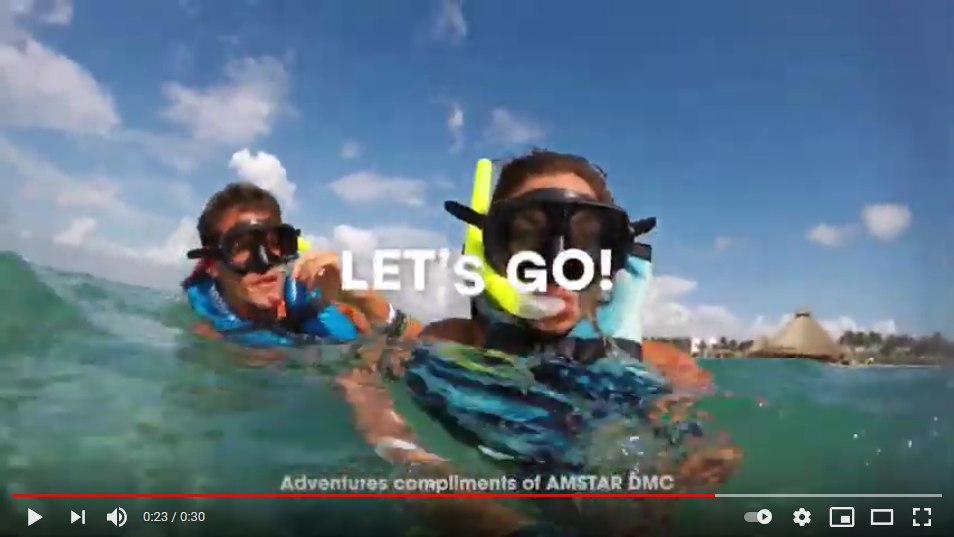 00:22 – Jungle Tour, Cancun
One of the most distinctive things about staying in Cancun is the fact that you have two bodies of water to explore: the Caribbean and Nichupte Lagoon. This tour lets you explore both. Guests get to race through the latter, through its mangrove forests, in your own speedboat, along with snorkeling with more than 500 species of fish, a peek of which you got in the video.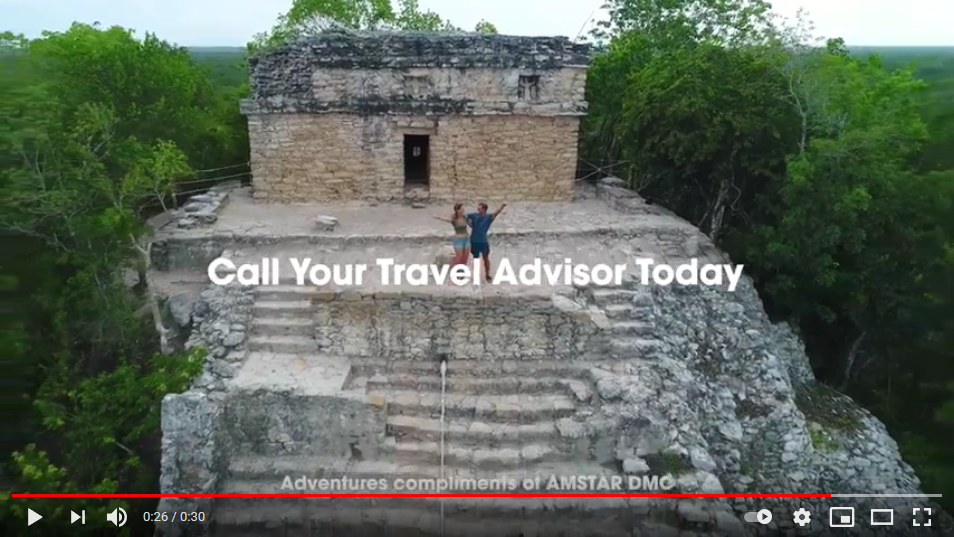 00:25 – Coba Pacchen Mayan Encounter, Riviera Maya
Lastly, another iconic experience: Coba, the archaeological site featuring the tallest pyramid in the Yucatan Peninsula. This tour blends history with adventure, following a guided tour through the ancient Mayan city with ziplining, rappelling, canoeing, and a cenote swim. It ends with a Mayan ceremony and a traditional lunch, including handmade corn tortillas.
Knowing is half the battle … but making a trip a victory means pre-booking your tours! Read 6 Reasons Why You Should ALWAYS Pre-Book Your Tours to find out exactly that. Then prepare your clients for adventure with environmentally responsible solutions. Our latest article, Bug Off! How to Keep Summer Bites at Bay provides you with the newest earth-friendly insect repellents, and we talk about the importance of reef-friendly sun protection here.