Getting back into travel? These Caribbean and Central American destinations give you plenty of space to choose your own open-air adventure.
Too much time inside has us ready to get out and explore somewhere beautiful—or regret not taking the opportunity. And when the great outdoors are as spectacular as the thriving jungles, unspoiled beaches, and crowning volcanoes of the Caribbean and Central America, that couldn't hold more true.
Make adventure and vacation one and the same with these unmissable activities under a tropical sky.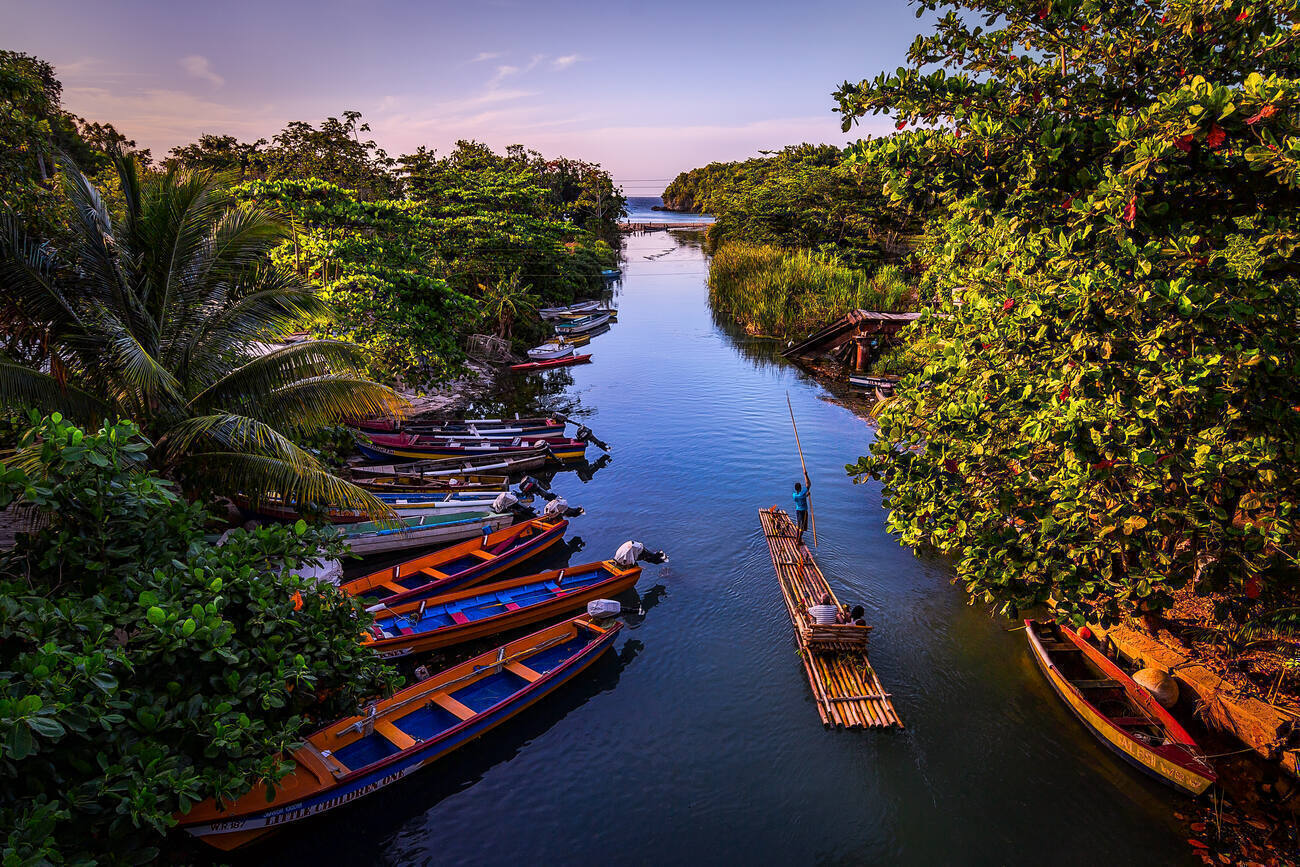 JAMAICA
As the Heartbeat of the World, it's no wonder this island nation has no shortage of ways to set yours pounding. Montego Bay, Jamaica's largest touristic center, serves as a perfect starting point for horseback rides (and swims!) on the beach. Or, go all-terrain with an ATV safari. Cross rugged dirt roads and lush jungle for an exhilarating ride.
Thrill seekers won't want to stop there, though. Soar through the treetops on a canopy zipline course. Experience your own Cool Runnings on a high-speed bobsled slide. See who can spot more tropical birds as a chairlift carries you up, up, up 700 feet into the air. Eco-approved Mystic Mountain in Ocho Rios—less than a two-hour ride from Montego Bay—lets you do it all; book-in-advance excursions like with our sister company Amstar DMC make it happen.
Those who prefer a jump-scare to a freefall will feel right at home at Rose Hall, a one-time plantation said to be haunted by the infamous White Witch, its cursed mistress. Take a tour of the grounds and 18th century estate to hear her tale, then, should you wish to imbibe, finish with a tasty charm: a Witches Brew cocktail to keep bad spirits at bay.
If your idea of luck lies in finding peace and quiet, drift through the jungle on a river tube past vibrant flowers and curious wildlife, or hop on a bamboo raft, a truly Jamaican experience, to hear about the Martha Brae River's namesake. Want some company as you sightsee? Form a human chain to make the climb up Dunn's River Falls, a national treasure and visitor-favorite close to the resorts of Ocho Rios.
Pro-tip: Back at your hotel, ask if any cookouts on the beach are on the calendar. Try the requisite jerk chicken or, for a vegan option, jerk cauliflower, great paired with a Red Stripe beer or freshly tapped coconut water—and some Reggae!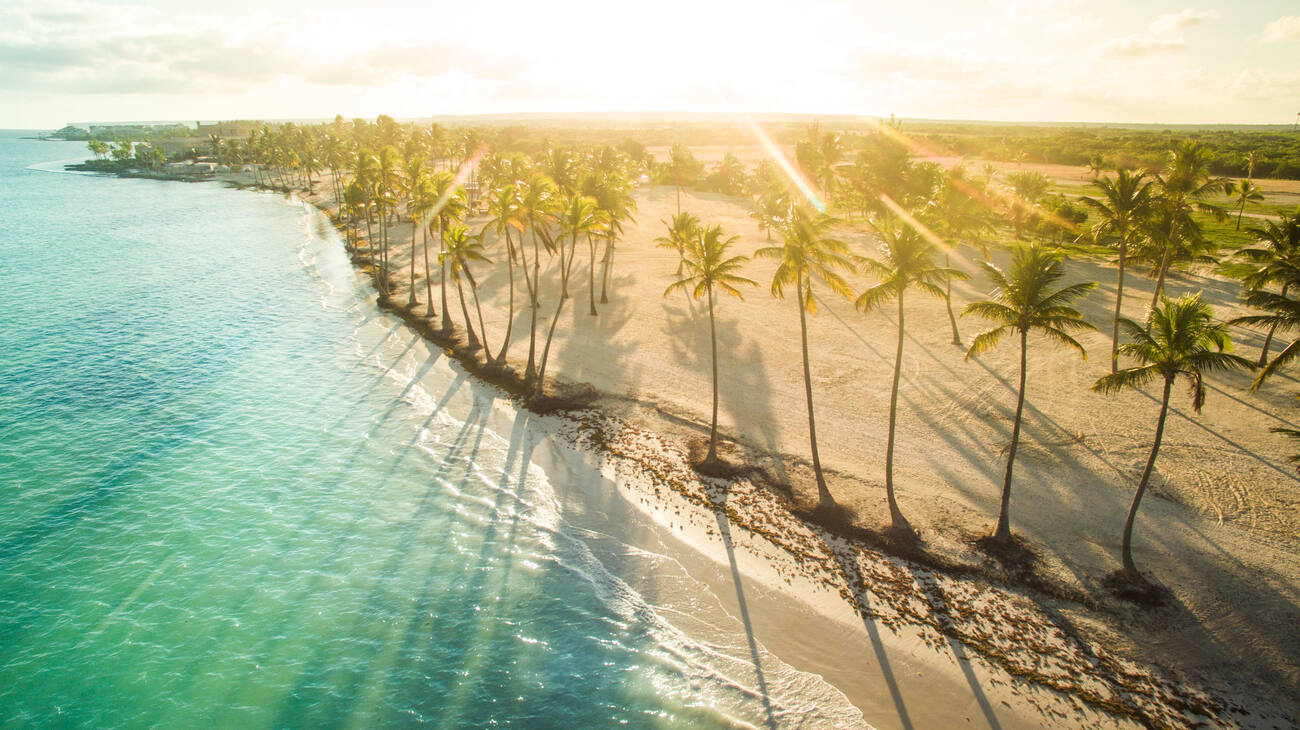 DOMINICAN REPUBLIC
One thousand pristine miles of coastline has helped make this small Caribbean nation the go-to beach destination for millions of Americans. Over 200 beaches offer clear, turquoise waters for snorkeling, swimming, diving, kayaking, stand-up paddleboarding, kitesurfing, and banana boat tubing. On shore, see what activities your resort has planned for the day, or laze it away in a lounger under the rays.
White sands are undeniably beautiful … but so is a perfectly manicured green. Offering the most courses in the Caribbean—many landing a spot on Golf Week's best courses lists—here, you'll find champion greens designed by Pete Dye, Jack Nicklaus, Robert Trent Jones Sr., Tom Fazio, Greg Norman, and other premier talents. Guests of all-inclusive hotels like the Hard Rock Hotel & Casino Punta Cana, Iberostar Bavaro complex, and Casa de Campo Resort & Villas will not only have easy access to their hotel's course, but often complimentary as well.
If exhilaration is more your style, active pursuits like caving and canyoning are sure to be your hole-in-one. For the former, Cueva de Las Maravillas, the "Cave of Wonders" ornamented with hundreds of ancient pictographs (paintings) and petroglyphs (carvings), is an impressive option in the popular resort area of La Romana. Luxury community Cap Cana, home to top-tier all-inclusives including Secrets Cap Cana Resort & Spa, doesn't disappoint either. Its adventure-driven Scape Park features a 328-foot hike into the Iguabonita Cave system.
For the best canyoning, however, make Puerto Plata your home base. Considered the Dominican Republic's adventure capital, its river valley has the rappelling, footbridges, and slidable waterfalls to pack enough excitements into any trailblazer's getaway. Rappel your way across the spectacular 27 Charcos of Damajagua—where only the undaunted can reach the 27th waterfall—or discover the hidden "God's Pool" at Charcos de los Militares for a lesser-known expedition.
Pro-tip: Although any resort will have on-site activities, Casa de Campo defies expectation, offering more than you possibly could fit into one stay. In addition to their world-famous golf course, you'll find 13 tennis courts, a shooting center, water sports, horseback riding, sport fishing off the marina, the Real Madrid Soccer Camp for kids, and even a replica 16th century Mediterranean village, ensuring you never run out of reasons to be out of doors.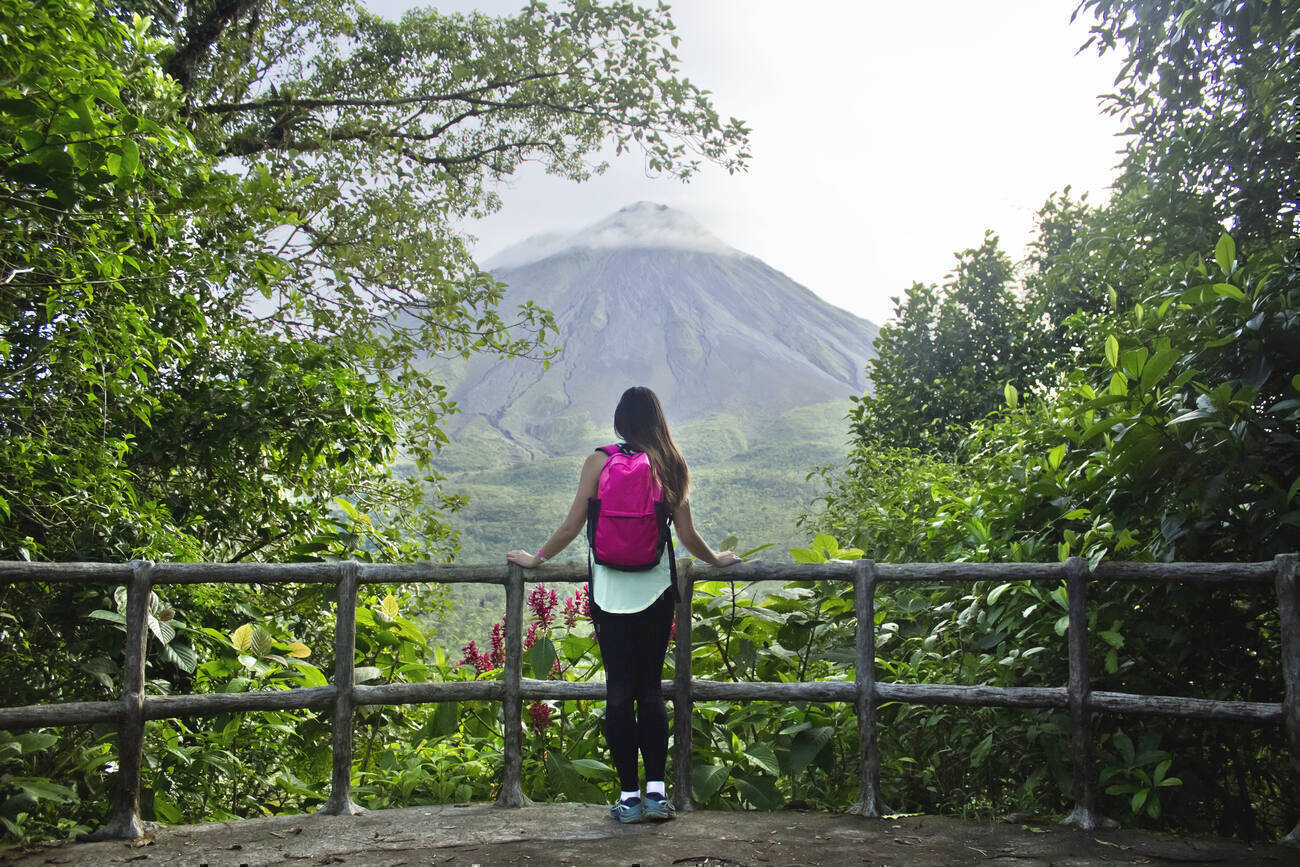 COSTA RICA
Love of nature is an essential part of this country's pura vida lifestyle, and no region expresses it quite like Guanacaste. A famous resort area known for its hot springs, Arenal Volcano is its crowning glory. Set within a verdant national park of mist-veiled rainforests, thundering waterfalls, and winding rivers, Arenal earns every bit of its acclaim, supplying outdoorists with a playground where imagination runs as free as the howler monkeys and sloths who call it home. Tropical birds from toucans to hummingbirds flitter from tree to vine down paths strewn with hanging bridges, while red-eyed leaf frogs gaze curiously at rapellers and rafters seeking a whitewater rush.
Beyond Arenal's gates, even more wildlife encounters await at fellow national park Palo Verde. Birders in particular will delight in searching for some of the 250,000 winged residents. Down on land, mangroves, grasslands, and one of the Neotropics' last dry forests shelter capuchin monkeys, pumas, tayras, peccaries, and crocodiles, who just may peer out to say hello.
To get an even closer look, make Sustainable Tourism-certified Diamante Eco Adventure Park your next stop. Its sanctuary houses butterflies, sloths, jaguars, monkeys, and other animals unable to live in the wild—and so have the wild brought to them, with habitats carefully designed to mimic their natural environments. Elsewhere in the park, go wild yourself with a 30-foot freefall on the Quick Jump, or try out your best hero pose on the Superman, the longest zipline in Central America, stretching 4,000 feet beside the Pacific Ocean.
Pro-tip: Award-winning tour company Amstar offers expertly guided excursions to top attractions throughout Guanacaste, like the ones above. Test them out with new friends, or upgrade to a private experience with just your crew.
Want even more of the great outdoors? Check out our list of vacation-making activities in Mexico and the U.S.!