The Hilton brand name has long been synonymous with hospitality, sitting on over 100 years of experience of being in the hotel business. European plans were their specialty, driving business and brand awareness with upscale restaurants offered on site for guests and locals and emphasizing accommodations and comfort within the privacy of their rooms.
But recently, they've made a pivot as they've watched, learned, and now made all-inclusive their own. Fine dining, craft cocktails, world-class entertainment, and activities for all in oceanfront settings are now part and parcel of the Hilton experience in specific destinations and at hand-selected properties.
But do they hit their marks? We dive into their newest and headlining all-inclusive resorts to see.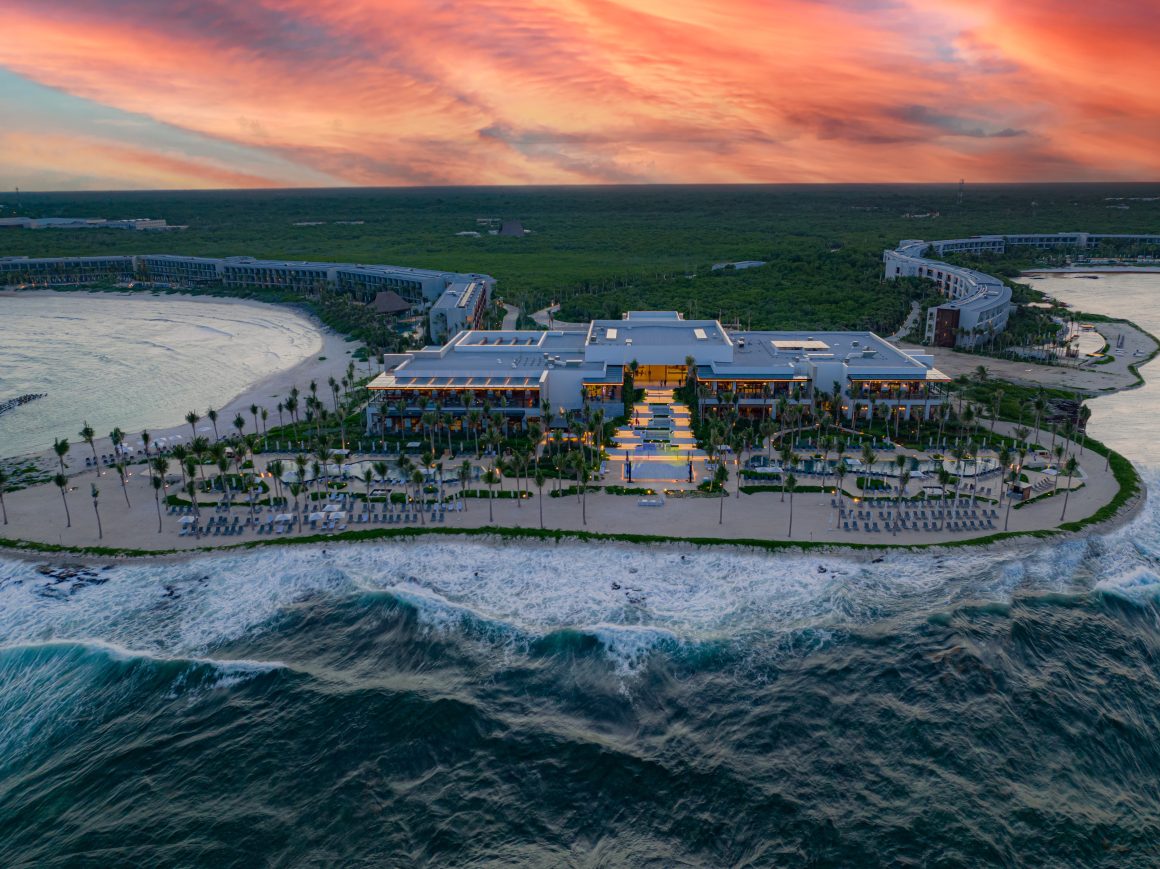 Hilton Tulum Riviera Maya, an All-Inclusive Resort
Opened recently, in May 2022, this resort is an exercise in eco-chic. It's located in a secluded bay, 15 minutes away from underwater caves, amusement parks, and Tulum's city center … but that doesn't mean its guests want for amenities. There are 13 restaurants and bars, including four signature dining venues, and an expansive multi-pool complex that means folks are never far—something really important for the many families that opt for this property. For more formal gatherings, a 50,000-square-foot convention center and 400-seat auditorium are more than capable of handling crowds. However, a 21,500-square-food Conrad Spa provides a step away from the bustle, where 16 treatment rooms are available for added on services.
All-Inclusive Highlights
Chiringuito Cocomar is a seafood lover's dream, letting Enclave guests choose their favorites and pair it with fresh veggie sides
Chiringuito Seasalt for Mexican fusion served tapas-style and designed for sharing
La Luce may be present at other locations, but at this one, cooked-to-order pasta is the order to make
Noriku is a fantastic value for anyone who loves Japanese and contemporary pan-Asian cuisine. Imagine all the sushi and sashimi you can order, all included!
Azulinda Café gives guests the freedom to dine casually with quick and familiar goodies, from desserts to snacks to soups and salads
La Churreria is a kid-favorite, but to be honest, adults love it, too. The appeal of endless ice cream and churros is ageless.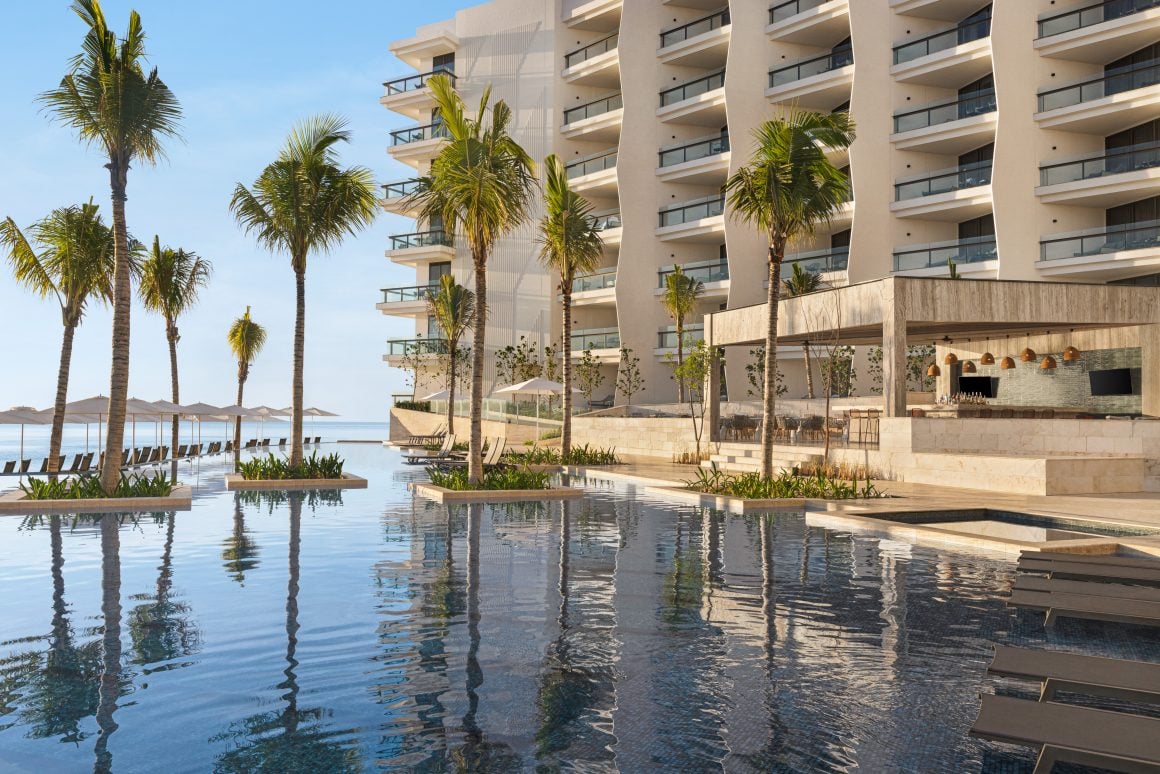 Hilton Cancun, an All-Inclusive Resort
Another recent addition to the portfolio, this property opened its doors for the first time in November of 2021. It sits on 100 acres of coastline a mere 20 minutes south of the Hotel Zone and north of the Riviera Maya, making it just close enough yet far enough from the heart of the action. An amphitheater where performances and concerts are staged brings entertainment right to its guests, and naturally, these shows are included with any stay. So is access to beach games and water toys, a splash pool with slides, and a dozen diverse dining experiences.
All-Inclusive Highlights
Auma, an experiential open-fire mixed grill where prime cuts and house specialties are served with "ritualistic theatre"
La Luce, because who doesn't like pizza cooked in a wood-fired oven and served with carafes of wine and all the spritzes you can spritz?
Maxal Taqueria, since relegating tacos to Tuesdays only is short-sighted. This walk-up window makes Mexico's most beloved casual bite infinitely accessible.
Sunan is perfect for those who want to step outside of this hemisphere—this high-energy spot is all about Southeast Asia
Azulinda Market & Café is another way the brand steps up inclusions, offering snacks, drinks, and late-night bites you can grab and then just go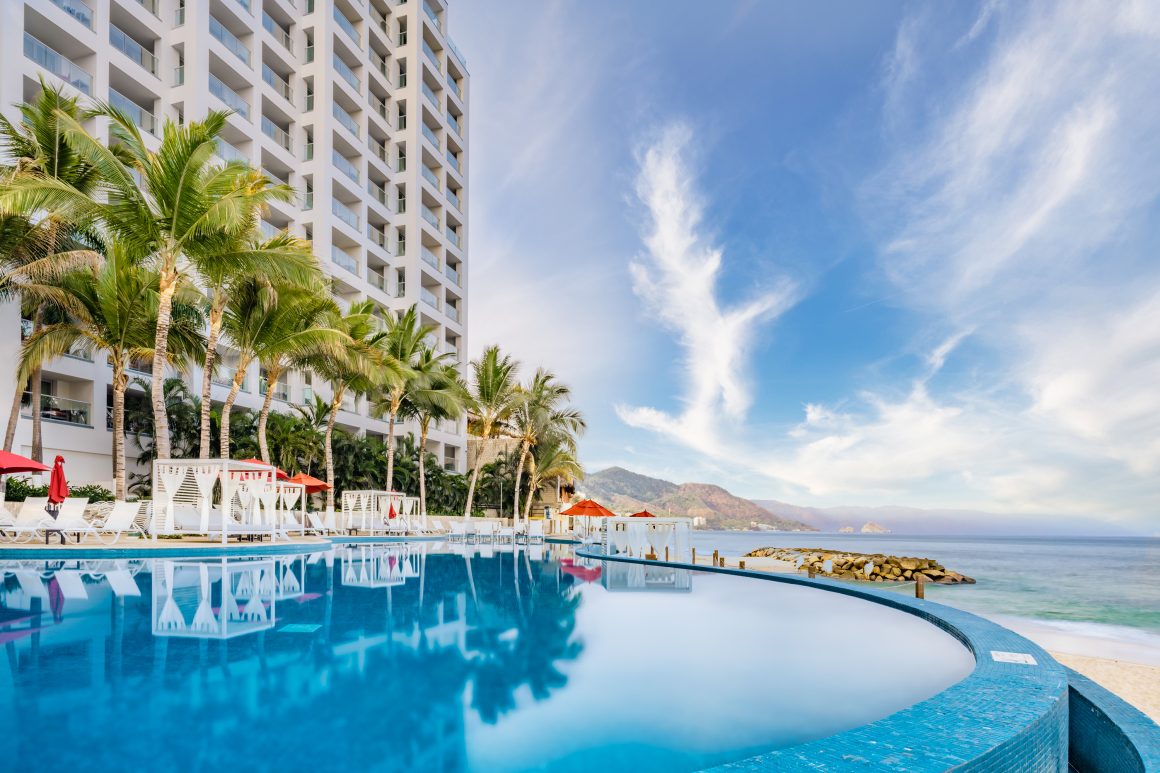 Hilton Vallarta Riviera, an All-Inclusive Resort
On the other side of the country, in a private cove at the base of the Sierra Madres, this award-winning resort was a model from which Hilton's other all-inclusive resorts took several cues. The beach is private, as are two infinity pools right on the oceanfront a mere ten minutes away from Puerto Vallarta's historic downtown. Amenities are wellness-oriented, including a full-service spa called eforea, which boasts a hydrotherapy circuit, and fitness center. Access to the latter is complimentary, along with nearly anything you can consume at its five craft cocktail bars and seven specialty restaurants. Upgraded stays also add a private Club Lounge on the 13th floor of the property, but if you want to swerve to the opposite side of the spectrum and open up attendance to a getaway, there's a 16,200-square-foot convention center of ten connected meeting rooms designed to bring everyone together.
All-Inclusive Highlights
Sunan expands into Thailand, Cambodia, Vietnam, and other countries in Asia as the menu evolves to reflect its eclectic nature
La Luce at this location also features a wood-fired pizza oven, and specializes in familiar Italian-American classics
Cocomar is all about cold seafood for the hot days, with a ceviche selection that makes it a headliner, plus tostadas and handmade empanadas
Seasalt may be classic American with a parilla twist, but it gets formal at night for a two-in-one experience
Mojito Lounge serves up unique spins on this hot-weather favorite and Sky Bar for adults-only ambience and encompassing views
Across the Brand:
Welcome drink upon arrival, then all the drinks and cocktails, plus breakfast, lunch, dinner, and snack offerings you can fill your belly with
WiFi to better brag about the all-inclusive Hilton experience
Maxal for traditional dishes from all across Mexico, perfect for those seeking authenticity in their dining plans
Buffets, room service, and lobby and pool bars need no introduction—all you need to know is they're included with signature Hilton high-level service
Fitness center access, daytime activities, and evening entertainment, which can include expert-led classes, themed parties, live music, kids and teens clubs, and more
But of course, there's no substitute for experience, and no words nor photos can properly convey how it feels to partake in the upscale beverages, concept-driven cuisine, and thrilling litany of things to do. So consider this a preview, since only the guests can decide if Hilton's all-inclusive resorts hit their marks.
Looking for more sneak peeks and unexpected excellence in the all-inclusive space? Take a look at the new Elite experience coming to Cancun and resorts that are offering included attraction admission with guest stays!