Updated December 13, 2022

Planning a wedding can be STRESSFUL! Take the pressure off the bride with ready-to-customize, "save the (big) day" solutions. Find out which one is THE One with this exclusive interview with Hugo Aguilera, Director of RIU Hotels & Resorts.
Ask any bride: It takes an incredible amount of time to create a perfect wedding experience. An impossible amount of hours researching, planning, following up, second-guessing, confirming, and—let's be honest here—crying.
But what if the onus could come off the bride, and instead, the burden could be taken up by the venue? What if that ideal dream wedding, yes even with their own special, personalized touches, could be lifted directly from a collection of experiences? And all that labor, stress, and design work were already taken care of by a team of professionals?
That's exactly the thinking behind the new Wedding Collections by RIU, a series of answered bridal prayers disguised as nuptial packages. From complimentary ceremonies with only the essentials to all-the-stops shindig accoutrements, this in-depth, comprehensive collection addresses every kind of couple.
To get the full scoop, we spoke to Hugo Aguilera, Director of Partner Marketing & Business Development of RIU Hotels & Resorts, to answer the most burning questions about this grand unveiling.
Q. With the launch of the Wedding Collections by RIU, what has changed from the past selections?
A. Everything is completely new, other than the names of each collection. We felt that the brand already had a great position in the market, so we decided to completely revamp the inclusions and the way we present them to our customers and travel agent partners. The specifics vary on the selection, but there's a lot of fantastic new added values couples should be very excited about. And for advisors, we also have the new direct payment commission program, which was a huge request for months!
Q. What made RIU decide it was time to revamp the collection?
A. We pride ourselves on hearing our travel agent partners and customers, and according to their feedback, it was time to offer them something curated for today. The result of that is a great choice of five revamped inclusions with all the things they wanted to have for this very special day in their lives. We wanted to provide a nice, competitive, and complete product offering with new and most requested inclusions in each collection, and a fresh and romantic image.
Q. What sets Wedding Collections by RIU apart from other resort wedding packages?
A. Just how well thought-out, inclusive, and varied they are. Wedding Collections by RIU will offer five different and great choices of ceremonies and receptions from the basics to a most complete one, starting with the Free Collection, that offers the essentials at no additional cost, all the way up to our most complete Indulgence Collection, where you don't have to worry about anything other than getting married! Colors, flowers, decorations, music, and so many other details—including a choice with live music—are all already considered and bundled in. We even provide you with an incredible option where ceremony, private cocktail, and private reception is all bundled to show up on your very special day and just say "I do."
In between, there's our Royal and Caprice Collections, which are perfect choices for medium-sized wedding groups with all the most important inclusions and a great price point. From a beautifully decorated ceremony to a private dinner and amazing added values, it's a little bit of everything that's most requested.
Q. Why should travel advisors sell Wedding Collections by RIU?
A. This is very easy to answer! First, because all of our new Wedding Collections are available at our 37 all-inclusive hotels in the Caribbean, Mexico, and Central America, it makes booking one a very easy process and consistent, as a one-stop shop product. So no matter where the couple wants to tie the knot, there's a RIU in the beachfront paradise of their choice.
Second, we are now offering up to 15% commission in all our paid Collections and this is combinable with all the amazing group perks that we offer at the hotels, such as every 6th passenger free, complimentary cocktail hour, and much more!
And on top of that, RIU Hotels & Resorts continues to support travel agents by not selling timeshares. A huge bonus point for all your wedding groups as they can just enjoy the event and their vacation!
Q. What is your favorite Collection?
A. Personally, I like the Indulgence Collection. Not only because of the amazing value and inclusions, but also because the decoration and associated color is one of my favorites! On top of that, you have a four-hour private party included with drinks, food, and even a DJ! Couples literally do not have to worry about putting all the pieces together. They can just book it and enjoy the ride!
Don't get me wrong, I also love the colors of the Caprice, Royal, and Classic Collections, though. Our customers will enjoy whichever selection with their loved ones no matter which they chose, because no matter what, our staff is ready to welcome them at our hotels, and are familiar enough with all of them to create a picture-perfect, straight-out-of-a-brochure wedding.
Q. Any last thoughts on the development of these Collections?
A. In all, we all enjoyed the incredible journey of curating the new Collections and are eager to welcome each and every single couple! They're available to book now, so make sure to check www.WeddingsByRiu.com to check for open dates!
Wedding Collections by RIU Overviews
Prices vary on location and add-ons
Free: Like the best things in life; complimentary
Mint color scheme
8 guests + the couple; max 30
Recorded music playback
Bridal bouquet with matching boutonniere
Semi-private dinner at resort restaurant
Wedding cake and sparkling wine toast
Romantic room decoration night-of
10% off spa treatments for the couple
Classic: A timeless memory; from $999
Aquamarine color scheme
8 guests + the couple; max 30
Upgraded décor
Recorded music playback
Bridal bouquet with matching boutonniere
Semi-private dinner at resort restaurant
Wedding cake and sparkling wine toast
Romantic room decoration night-of
10% off spa treatments for the couple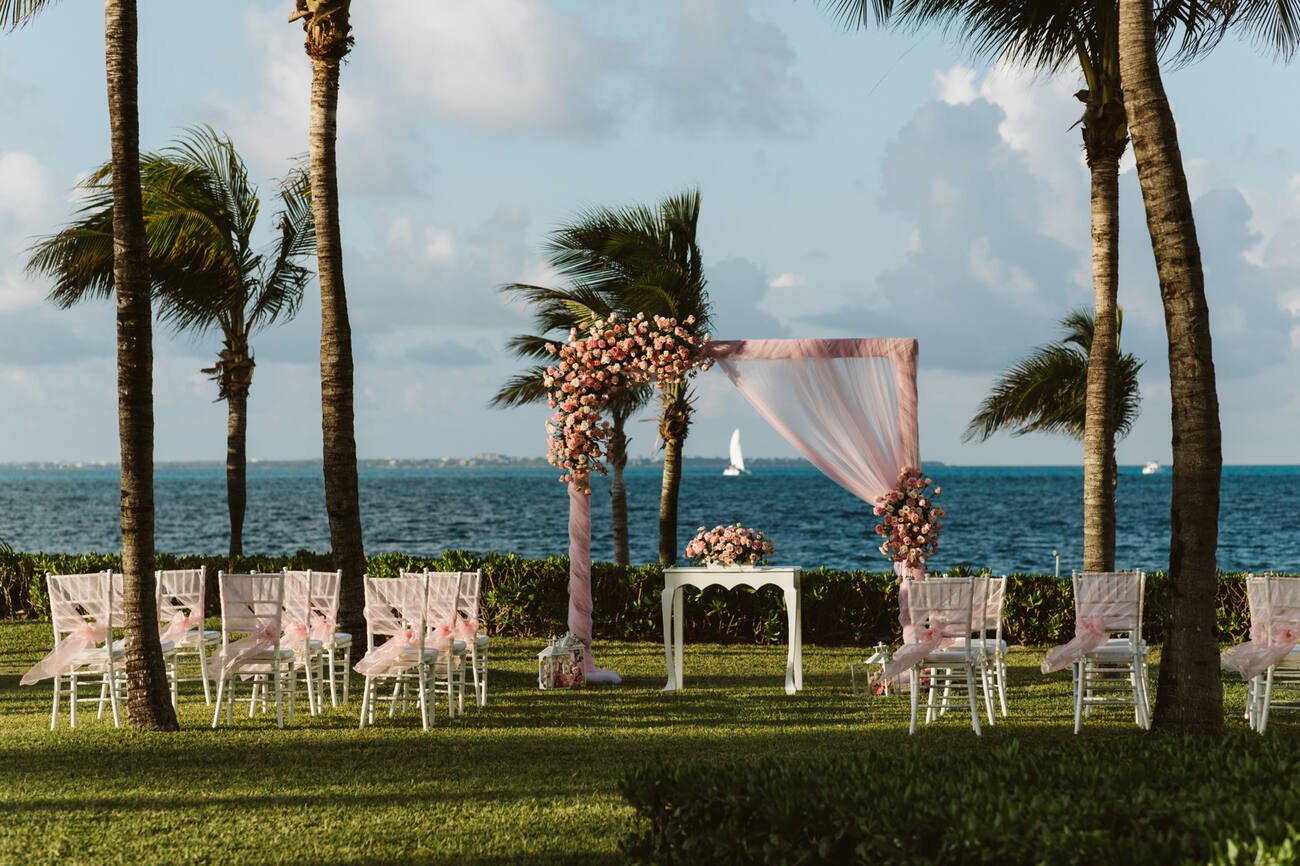 Royal: Your moment to shine; from $2,699
Light pink color scheme
18 guests + the couple; max 40
Upgraded décor
Recorded music playback
Bridal bouquet with matching boutonniere
Private dinner at resort restaurant
Wedding cake and sparkling wine toast
Romantic room decoration night-of
10% off spa treatments for the couple and guests
20-minute romantic massage for the couple
Caprice: You deserve it; from $4,299
Lavender color scheme
28 guests + the couple; max 40
Upgraded décor
Minister for the symbolic ceremony
Photo session credit
Recorded music playback
Bridal bouquet with matching boutonniere
Additional small bouquet for maid of honor and boutonniere for best man
Private dinner at resort restaurant
Private rum or tequila tasting experience after dinner
Wedding cake and sparkling wine toast
Romantic wedding night turndown with chocolate-covered fruit and sparkling wine
Night-after breakfast in bed
Room upgrade and late check-out if available
10% off spa treatments for the couple and guests
50-minute romantic massage for the couple
Hairstyle, manicure, and pedicure for one
Indulgence: Every wish shall be granted; from $7,199
Ivory color scheme
38 guests + the couple; max subject to location
Upgraded décor
Minister for the symbolic ceremony
Photo session credit
Recorded music playback
Bridal bouquet with matching boutonniere
Additional small bouquet for maid of honor and boutonniere for best man
Private cocktail hour with 45 minutes of live music (sax, violin, or guitar)
Four-hour private reception with special menu, open bar, DJ, and lighting
Wedding cake and sparkling wine toast
Romantic wedding night turndown with chocolate-covered fruit and sparkling wine
Night-after breakfast in bed
Room upgrade and late check-out if available
Complimentary one-night stay for first anniversary
Romantic dinner with special set-up
10% off spa treatments for the couple and guests
50-minute romantic massage for the couple
Hairstyle, manicure, and pedicure for one
Looking for more "happily ever after" solutions? Read My Big, Fat, Gay Wedding … and Where to Have It to learn about other packages and destinations who welcome couples of all kinds