For many of us, our first and most basic instinct is to protect, be with, and enjoy time with our families. Because really, what's more natural than family? No matter the number of generations you include, how nuclear or extended it is, or even the amount or gender makeup of parents, kids, and siblings, family's family and these are the ones many travelers want to spend quality time with.
But what if you could do it in an even more natural way? Like, within nature itself?
That's the premise behind Sandos Caracol, where they offer something called the All Nature Experience, now complemented with the modern signature Eco Collection accommodations in the family section in the heart of the jungle. In this setting that provides a "genuinely wild escape," these have been newly and impressively renovated to suit several.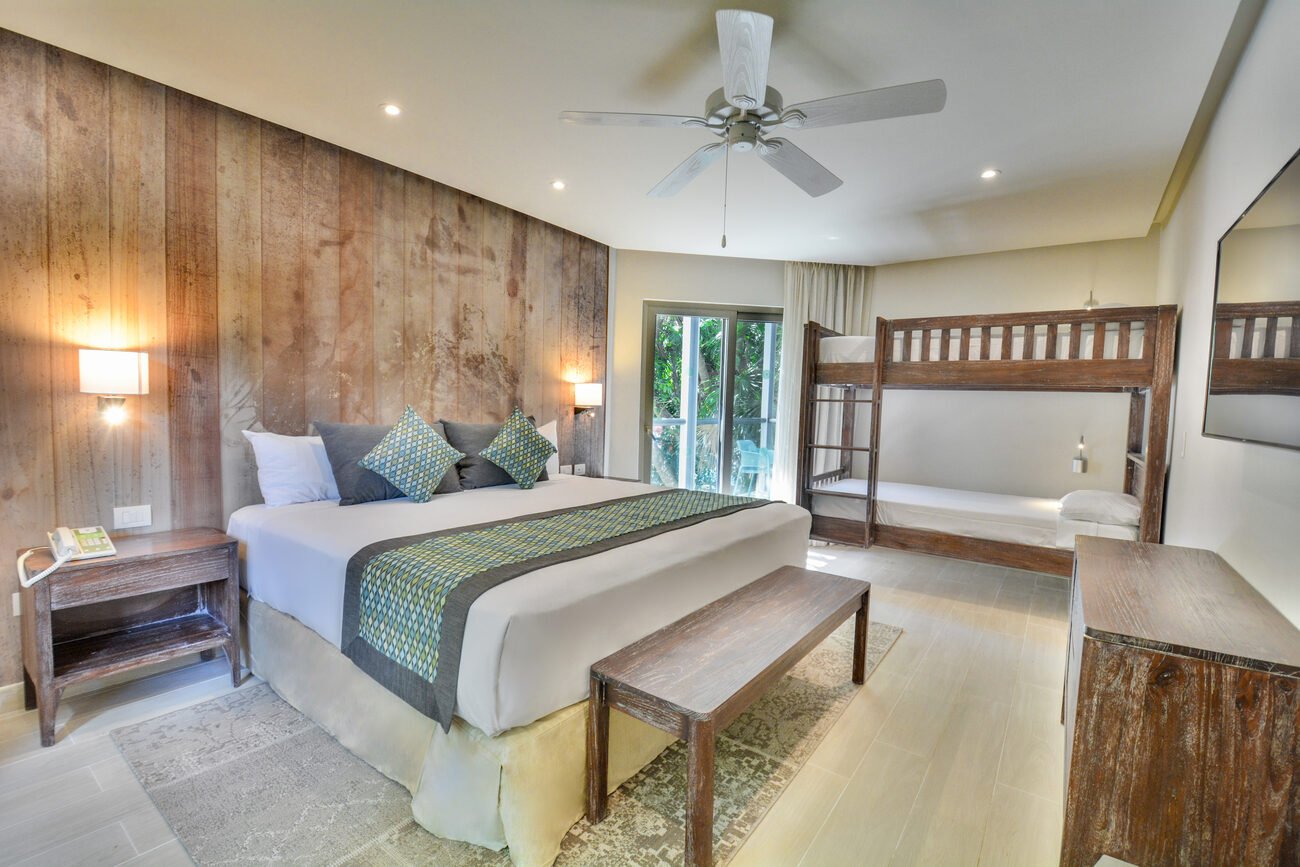 This series starts with the Signature Eco Superior, already remarkable for its twin bunk beds, nestled right into the wall of its spacious 322-square-foot bounds. It then levels up with the Eco Family Suite, which sleeps up to 5 in two bedrooms, one for the parents and another accommodating up to three children, via bunk beds and a trundle for a sleepover party unlike any other. To add even more novelty to the experience, a private plunge pool with jungle and exotic bird views from the private balcony are ideally suited for people who want to enjoy their family time uninterrupted.
Then there's the Eco Family Penthouse, which is just as grand as it sounds. The most luxurious category in this collection, these lodgings trade in jungle views for dynamic ones of the water park, to which it's in (obviously!) close proximity. There's 687 square feet of combined living space, which includes a master bedroom with its own en-suite bath, and a separate bedroom with again, a bunk bed and trundle for up to three kids, plus a bathroom for them to share. This room also comes furnished with a sofa and 50-inch TV, doubling as a family room for more together-time memory-making opportunities.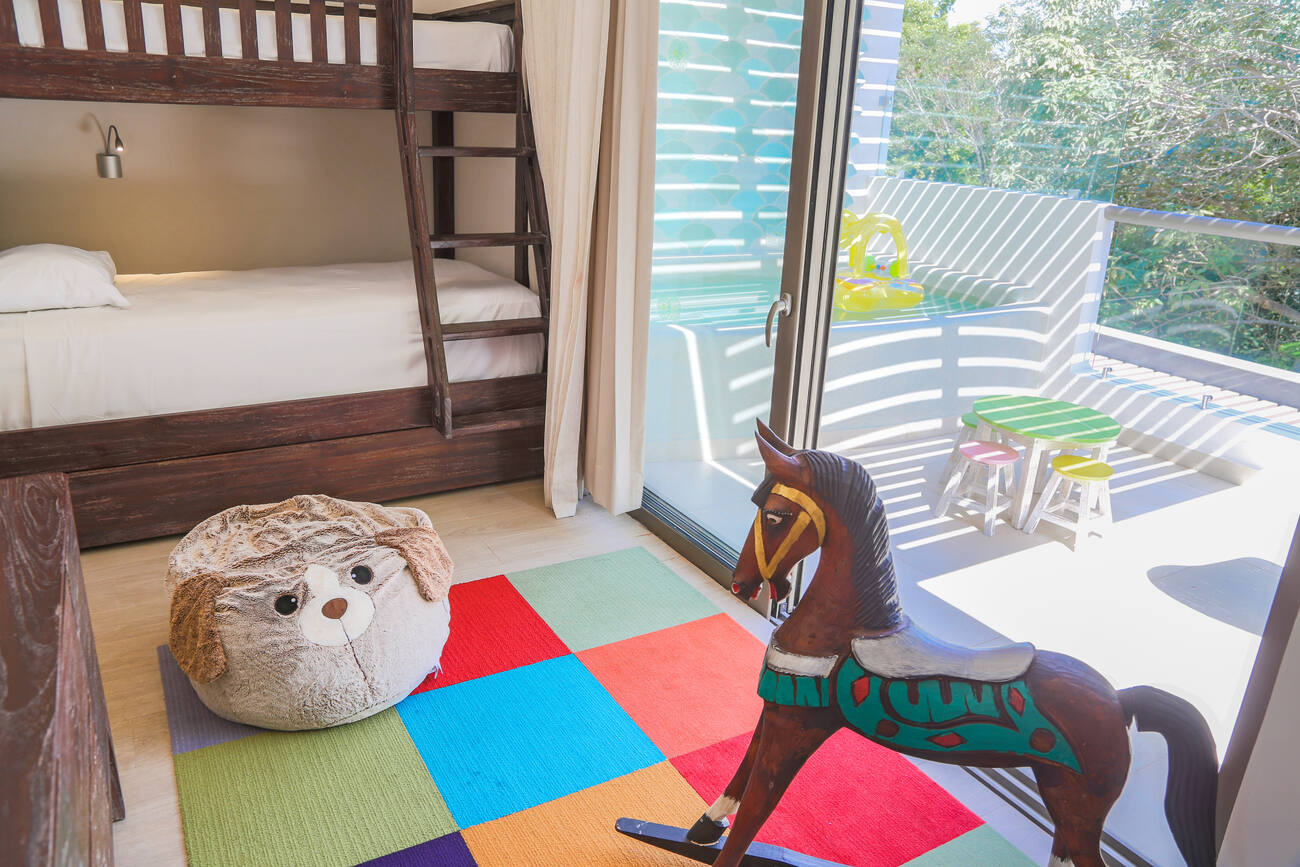 As wonderful as the rooms are, the All Nature Experience will lure the whole family out of them. What is it, exactly, though? We'll explain.
The All Nature Experience is part of the Sandos Caracol day and night activities program, providing a wide variety of activities, games, cuisine, culture, and other unique vacation experiences in a sustainable environment in a responsible way. (You can read more about environmentally responsible travel here and here.)
What this means is that you can feel good about your family getaway in more ways than one. Parents who take their children here will also be leading by example as the entire family learns about how a resort can provide incredible vacation memories with destination immersion, even while respecting the environment, ecology, biosphere, plant life, animal life, and culture around them. That's the beauty of the All-Nature Experience.
From swimming in the on-site cenote, to floating down the Jade River, or taking a bike tour through the jungle, exploration is education at this resort. There are photo safaris to take part of, eco-tours through the mangrove forests, river rides on a private boat, and tree plantings, too. A crowning experience could be to help take care of rescue animals in the Animal Keeper activity! Even the water park, with its 29 slides for all ages, is nestled into the wilds in an unobtrusive, non-destructive way that honors the natural landscape around them.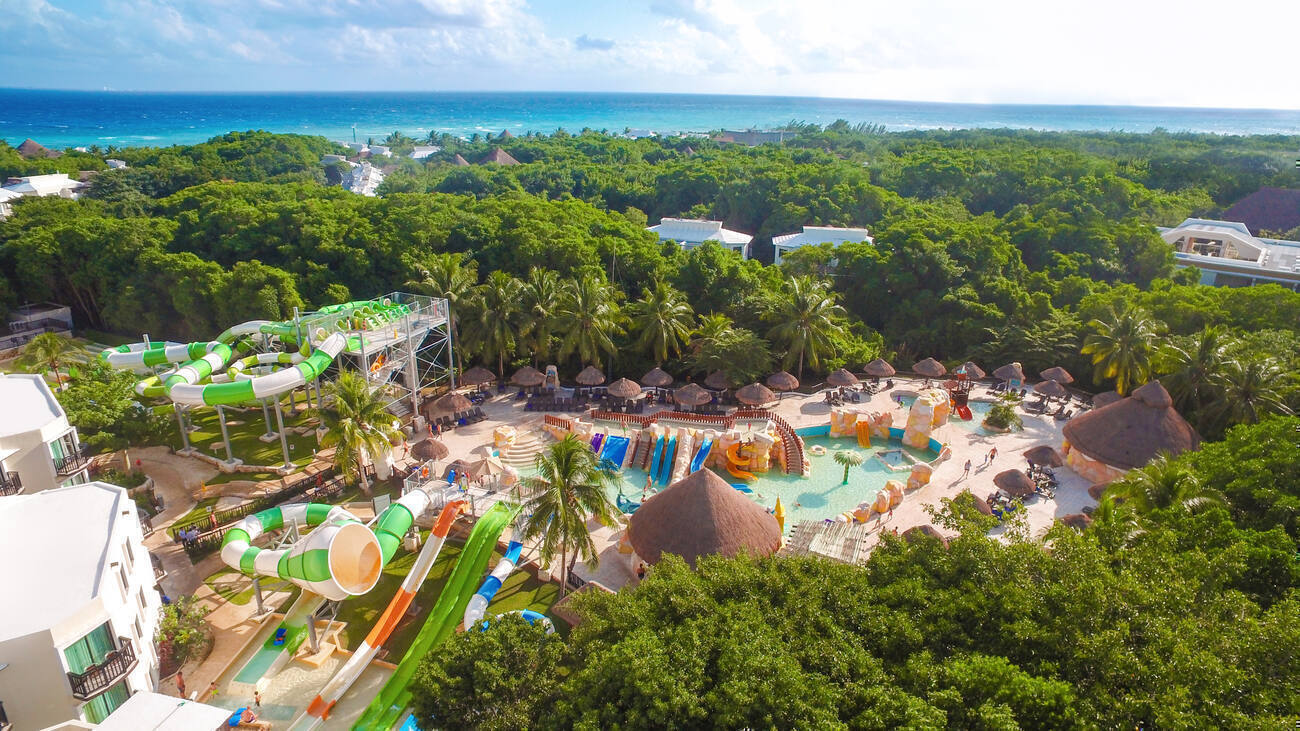 Or, young ones can take a more internalized approach to learning with the Sandos Caracol Kids Club. Reserved for children between the ages of 4 and 10, they're welcome to take part in supervised fun between 10 am and 6 PM with their siblings, peers, and new friends. It's perfect for when parents want to take a break or maybe just enjoy their renovated Eco Collection room. The kids won't even miss their adults as they tucker themselves out in the playground, on video games, playing foosball, discovering mini-yoga or special activities led by the resort's dedicated kids club staff.
Regardless of how the day is spent, the evening is a great time to reconvene and get the gang back together. Sandos Caracol's new entertainment program, Vive Mexico, is designed to give guests an authentic, true taste of Mexico—its culture, heritage, and traditions, all important components of socially responsible travel. Through music, folklore, local and typical cuisine, and a highlight of different traditions and events,
We have recently introduced the Vive Mexico entertainment program designed to give guests a true taste of Mexico! In the evenings, throughout the week, guests will enjoy music, folklore, typical gastronomy and be a part of different traditions.
For example, a Pre-Hispanic show ushers guests through the golden age of the Mayans, the ancient civilization of the Yucatan Peninsula, and introduces them to the legendary Red Queen. The Heart of Mexico is another Mayan-inspired performance, this time focused on the significance Mexico's indigenous people. In the most dramatic Mayan tribute, the Sacred Fire Ceremony takes place in the Sun Square every Saturday, where a dazzling love story comes to life.
Coming back to the modern age, Pueblo Magico (Magic Town) kicks off every Sunday with a party and cuisine from different states across Mexico, traditional games, and live music and dancing. For families who like to pack their dancing shoes, every Friday, the musical backbone of Latin America, cumbia, makes its way from its original Colombia to Mexico, as guests are invited to hit the dance floor to try their slickest moves.
Even more contemporarily, pop culture junkies and music fans will love the weekly tribute to Selena, once one of the most popular Tex-Mex artists in the world. Finally, the Day of the Dead comes alive in another show, allowing guests to learn about this extremely important holiday year-round.
Looking for more "happily ever after" solutions? Read My Big, Fat, Gay Wedding … and Where to Have It to learn about other packages and destinations who welcome couples of all kinds.