Think all-inclusive fare is just buffets and beachside grills? No way! These over-the-top, once-in-a-lifetime high-end experiences are worth traveling for, even without the posh digs and exemplary service.
Some people live to travel. Others live to eat. And at the very best all-inclusive resorts in the world, is where you find the intersection of both—those who journey specifically to take their taste buds on vacation. With the competition between top-name brands for "gourmet" billing heating up hotter than kitchens in those climates (and it's hot there!), restaurants have leveled up HARD. Today, there are a lot of high-end "foodie" havens that have made it into the featured inclusions list of many an upscale resort. These are some of our favorite, most notable, most novel on-site, dining experiences.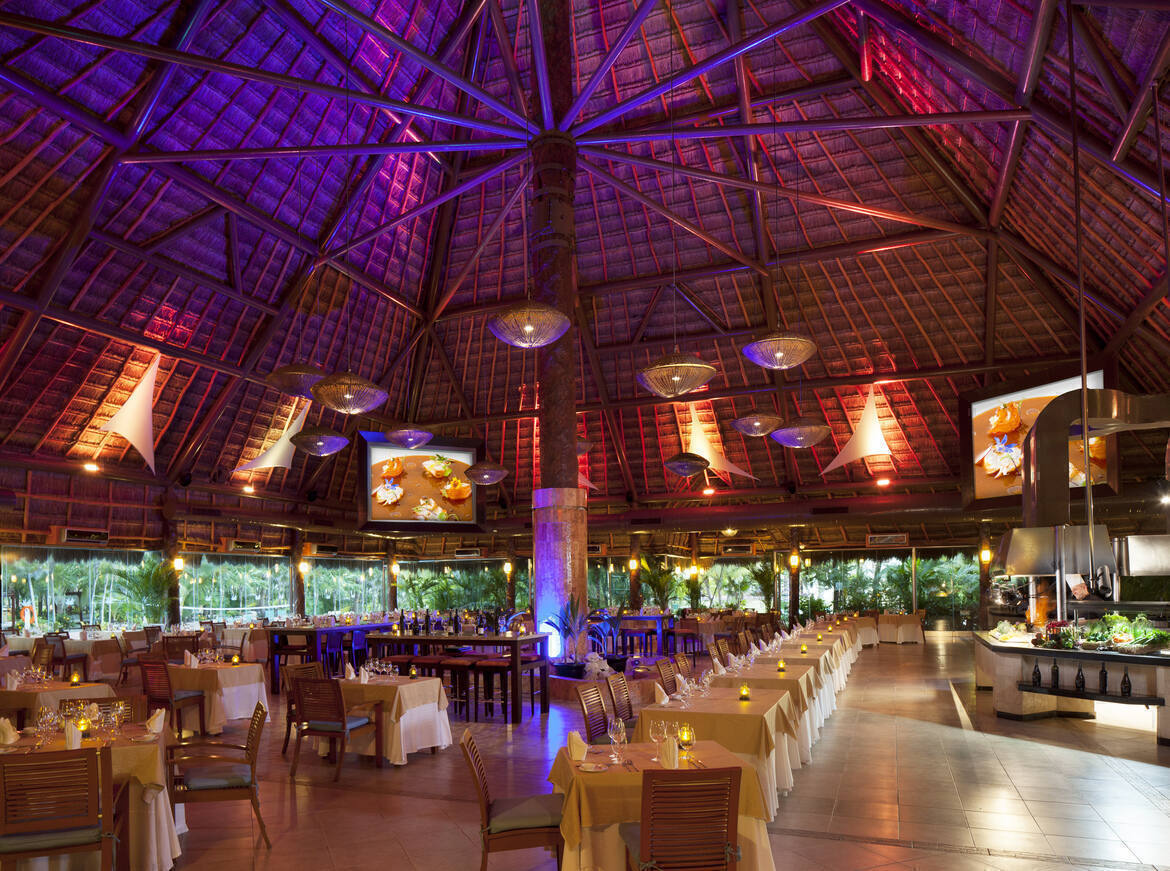 El Dorado Royale, by Karisma
Of course, you couldn't expect a brand known for its Gourmet Inclusive® promise not to lead this list, right? But this property takes it to astonishing levels. As if growing their own vegetables for use in 14 restaurants and bars—all with long lists of special focuses and features—weren't enough, their show-stopping headliner is … well, a show and headline act! We're talking about the Fuentes Culinary Theatre, a cooking stage where chefs star and the audience eats.
If you're one of those people who can't watch cooking shows without getting hungry, this is just the once-in-a-lifetime experience for you. You'll get to witness a Food Network-style cooking show with live cameras and huge display screens in real life, and enjoy the food as you watch it come together. How? As the chef prepares it on stage, other chefs prepare your meal behind the scenes, so you can experience your dish through a whole new dimension. At only $10 a person without the wine pairing (that's an additional $45, since it's all premium), it's a steal for a truly unique memory you'll be telling people about forever.
Bonus Pro-Tip: Karisma Hotels & Resorts also offer several chef's table options, too, for private dining or even molecular gastronomy! There are additional costs for these, but the good news is, guests from outside the resort can reserve seats, too.
Catalonia Royal Tulum, Adults-Only
Food is a focus at this upscale retreat, and their Restaurant BLoved is proof positive of that. This restaurant reserved exclusively for Privileged guests is a reason in and of itself to upgrade. Another notable dining experience is the Tapas terrace, overlooking the wilds of the cenote on the grounds versus the ocean views of BLoved. But now, the latest addition to their all-inclusive office, Rauxa Restaurant, is set to knock even more socks off.
This lively à la carte restaurant blends Mexican, Japanese, and Mediterranean culinary profiles for a creative menu that's truly out of the ordinary, and in the best possible way. We're talking salmon and mango tartare, genuine Angus beef marinated with ginger, vanilla "cotton cake" with guava, and more. You'll need sustenance like that for sure to keep your energy level high enough to match with that of the live DJ or local artists that play regularly. Then after the last dessert is served, it turns into a fantastic venue for more music and drinks, making Rauxa a festive, sophisticated spot to spend your entire night in.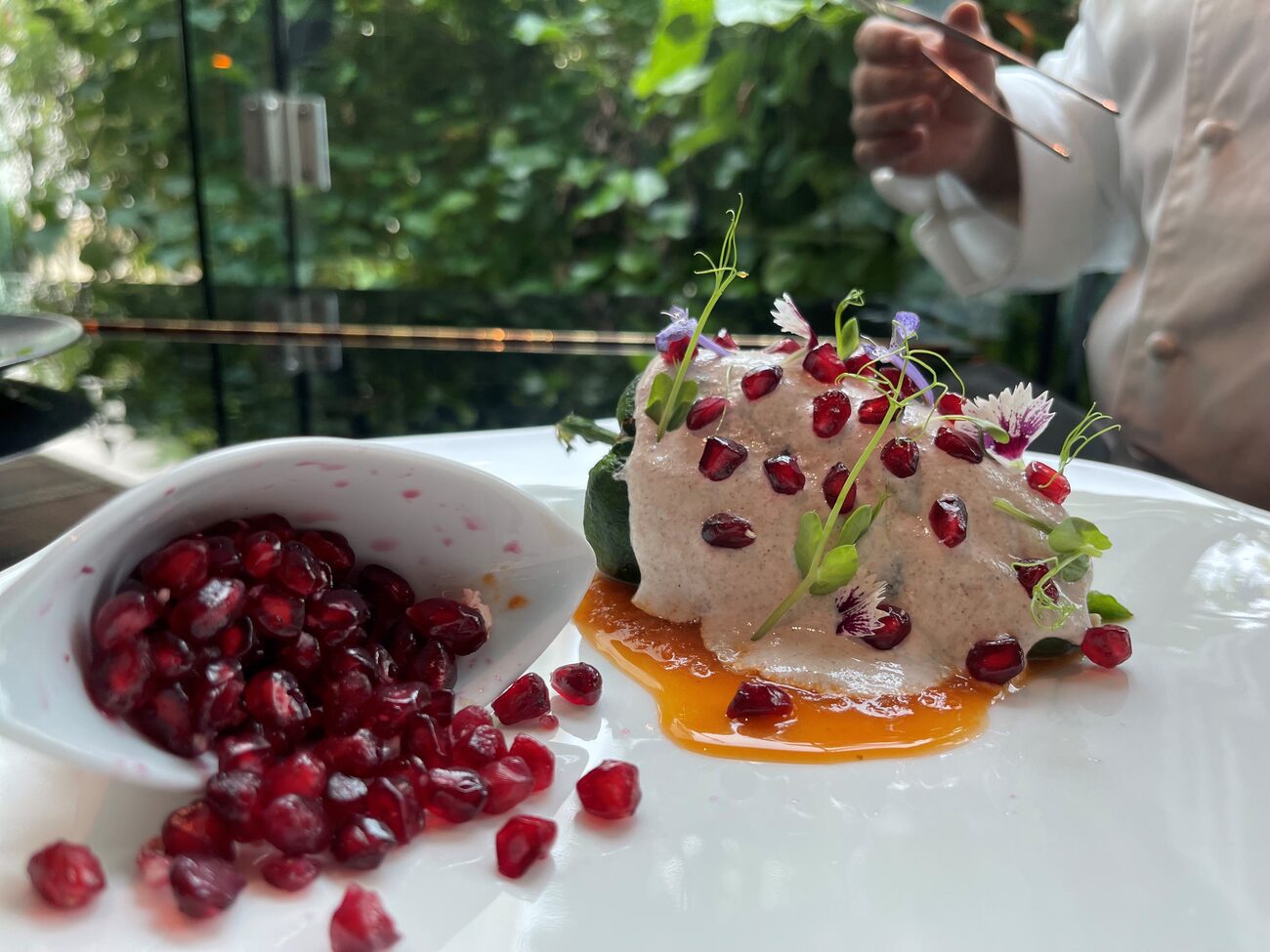 Live Aqua Cancun
One of the most popular restaurants at this chic resort is Hidden Garden, which serves up Asian fusion in a setting taken right out of the Mayan jungle. It's enchanting with its winding walkways and indoor/outdoor setting and avant garde menu. But MB's international, Latin-centered cuisine also deserves a place in the sun for those in the know.
This venue is more casual in terms of dress code, but the atmosphere is no less sophisticated and warm. Relaxing piano music plays in the background for diners as they feast on specialties like habanero soup, whose name belies its balanced. It's actually not too spicy, but rather more savory and creamy, and perfect in its bread bowl.
In the fall, look for Chiles Nogales, a special dish served only around Mexican Independence Day in September. These are decadent, indulgent, and absolutely exquisite bites of Mexican luxury. They're poblano chilis (so not very spicy!) that are stuffed with ground meat picadillo—usually panochera apple, sweet-milk pear, and criollo peach—and topped with a walnut cream sauce and pomegranate seeds. They're originally from Puebla and absolutely unforgettable.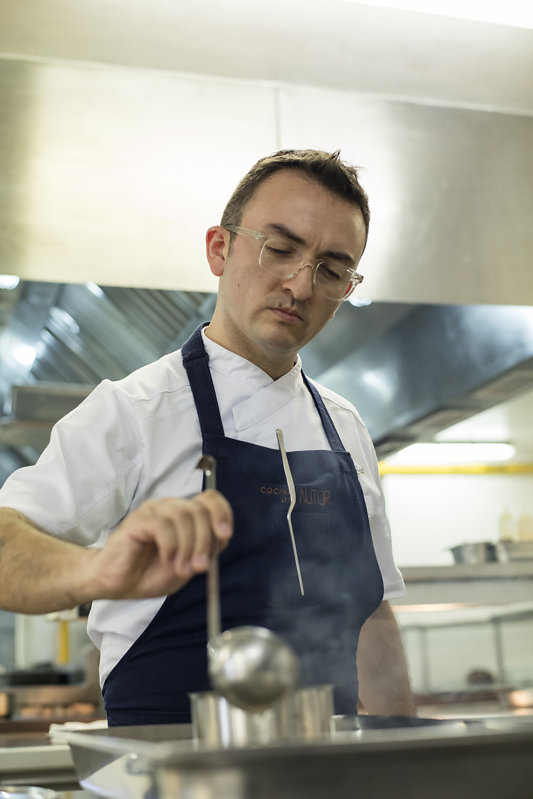 Grand Velas Riviera Maya
There's no way we can talk about mind-blowing resort cuisine without mentioning Grand Velas Riviera Maya, whose offerings include not one but four AAA Four Diamond restaurants and one Five Diamond one. This is particularly impressive when you consider that every year, AAA reviews over 31,000 restaurants and only 2.1% ever earn a four rating. In fact, their Mexican restaurant Frida—a tribute to Frida Kahlo—only falls short of that one diamond on a technicality, since it's family friendly and not for adults only. Its peers include French restaurant Piaf and Sen Lin, which serves up specialties from northeast and southwest Asia.
The crown jewel restaurant remains Cocina de Autor, helmed by Chef Nahum Velasco. It's a double-digit tasting table that plays with your senses and perception, delivering a different experience every time you go. It's bold, flavorful, and playful, with molecular gastronomy enhancing your chances of encountering the wholly unexpected.
Zoëtry Paraiso Resort, by AMR™ Collection
The resort bills its dining as "luxurious indulgence without the guilt" and we are all for it. Their focus on wellness and "the art of life" makes it into their small but thoughtful list of dining establishments, where personalized touches and individual attention make the handful of restaurants more than adequate for this boutique property. The beachside grill uses a real zapote and mesquite wood fire to add flair to their fresh food, and Restaurant Kaax offers sushi for lunch and international cuisine with a Mexican take.
These are great, but the AAA Four Diamond La Canoa Restaurant is what really takes the cake. It offers what it calls Cuisine de los Soles, and centers its gourmet fusion menu around spices and chilis—fun and fanciful ways to delight the palate without a lot of calories. The menu features organic and heart-healthy options that don't skimp on flavor. For guided tastings, there's also a chef's table in the kitchen you can reserve, for a once-in-a-lifetime behind-the-lines dinner that's rarely available anywhere. Commander's Palace in New Orleans, one of the top restaurants in the world, is among the few that offer a similar experience, and even they don't promise the executive chef's personal preparation as La Canoa does. For something a little more hands-on, they offer weekly cooking classes, too, which begin right in the garden.
Obviously, the all-inclusive dining scene we enjoy today has come leagues ahead of what they were just a couple of generations ago. Beachside grills and endless buffets are fantastic, for sure, but for the finer things that are beyond just "fine," you'll want to bookmark these appetizing properties. They might just leave a better taste in your mouth than your stay itself … and that's saying something!
Looking for something simpler? Find out what tacos have claimed the title of "most memorable" among ALG Vacations® staff in this fun round-up!