Updated 2/7/23

Imagine you're at a travel show. It's virtual, and you have your own booth, maybe for honeymoons or all-inclusives or eco-friendly escapes. Guests have the opportunity to browse through your digital assets—mostly flyers—or to schedule a one-on-one Zoom. You find yourself wishing for something more interactive, something to excite potential clients like the travel catalogs you used to hand out before "contactless" became the watchword.
What if, you start to wonder, there were brochures made for, not adapted to, the internet, that made going digital an entire experience? What if you could share them with your customers with a link, or, for an instant shot of curiosity, a QR code (because who doesn't wonder where it leads when you see one)? What if you used a tool like that to really connect with clients, in a way that hasn't been done before?
Those are the kinds of questions the ALG Vacations® team started asking when we brought our catalog collection back to the drawing board. Our two rules for the blueprints: they had to be immersive, and they had to give advisors, and travelers, more than any other brochure out there. In other words, we wanted a full, always up-to-date marketing resource to help you pique interest and close sales.
The result was Travelogue.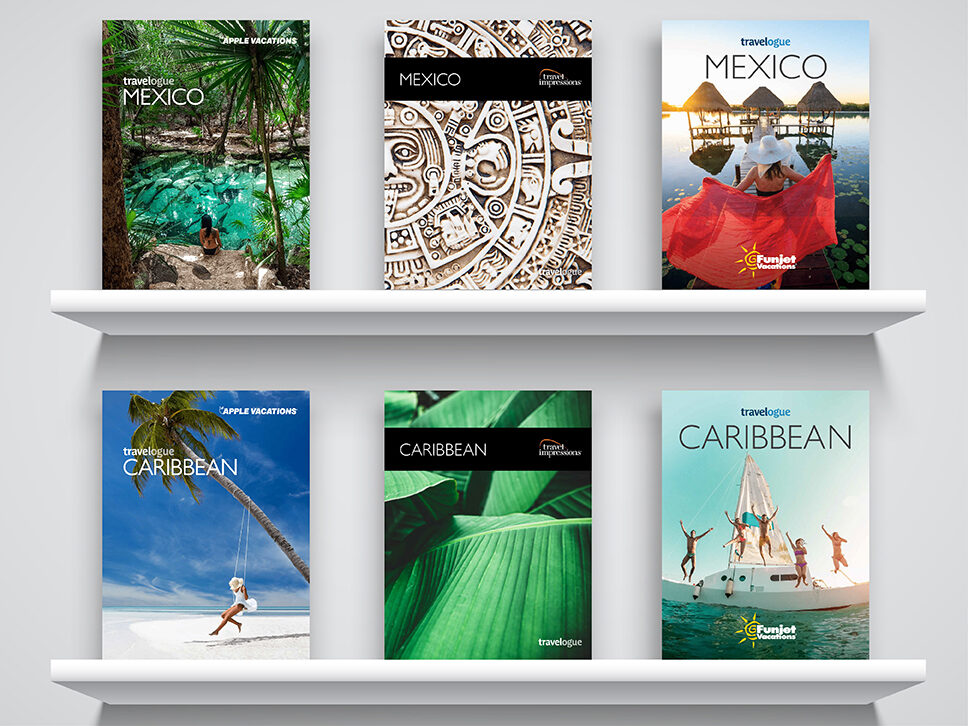 A series of purely digital brochures, available for Apple Vacations, Travel Impressions, and Funjet Vacations, our Travelogues don't just show what's available in Mexico, the Caribbean, Central America, Hawaii, and Europe—as well as for Groups and Weddings and at preferred partner hotels—but tell the story of each destination. Without ever needing to leave Travelogue, you and your clients can discover chapters on each region, including key highlights; the sights, sounds, and accoutrements—easily compared thanks to amenity grids—of our most popular resorts; plus overviews of exclusive programs like Travel Protection Plus and TripTrust™.
Experience:
More content. Through dynamic "hot spot" image carousels and sweeping 360° videos, tour hundreds of hotels—most on full-page listings—that have made destinations like Cancun, Punta Cana, and Honolulu perennial picks. Look for the pulsating circles, and click for extra content.
More control. Go to any section from any page via the pop-up table of contents tab. View full-screen or with thumbnails for surrounding pages. Download custom PDFs featuring only the properties you know your client will love. Our Travelogues put you in the driver's seat.
More choices. From three ALGV brands to select to different ways to share (the full book so clients can get a better feel for what they want, a custom PDF with relevant options, going over top contenders together), make Travelogue your own.
Of course, with so much to explore, we know you might want to reference back to all the benefits again and again—or review them with your customers so they don't miss a single feature. When you visit the Travelogue home page, just click on the "How to Use" tab on the top navigation for an at-a-glance refresher.
So go ahead and give Travelogue a try … and see how the travel catalog as you knew it has been completely reimagined.
View our Travelogue titles now at ALGVtravelogue.com, or let us take you through their pages step by step with our video guide!