As we encourage everyone to Ask a Travel Advisor, why wouldn't we do the same? After all, it's sound advice, and we at ALG Vacations® believe in practicing what we preach! But as you know, we also believe strongly in rewarding our travel advisor partners. With both of those principles in mind, we're delighted to announce a brand-new, limited run content contest and series exclusively here on TravelBlogue!
From now through the end of the year, we want to hear your very best travel stories. This consumer-friendly collection of articles will help us prove to the world exactly why folks should always Ask a Travel Advisor.
Because you get it done, come hell or high water. You find a way, no matter what the end destination is. You come up with solutions that no one outside of the industry could have been able to think of. And we think more people should be talking about it.
Okay, that's great. But what's in it for you, right?
Free positive press.
You've seen how much traction those confessional behind-the-scenes, insider viewpoints get in regular consumer media. Buzzfeed is built on those stories! Submitting your stories will help to build that kind of clickable, shareable traction, and of course, we'll be mentioning your name, your agency name, and linking to your website to drive referrals and bookings. After all, our Travel Advisor Locator (scroll down, then click on the brand to activate!) is a brilliant referral resource … but nothing quite beats a direct, targeted click, right?
A chance to win 10,000 WAVES® points every quarter.
Yes, you read that right. From now until the end of the year, we'll be giving away 10,000 WAVES® points to the best story submitted for that quarter in the cued topics, in addition to featuring that story prominently in the TravelBlogue article. And anyone can win, even more than once! That's 30,000 WAVES® points just waiting for you to claim them.
How do I enter?
Oh, it's so easy.
We've set up a short, simple, online form that you can just CLICK HERE to access. You can submit as many times as you want for as many themes as you want. You can leave blank whichever topics you don't have an anecdote for, and fill out the form multiple times if you have more than one story for one theme. Just enter your first back by April 13 as you like for the following cues: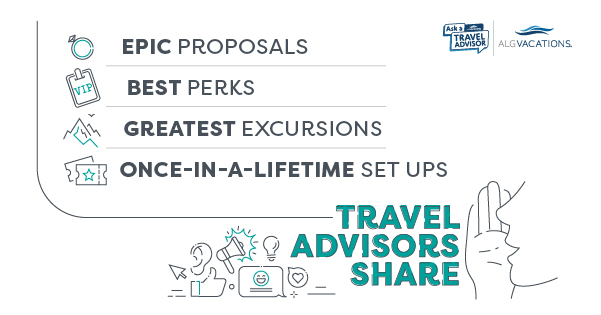 Most Epic Proposal Planned
Did you help tie a ring to a coati's tail so they could tie the knot? Did you arrange a shower of balloons to help them "pop" the question? Okay, probably not … But did you have customers do something out of the (ring) box, like propose on a helicopter ride? Tell us!
Early check-in/late check-out, welcome basket, sparkling wine, blah, blah. We're thinking bigger. Did you ever get your clients VIP tickets to an on-resort concert? Did any ever meet a celebrity during their stay? Get a role as a walk-on during an on-resort filming? Let us know!
Best Excursion Ever Booked
No vacation is fully complete without the element of adventure. What was the most exhilarating or emotionally fulfilling tour your customers have ever thanked you for guiding them to? What made you recommend it? What would you put this on bucket anyone's list?
Coolest Once-in-a-Lifetime Experience Set Up
As a travel advisor, you've been exposed to a lot. We won't blame you for sending multiple entries for this one. what's the most incredible immersive experience you've ever helped put together? From climbing the Great Wall to swimming with Great White Sharks to cuddling a lion cub, tell us your top most enviable moments that you helped to orchestrate.
We can't wait to see what travel advisors like you have to share. Because forget campfires—storytime when you Ask a Travel Advisor is going to be unlike any other!