Fun, festive, easy, and authentic ways to honor Mexican culinary culture until you visit again.
Any time is a great reason to celebrate the culture, history, and heritage of one of our all-time favorite destinations. And of course, any excuse is a fine one to have tacos, enchiladas, margaritas, beans, and other American-adopted dishes. But did you know that Cinco de Mayo celebrations in the U.S. are actually designed around just that?
There are of course real history as to why it's a holiday: in a nutshell, Cinco de Mayo commemorates the Mexican army's victory over France at the Battle of Puebla. However, it wasn't even a major strategic win in the overall war! In fact, it's actually considered a relatively minor holiday in Mexico, and not even a federal one, much less Mexico's equivalent of our July 4th Independence Day. Mexican independence was actually declared more than 50 years prior to the Cinco de Mayo battle, on September 16, 1810.
Cinco de Mayo has actually become a much bigger deal in the United States, thanks to the Chicano activists who called the holiday to our attention in the 1960s. Today, many Americans use it as a day to celebrate all things Mexico.
With Mexico as the top destination sold by ALG Vacations™ and with our deep roots across our brands within the country (e.g. Amstar DMC and AMResorts), we wanted to share some recipes inspired by this country we like to call our second home, with ingredients from south of the border. So if you're part of the 72% of us that have been trying to revisit this favorite destination by way of authentic cuisine, as evidenced by a study performed by Cacique, the number one producer of Mexican-style cheeses, creams, and chorizos in the U.S., let's get cooking!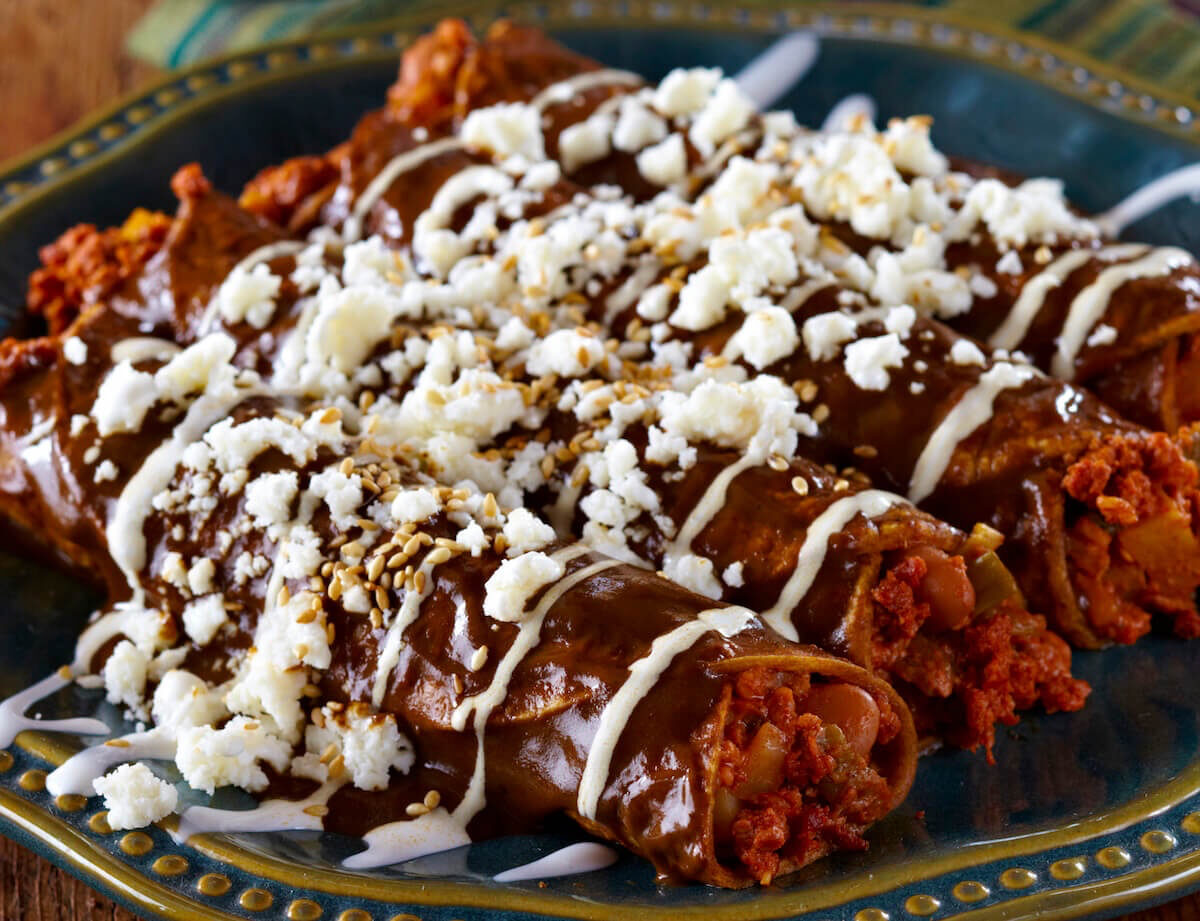 Enmoladas (Mole Enchiladas)
These enchiladas in mole poblano is a comforting and traditional dish. Queso fresco, those salty, creamy crumbles, and rich crema tie the earthy ingredients together and introduce a fresh factor.
Ingredients:
½ package (6 oz.) Cacique Ranchero Queso Fresco, crumbled
½ package chorizo (pork recommended, but soy, beef, and even chicken are available)
¼ cup Cacique Crema Mexicana
12 oz. mole (buy concentrated "mole preparado" and follow package instructions to yield 12 oz. of finished mole)
1 small potato, scrubbed but unpeeled, diced small
1 tbsp. vegetable oil
1 c. onion, chopped
½ can (15.5 oz.) pinto beans, drained
½ can (8 oz.) tomato sauce
1 can (4.5 oz) green chilies chopped
½ c. green onions, finely chopped
8 corn tortillas
Sesame seeds for garnish
Directions
1. In a medium skillet, cook the chorizo according to package instructions, add potatoes and sauté 10 minutes over medium heat. Add onions and cook for 5 minutes more. Add beans, green onions and tomato sauce. Sauté for another 5 minutes or until the mixture thickens. Set aside.
2. Prepare mole by following package instructions.
3. Heat the corn tortillas on a griddle one by one until pliable. Carefully dip each tortilla into mole sauce. Use spatula to place dipped tortilla on a work surface. Fill with chorizo mixture and roll tortilla, carefully place on the serving platter seam down. Repeat with all tortillas.
4. To serve, spoon extra mole sauce over enchiladas, drizzle Cacique Crema Mexicana and top with crumbled Cacique Ranchero Queso Fresco and sesame seeds.
Image and recipe courtesy of Cacique and Hunter PR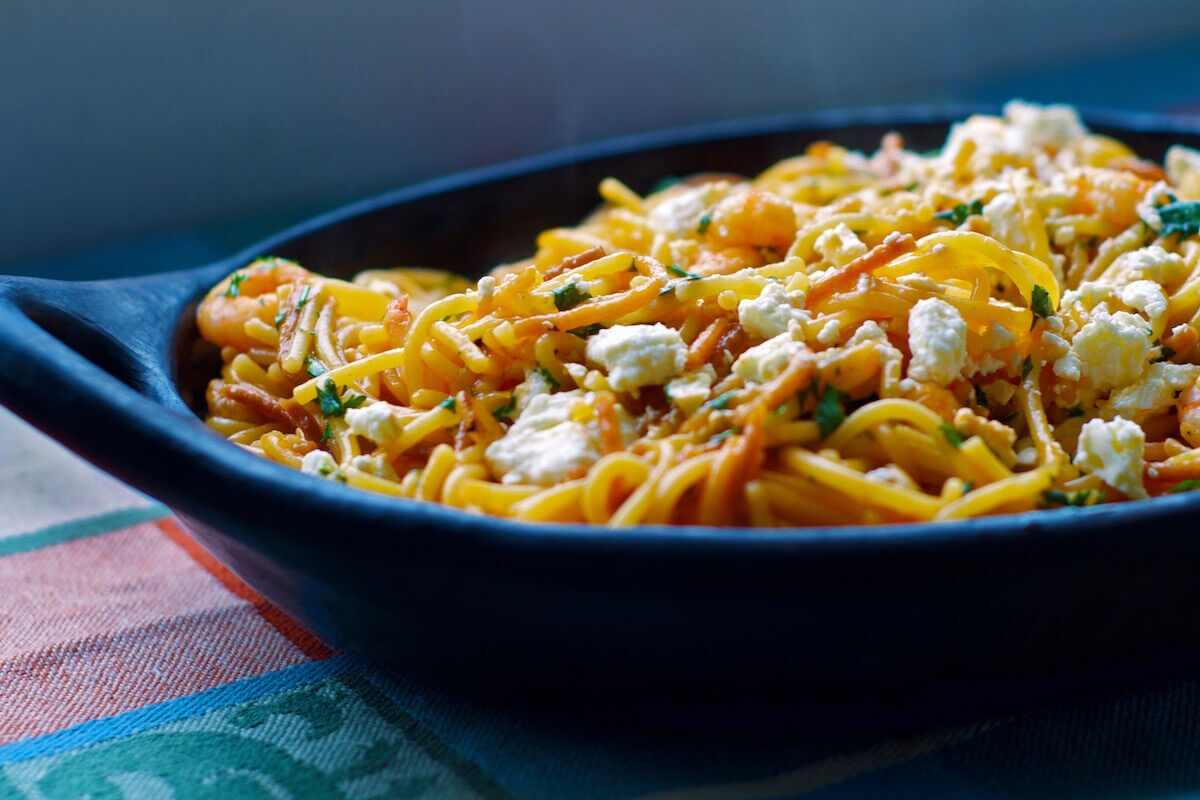 Fideos with Shrimp and Cacique Queso Fresco
Did you know this is actually a common pasta dish in Mexico? Cooking the noodles in reduced broth concentrates the flavors in the sauce and infuses it into the pasta.
Ingredients:
3 tbsp. olive oil
1 large onion, diced
1 lb. fideo (or vermicelli or thin spaghetti, broken into 2-inch pieces)
Salt and freshly ground black pepper
1 ½ tsp. ground cumin
1 (28 oz.) can diced tomatoes in juice
6 c. chicken broth
1 ½ lb. small shrimp, peeled and deveined
10 oz. Cacique Ranchero Queso Fresco
Fresh cilantro, chopped
Directions:
1. In a large stewpot over medium heat, add the olive oil and the onions and cook until softened and slightly golden, about 6 minutes.
2. Stir in the fideos or spaghetti pieces and the cumin. Cook, stirring, until the pasta is golden brown, about 5 minutes.
3. Pour in the tomatoes and chicken broth and bring to a boil. Season with a sprinkle of salt and pepper. Reduce the heat to medium and cook, stirring, until the pasta is tender and most of the liquid has been absorbed, about 10 minutes.
4. Add the shrimp and stir to distribute. Cover and cook for 3 to 4 more minutes until the shrimp is pink and opaque. Taste and adjust seasoning. Spoon the fideos onto a serving platter and sprinkle with Cacique Ranchero Queso Fresco and chopped fresh cilantro.
Image and recipe courtesy of Cacique and Hunter PR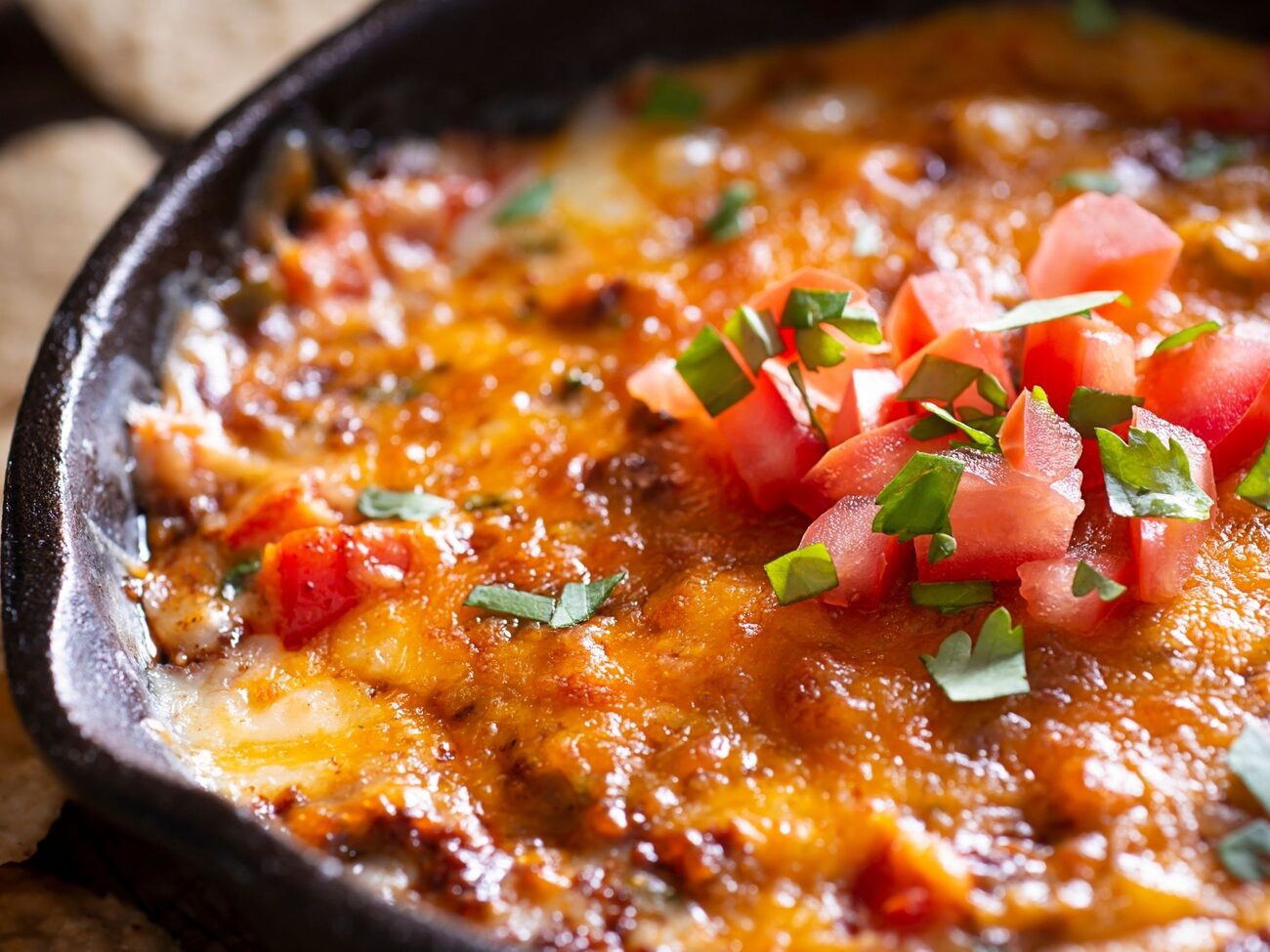 Smoked Wagyu Chorizo Queso Dip
Veteran-owned KC Cattle Company specializes in antibiotic, hormone-free, ethically raised American Wagyu beef and Berkshire pork.
Ingredients:
16 oz. Velveeta cheese
8 oz. Pepper Jack cheese
8 oz. Gouda cheese
2 (10 oz.) cans Rotel diced tomatoes (mild or hot)
1 (10.5 oz.) can cream of mushroom soup
¼ c. chipotle peppers in adobo sauce
4 tbsp. BBQ rub of choice
1 lb. KC Cattle Company Wagyu Beef Chorizo
¼ c. tomatoes for garnish
2 tbsps. cilantro for garnish
Directions:
1. Heat smoker to 250⁰ F.
2. Cook chorizo in a pan and drain.
3. Cube up all three cheeses and place into a Dutch oven. Add salsa, mushroom soup, peppers and adobo sauce, and BBQ rub.
4. Add in chorizo and mix to incorporate all ingredients
5. Cook for about an hour with no lid, stirring about every 10 to 15 minutes, until smooth.
6. Top with tomatoes and cilantro, grab some corn chips and a cold beer (Like Sol, Modelo, Corona, or Dos Equis) and enjoy!
Image and recipe courtesy of KC Cattle Company and Light Years Ahead PR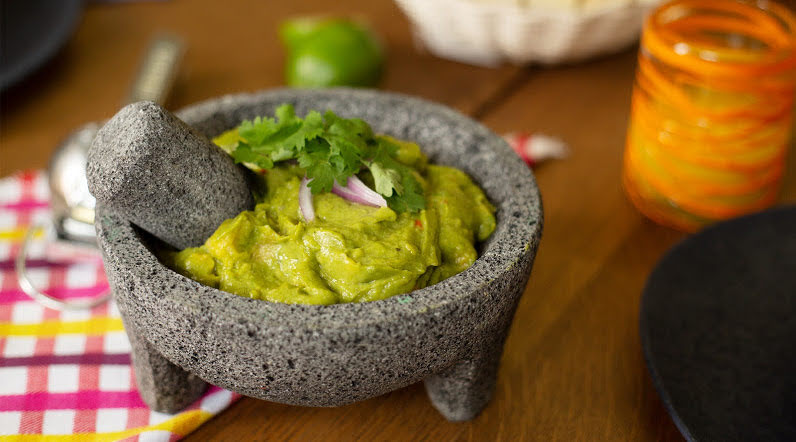 Traditional Guacamole
It may look like a mortar and pestle set, but unlike a grinder, the coarse volcanic stone material is actually a flavor enhancer, releasing oils from guacamole ingredients. Verve Culture makes a good one that will amp up your guac.
Ingredients:
3 avocados, peeled
2 tbsp. diced red onion
1 tsp. diced jalapeno pepper
1 tbsp. chopped cilantro
¾ tsp. salt
1 – 2 limes
Directions:
1. Add onion, jalapeno, and cilantro to molcajete, along with the salt and the juice of one lime.
2. Grind into a paste using the tejolote, or pestle.
3. Add the peeled avocados, and use the tejolote to combine.
4. Add more salt or another squeeze of lime to taste.
5. Serve immediately with warm tortilla chips or on tacos, burritos, or tostadas. Store leftovers in an airtight container in the refrigerator; save a pit to keep in the guacamole to extend its shelf life.
Image and recipe courtesy of Verve Culture and Chic Execs PR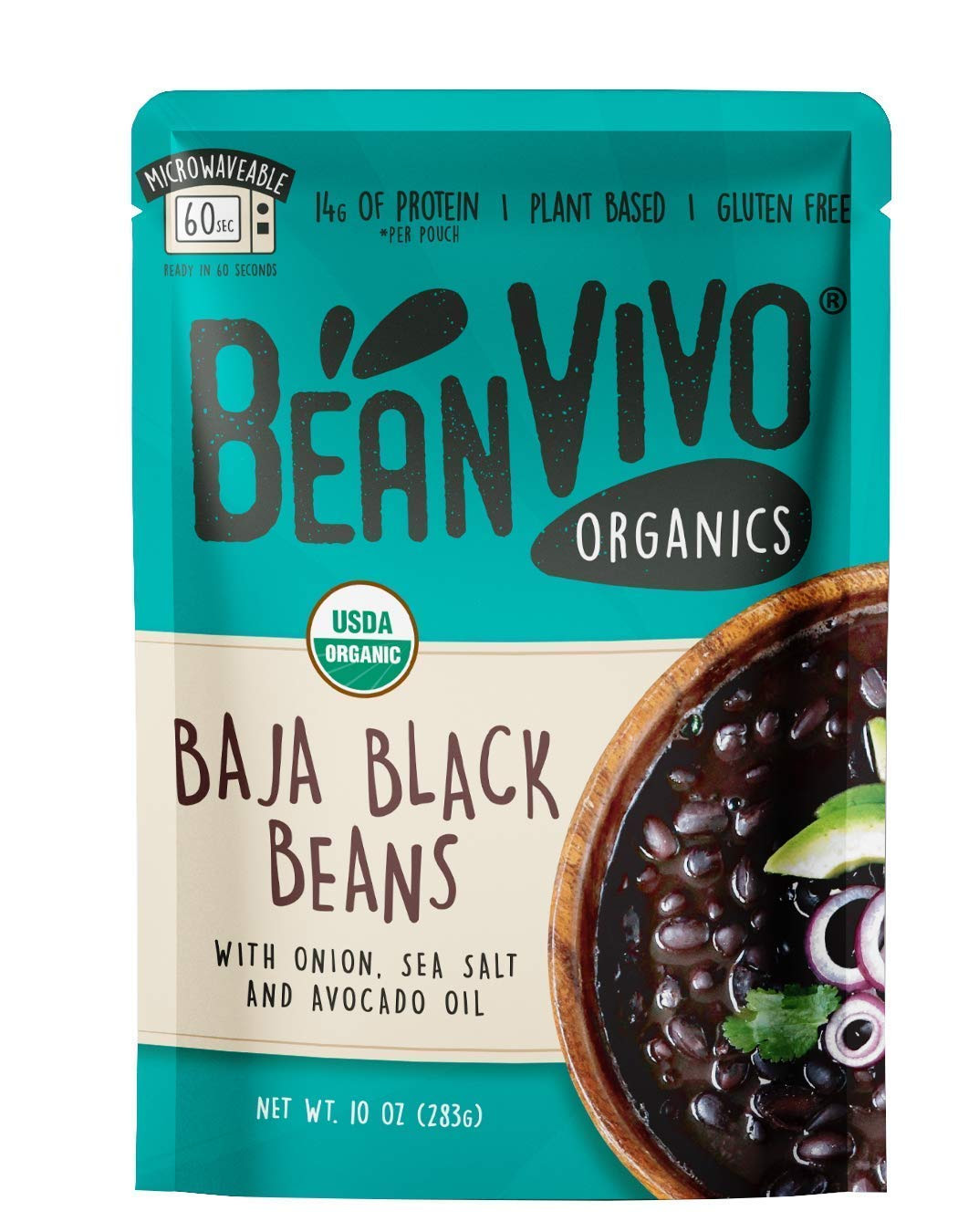 BeanVIVO Baja Black Beans or Refried Pinto Beans
One of the greatest things about having Mexico just south of the border to us? How easy it's become to get a taste of it here. These ready-to-eat, beautifully seasoned organic beans are a perfect side to any Cinco de Mayo table. Added bonus: food in pouches leave a much smaller environmental footprint than cans.
Ingredients:
1 pouch BeanVIVO Baja Black Beans or Refried Pinto Beans
Directions:
1. Tear pouch 2 inches to vent, then microwave on high for 1 minute
Image courtesy of BeanVIVO and Chic Execs Pr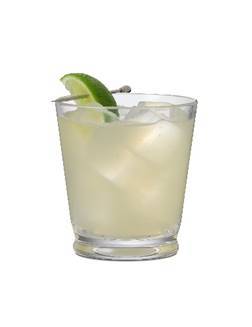 The St. Rita
We all love our good friend, Margarita. Here's a fun, fresh, and easy spin on the classic.
Ingredients:
2 parts tequila blanco
1 part St-Germain French Elderflower Liqueur
¾ part freshly squeezed lime juice
Directions:
1. Shake all ingredients with ice and pour into an ice-filled rocks glass (salted rim optional).
2. Garnish with lime wedge
Image and recipe courtesy of Nike Communications and St-Germain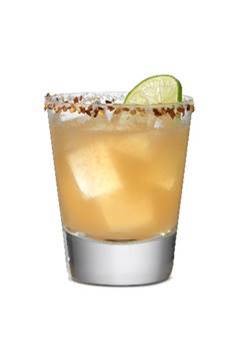 The Pastinaca
Spice things up with this pepper-rimmed drink! Perfect with the cool richness of guacamole.
Ingredients:
1 part tequila blanco
½ part Mezcal
1 part St-Germain French Elderflower Liqueur
½ part Llme juice
¾ part Grapefruit Juice
Cayenne Pepper (rim)
Salt (rim)
Chili Powder (rim)
Directions:
1. Shake all ingredients with ice and pour into an ice-filled rocks glass (chili salt rim optional).
2. Garnish with lime wedge.
Image and recipe courtesy of Nike Communications and St-Germain