With so much to spy with your own eyes in the birthplace of James Bond, get ready to practice your license to thrill.
Famous for its climbable waterfalls, tranquil resorts, and stunning beaches—as well as the world's most formidable fictional spy—Jamaica's Ocho Rios region has long held legendary status among travelers.
Just one stroll along its sandy coasts and vivid rainforests is all it takes to see how this setting could have inspired James Bond … and why his latest outing, No Time to Die, continues to feature Ocho Rios as a prominent character. Now, with the 60th anniversary of the first Bond film just around the corner, your clients will have no time to waste exploring this destination's hidden wonders.
WHAT TO DO
As only befitting a region as charismatic as Bond himself, Ocho Rios certainly doesn't fall short on ways to keep clients entertained. Dunn's River Falls, a national and natural treasure, is of course iconic, but bamboo rafting on the White River makes for a charmingly romantic alternative. Mystic Mountain takes the adventure to greater "heights," with its SkyExplorer chairlift and 700-foot views of the rainforest below. For a change of pace, head to Main Street—walking distance from most resorts—and the Ocho Rios Craft Market. Offering souvenirs for every style, from wooden carvings to colorful tees, it's a perfect sampler of local culture.
Those who want a true 007 experience would be remiss, however, to miss out on a foray to GoldenEye, Bond author—and local airport namesake—Ian Fleming's former home set on golden shores, and where he penned all of the British Secret Service agent's exploits. The property seems like something out of a Bond film itself; the garden, its trees each planted by former guests, stands out as a particular highlight.
For a full spectrum of action, however, you can't go wrong with a guided Amstar™ DMC excursion. Designed to balance culture, thrills, and leisure, their tours of top attractions keep groups small but the excitement big. Think swims in the Blue Hole and bike rides down the Blue Mountain, as featured in Vogue—all with a local expert leading the way.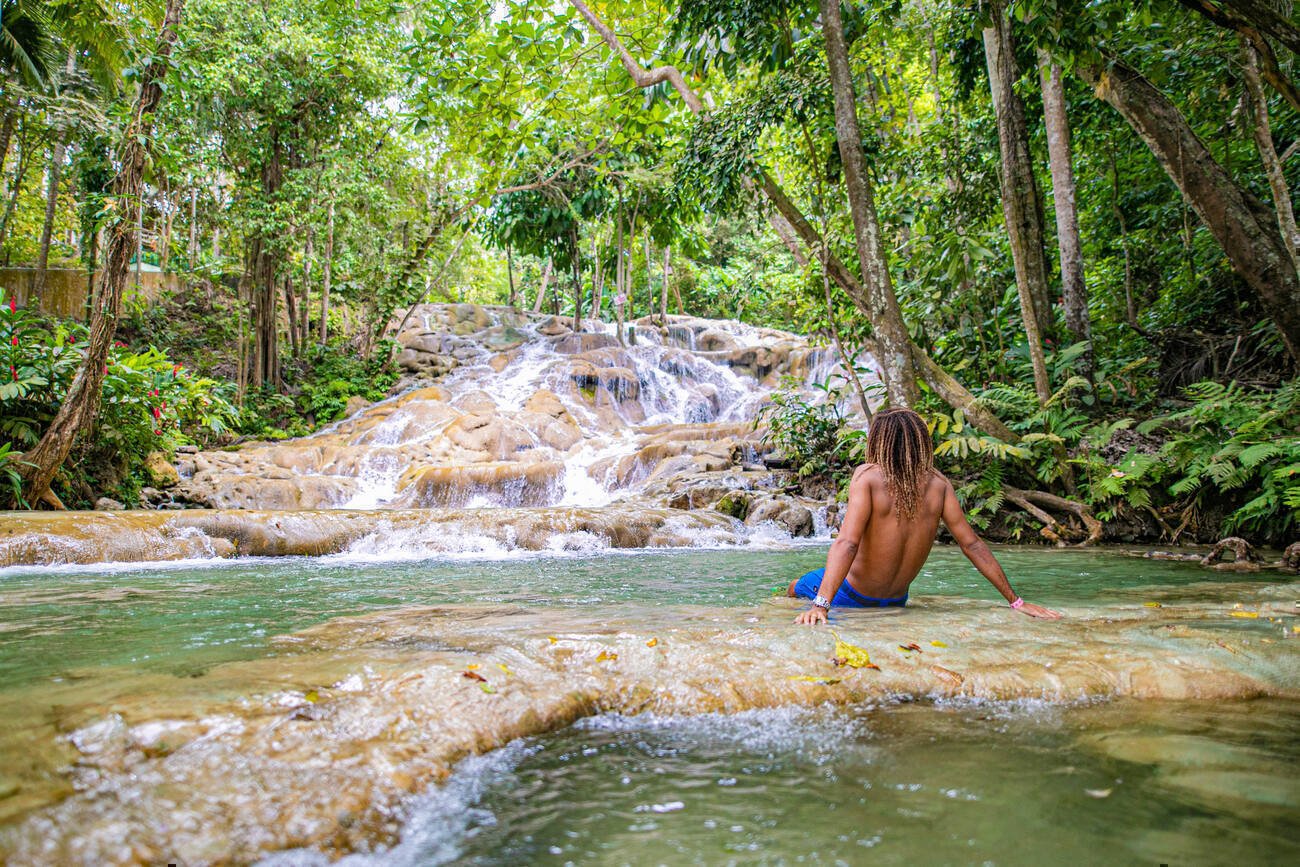 WHERE TO STAY
Quieter than the buzzing Montego Bay resort scene, Ocho Rios nonetheless provides an abundance of all-inclusive accommodations.
Families, friends, and groups will fit right in at Riu Ocho Rios. A RiuLand kids club lets the younger set connect with new friends, while a Splash Water World water park for all ages lets everyone in on the fun. Come mealtime, a wide variety of restaurants, all included, means eating around the world is a matter of course, and pool and beach wait service keeps adults staying cool.
Synonymous with Jamaican romance, Couples Resorts, on the other hand, is all about finding sparks. Masters in making memories for two, guests of both the flagship Couples Tower Island and Couples Sans Souci will feel like the leads of their own novel. Private time on a private island awaits at the former; day dates like dance classes and nature walks at the latter. For 007 levels of luxury, though, the Oasis Spa Villas at Tower Isle, featuring unlimited, included spa treatments and VIP check-in, hold the secret to an exceptional retreat.
With cinema's most in-spy-rational series coming up on 60 years, taking Ocho Rios from the big screen to real-life HD seems the perfect way to celebrate. As for whether your travelers' welcome martini is shaken or stirred? We'll leave that up to them.
No trip to Jamaica is complete without a few excursions. Check out our Visual Spotlight for more ideas to fill their itinerary!