In our normal everyday, we are not close to nature anymore. We are compressed, the weight of our obligations, responsibilities, our schedules weighing us down, pushing us smaller and into the ground—yet ironically, leaving us feeling ungrounded. We are too connected to the intangible pressures around us, yet disconnected entirely from the world that hosts us.
And that's how you know it's time for a trip to Los Cabos.
Located on the West Coast of Mexico, on the peninsula of Baja California Sur, this triplicate destination is known for the ritz of Cabo San Lucas, the artisan feel of San Jose del Cabo, and the lovely resorts that stipple the Corridor. But what you'll now also know is that it's an ideal destination to unplug, unwind, and find earthly pleasure in heavenly wellness.
Hidden among the headlining attractions are quiet, local, rejuvenating secrets, such as where to find the best farm to table dining in the region, a floating restaurant, a perfect trail, and spas that use indigenous plants and materials in their treatments. So if you're ready to unwind, keep reading as we unravel some of the best insider tips for feeling better, inside and out, in Los Cabos.
Agricultural Glory
Yes, Los Cabos is located in a desert, which is why it enjoys that perfect, arid warm weather all year-round. But the land is far from barren. We highly recommend taking some time out to go to Tamarindos Farm to Table restaurant, which was once a sugar cane farm. Think herbaceous margaritas, mezcalitas, cooking classes, and of course, fresh produce in all of the dishes offered to families and friends who visit. A rich agricultural history and important wisdom about land stewardship is a welcome side dish no matter what you choose.
Farm to Table Excellence
Want more of the same, it's worth making a reservation at El Huerto Restaurant as well. It's a smaller farm, growing organic produce used for breakfast and dinner service from Tuesday to Sunday. A wood-fired oven puts pizzas on the table, but it's hard to choose that as an entrée when there are options like roast suckling pig to share, homemade ravioli with farm tomatoes, pickled poblanos, and aged cotija cheese, homemade bacon, and a proudly displayed list of what's in season from the farm. Best of all, you can get OpenTable points with them by reserving your meal before you even land.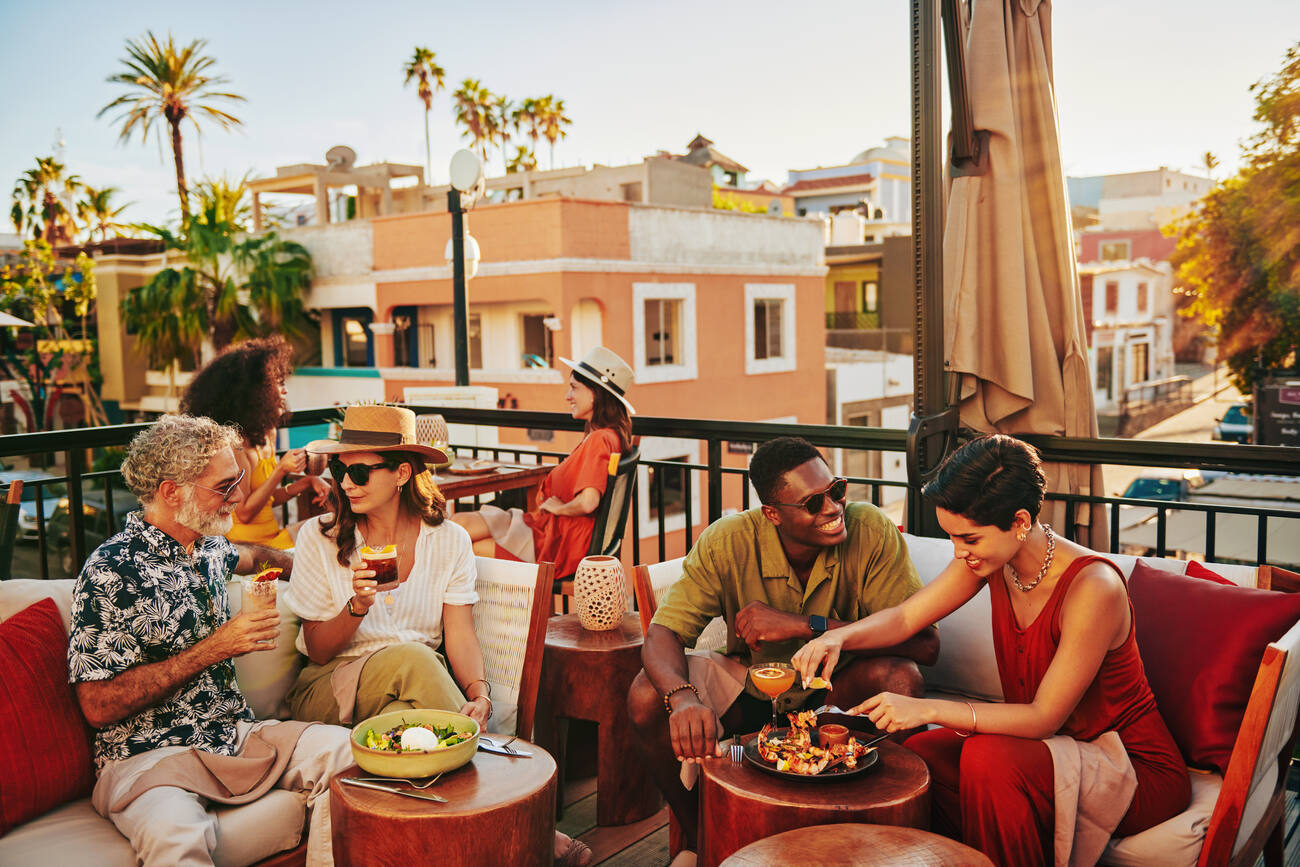 Floating on Culinary Cloud Nine
Fancy a float? Then get you to Animalon by the Sea, a 49-foot boat that's now become Los Cabos' first floating restaurant, flipping the script to focus on ocean to table dining. This concept by acclaimed chef Javier Plascencia uses only Baja ingredients, its menu an homage to the local producers of the area and its overwater setting a tribute to the water that surrounds this peninsula. They call each meal "A Sunset Journey," with five courses and an amuse bouche.. Expect local kampachi, grilled lobster, octopus, beef agnolotti, and other rotating delicacies, accented by local produce. OpenTable offers reservations from Wednesday to Sunday for this exclusive experience.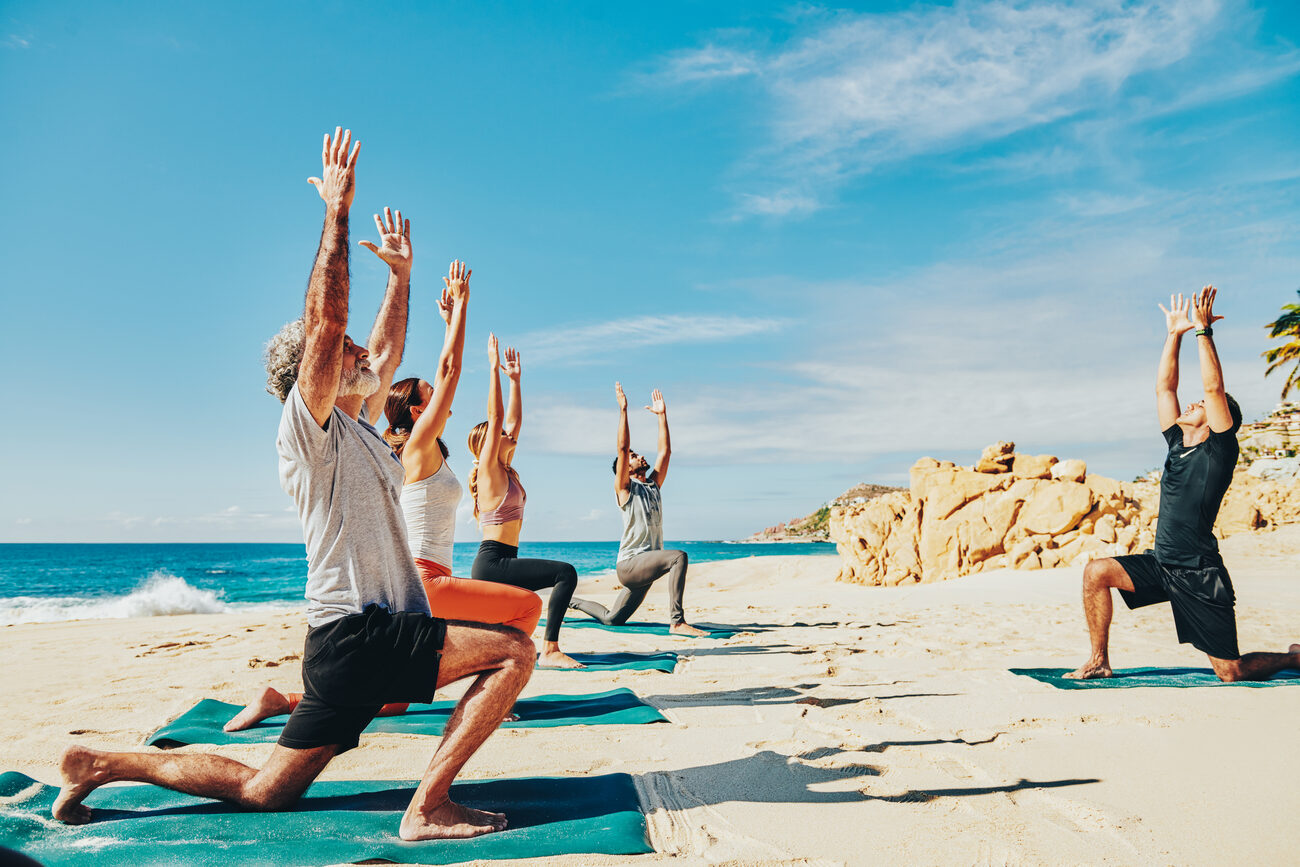 Locally Inspired R&R
Eating mindfully is far from the only way to experience the natural resources of Los Cabos. As we'd mentioned before, many of the spas in the region use plants, earth, and minerals from the earth around them. You'll easily find "spa-tacular temples" offering up holistic therapies that they happily pair with healthy cuisine and personal training, and incorporate desert flowers, aloe, clay, and herbs into treatments. The vast majority of the resorts every section of Los Cabos takes that approach as well, which steps up the competition—part of why the destination is home to many award-winning world-renowned luxury full-service spas. Book a tried-and-true service, such as facials, wraps, and massages, or go for something auténtico, like temazcal, an ancient steam lodge ritual, for a full reset.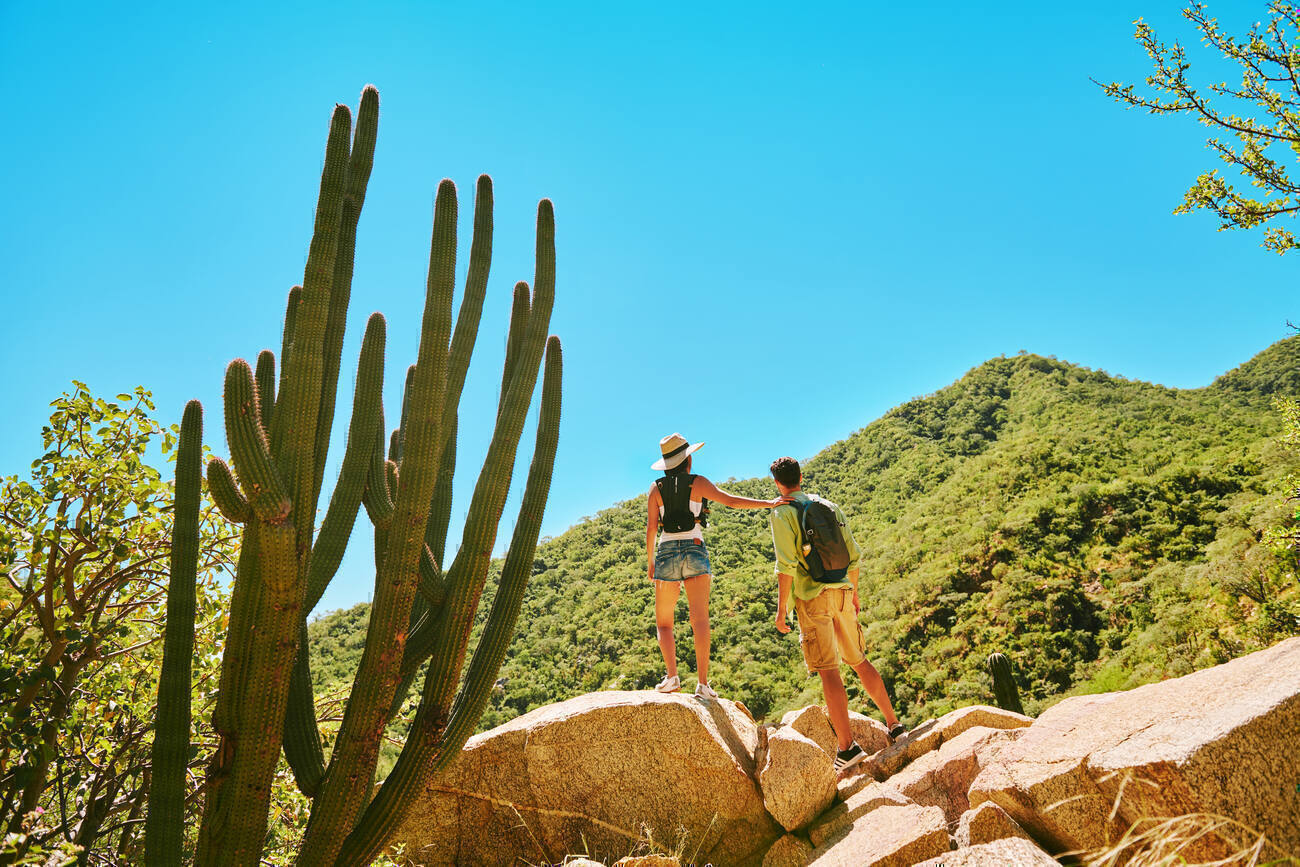 Trekking Sierra de la Laguna
For an even deeper connection to the earthly materials of Los Cabos, we also recommend just getting right in the rough of it. Take a hike—it's a favorite pastime of locals and visitors, with various easily accessible routes.. Set your GPS for the Cascada Sol de Mayo trail in the UNESCO-protected Sierra de la Laguna range to experience views of wide-spanning peaks and valleys. This route is only an hour out from San Jose del Cabo and features a waterfall and swimmable pond, and is inexpensive to book with a ride and guide, who will make sure you're prepared for a morning in the desert.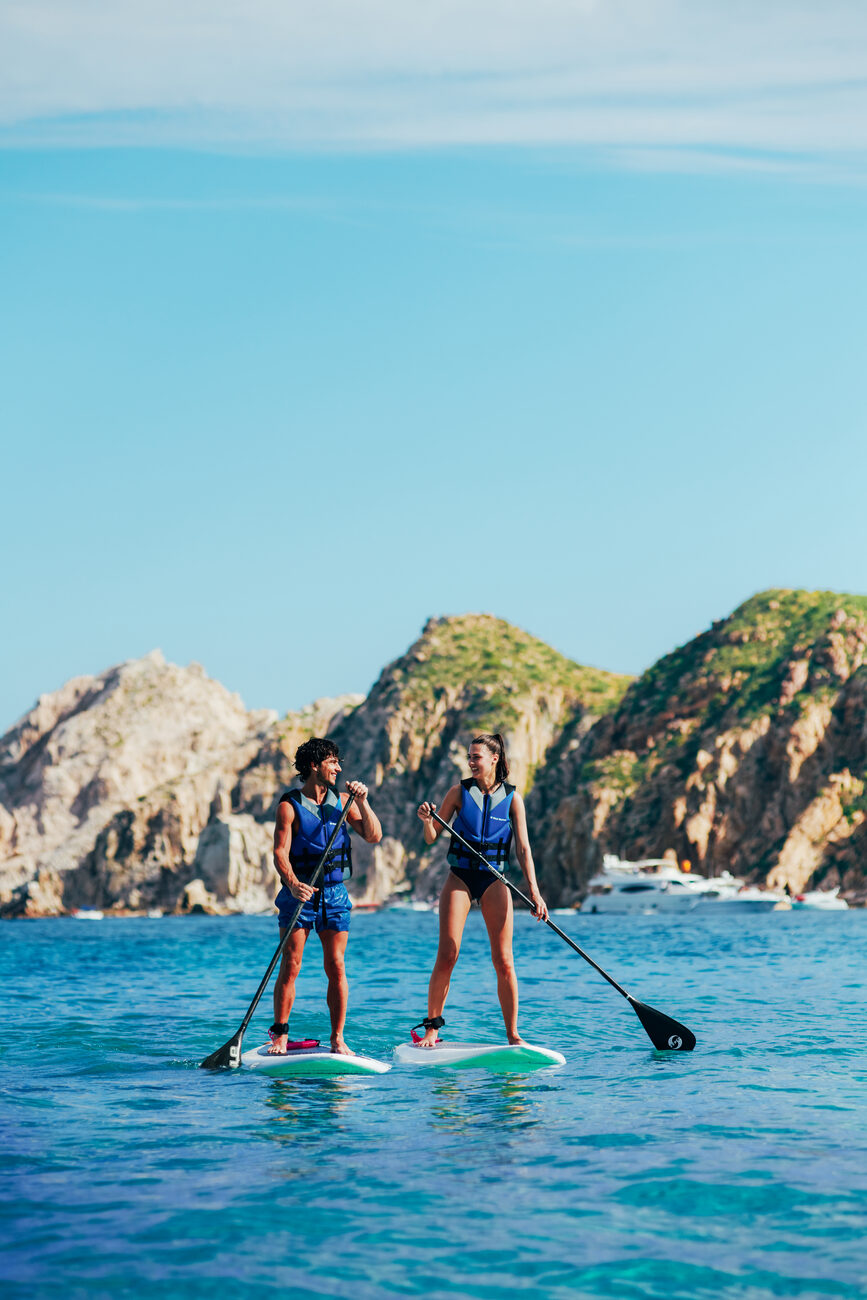 Blue Flag Beautiful
Hitting the mountaintops may take you heavenward, but it may also feel like an overly ambitious way to get connected to the tera of Baja California Sur. Less strenuous is getting back to basics and chilling out on a beach, in a chair or on your feet. There are actually quite a few swimmable beaches in Los Cabos, with 22 certified as Blue Flag ones … including calm, protected, horseshoe-shaped Santa Maria Bay. It's between the two major towns of Cabo San Lucas and San Jose del Cabo, holds this esteemed certification, an eco-label recognizing its value as a sustainable natural treasure. It's one of the cleanest you'll find in the area, with the bottom clearly visible as you wade in for paddle-boarding or snorkeling.
In fact, its lack of pollutant extends to human nuisance, too. You won't find much else here, so pack snacks and supplies to take with you, and remember to leave with them, too, to help this gorgeous space maintain it's A+ score.
Want more expert hacks, straight from our industry sources? Read our Hotel Confidential Insider Tips series, launched during Travel Advisor Appreciation Month as part of ALG Vacations'® awareness campaign. Plus, our Cities & Seas Europe mini-series offers even more internal intel, while our new Travel Advisors Share collection reveals exactly the kind of extras you can get when you Ask a Travel Advisor.