When most consumers think about European vacations, their minds first go to the greats: London, Paris, Rome. They picture historic sites and cobblestone streets, museums and moody skies. They agonize over the question, "Should I go to the beach, like I really, really want to … or should I traipse around an iconic city, like I also really, really want to?"
In truth, they can have both … if they choose their destination wisely! Although some of Europe's beaches and coastlines are legendary like the French and Italian Rivieras, there are many, many parts of the great Continent that give travelers the best of both worlds.
Welcome to the Canary Islands edition of below-the-radar places where you can have city, sun, sand … and everything in between. Now on sale with flights with United Airlines!
CANARY ISLANDS, SPAIN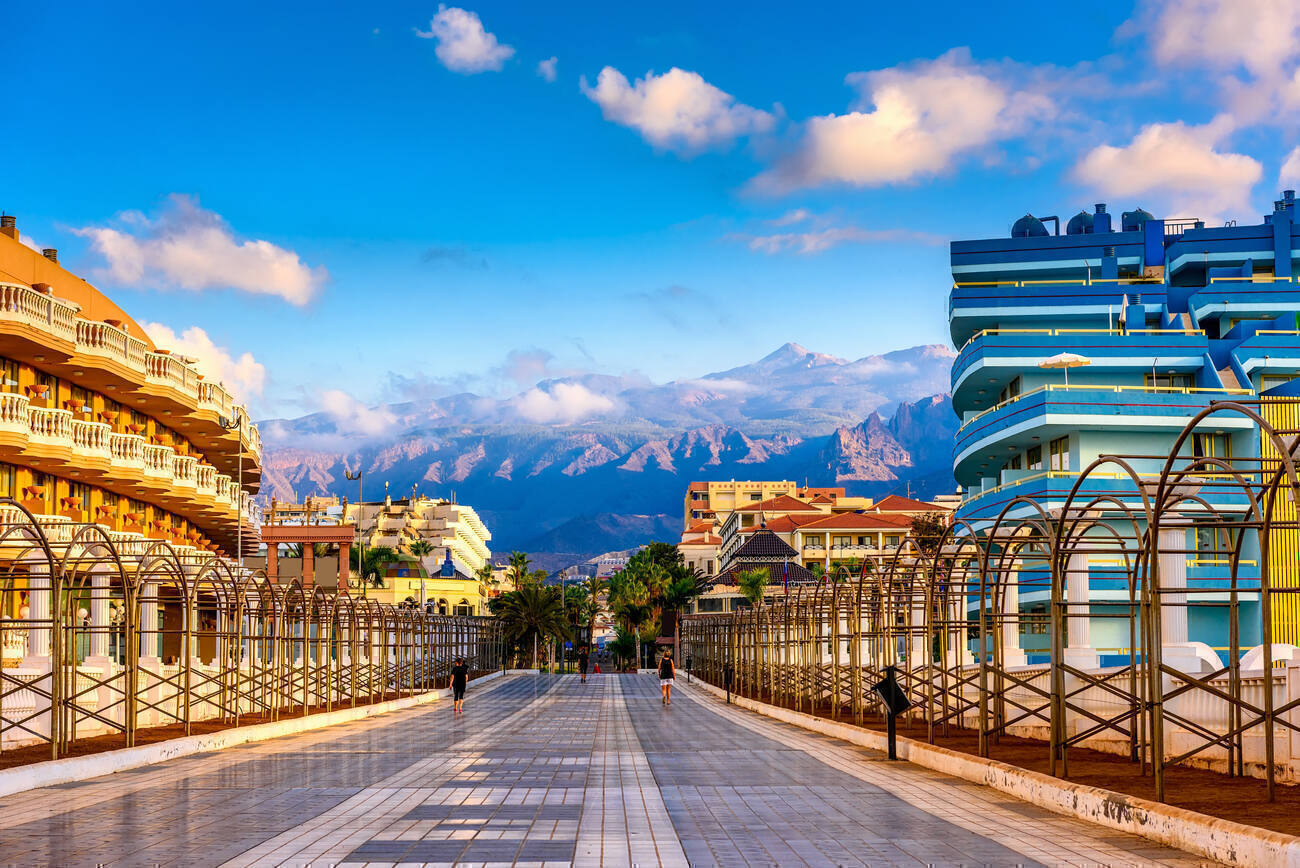 City:
Set west of northern Africa, off the shores of Western Sahara, south of Morocco, these islands in the Tenerife Sea (which got a shout-out by Ed Sheeran) are hauntingly unique. Although it's technically a part of Spain, its culture is distinctly Canarian. Part of that means you'll hear English in most restaurants, shops, and hotels, due to its popularity as a beach destination for Europeans … and Americans in the know. And similar to the Caribbean, they also have a lot of colonial history with unique spins of their own, and volcanic features that make it a nature-lover's retreat.
For an old-timey feel, visit Las Palmas de Gran Canaria, a seaside town on Grand Canary Island that was founded all the way back in 1478. This city was Spain's first foothold in its westward expansion and as such, is a shining example of why this is nicknamed "Fairy Tale Island," boasting features like a 16th century cathedral; 15th century Casa de Colon, one of Columbus's stopovers before sailing out to the New World; and museums like the Museum of the Canary Islands, featuring pre-Hispanic culture. There are modern urban aspects to this city, too, to round it all out, but if you'd prefer to stay in the days of yore, the historic quarters of Santa Lucia de Tirajana and Aguimes, Fataga, Teror, and Arucas are musts.
Or, visit the former capital of the Canaries, San Cristobal de la Laguna, a UNESCO World Heritage Site that's an architectural enthusiast's Reniassance and Neoclassical dream come true. This is located in the main island of Tenerife, and served as an inspiration for the wall-less cities that were build in the American colonies. With a parish church that dates back to 1496, you can learn more about how it came to be in the History and Anthropology Museum in Casa de Lecaro, which was erected in 1593. With its perfectly preserved layout, you'll be literally walking around an ancient city of the past in the present.
In La Palma, their Old Town lives on in Santa Cruze de la Palma, an ideal place for ogling 15th century wealthy merchant homes that remain preserved and pristine. As a former port and stop before the colonies, this was actually the third largest port in Europe, trailing only after Antwerp and Seville. You'll find unique Flemish religious art across this city, along with architecture to match.
On Fuerteventura, you won't find and old city, but they do also have an Old Town: Betancuria. This island is mostly for beach-goers, but for those who need a break from leisure (who are these people?), there's this landmark town that was founded in 1404. A short stroll through this faith-forward heritage site offers a peek at the importance of religion back in the days of its founding.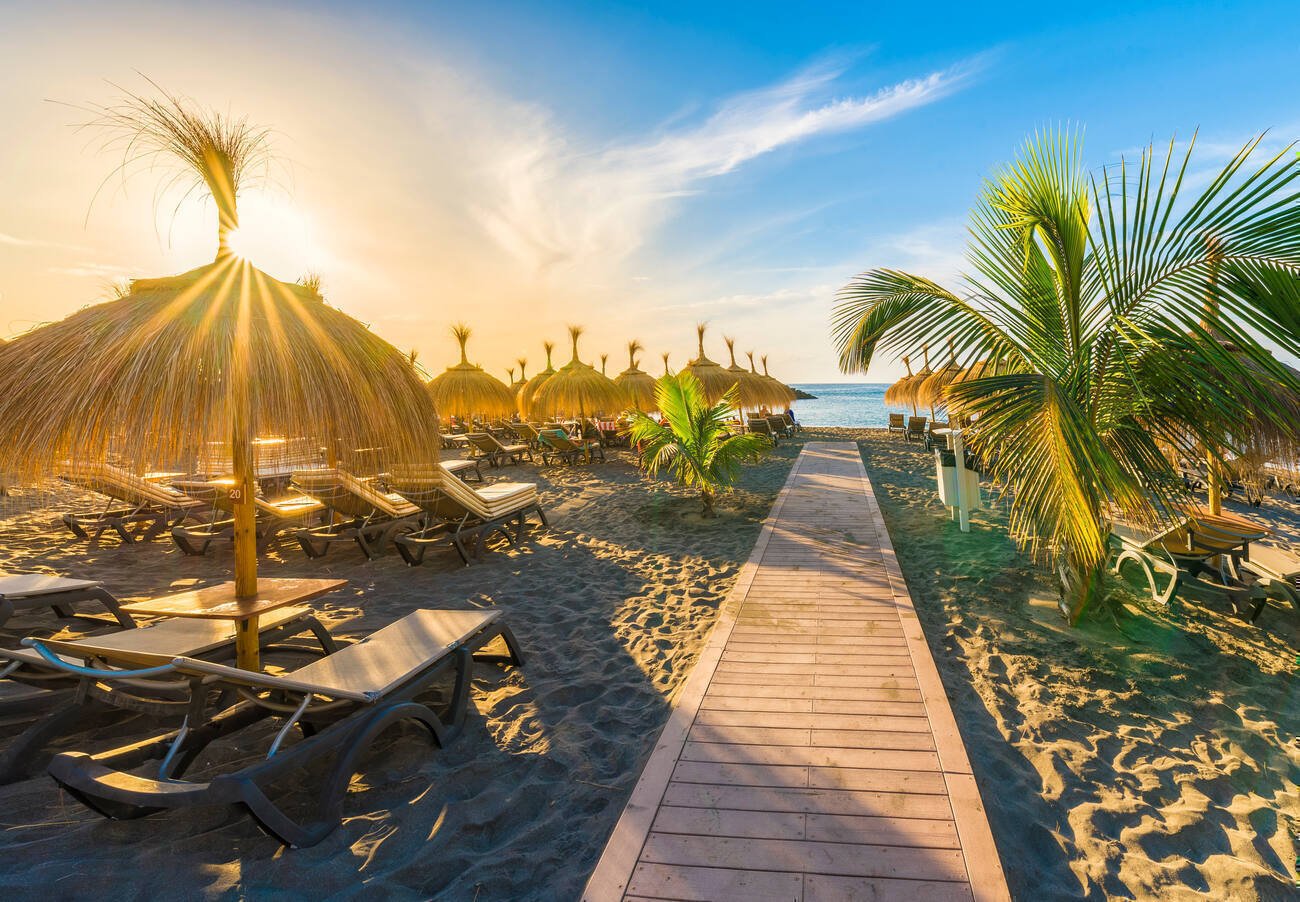 Sea:
The Canary Islands are well documented as a beach destination for savvy Europeans, magical with its thrilling landscapes of dramatic mountains and rainbow waters. As a matter of fact, its reputation as a seaside retreat stems all the way back to the 19th century, when its soothing climate and environs-"Change of Air," as it was prescribed—became famous as cures for all manner of chronic ailments, from "melancholia" to gout, to peaceful way to battle the horrors of consumption.
Today, the R&R is promises is of a far more lighthearted nature, and is just as effective for restoring our "humours" or sense thereof. With eight islands surrounded by the purest of blue whale blues, you needn't step far to find your remedy.
On Tenerife island, all the touristic hubs are on the south side, beneath Teide National Park, the most visited park in all of Europe and the highest peak on that continent, too. In fact, most of the calmer beaches lie to that direction on most of the islands, including Gran Canaria. But trace an outline around the islands as the dolphins, orcas, and whales just off the coast do, and you'll find yourself enchanted by quiet pockets of peace, on dark volcanic sand, light golden granules, wild adventurous waves, small coves, and natural ponds and pools that promise salt water without the current.
La Palma is better known for hiking in its lush greenery as a Biosphere Reserve and certified Starlight Reserve status, best experienced at Roque de los Muchachos Astrophysical Observatory. In fact, it was the first Starlight Reserve in the entire world! However, that doesn't mean it lacks the earthen charms of the other islands. Along with beaches that range from family-friendly to those with strong currents, there are also interesting natural pools in volcanic rocks, like Charco Azul and La Fajana.
For something totally different, head to The Different Island, Lanzarote. In fact, it's often compared to Mars, thanks to a raw and otherworldly landscape. The geography is made up of lava fields, volcanic rocks, black and red earth, and deep blue seas; its alien-ness is further emphasized by the novelty of silence. A truly peaceful place for centering, balancing, and reconnecting with oneself, this biosphere reserve island offers touristic beachfront resorts, rural villages with villas and boutique hotels, and volcanoes galore to explore. For waterfronts, don't miss pristine Papagayo Beach, one of the most popular beaches on Lanzarote on the calm south side, whose white sands, circular shell shape, and perfectly still emerald green waters lull you into lost hours on its white sands.
From here, you can also day trip to La Graciosa, "A Little Treasure" for even more remote unwinding. It's another beachy island and so small that it has no paved roads at all. However, that shouldn't stop you from renting a bike as so many others do, to explore every beach. No cars are allowed, but bicycle rentals and four walking trails are plenty.
Then there's Fuerteventura's wide expansive plains, studded with cacti to remind you of how close you are to the world's most famous desert. The Sahara's sands blow generously to this isle, which is what's given it its nickname of The Beach of the Canary Islands. It's low-key and unhurried … unless you're chasing waves or wind, in which case, let the exhilaration loose! But unlike the other Canary Islands, there's no big city in this region that embraces coastal living. Instead, picturesque towns, rolling hills, and over 93 miles of wide expanses of sand offer more to do than you have vacation days.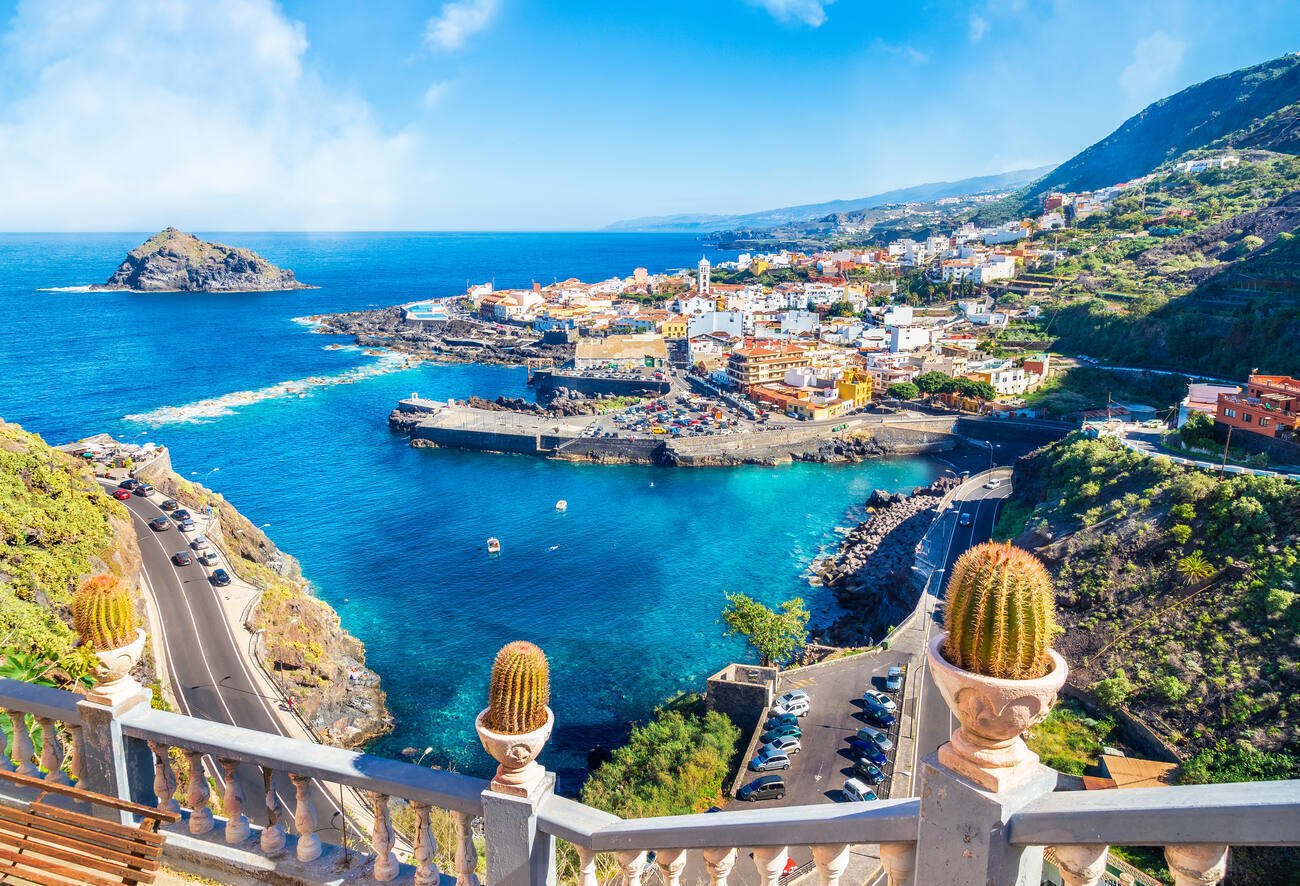 Stay:
Secrets Lanzarote Resort & Spa and Secrets Bahia Real Resort & Spa from the Inclusive Collection, part of Hyatt Hotels & Resorts, are ideal ways to take advantage of perfect year-round temperatures in those destinations.
The first offers a location in Puerto Calero Marina, close to Papagayo Beach and the volcanic Timanfaya National Park. The multilingual front desk can set you up to go to either, both, and back again, if you can pull yourself away from the romantic deep blue views of the ocean just below the hilltop resort. It's also near the charmingly whitewashed, lively town of Puerto del Carmen for as close to an urban feel as you can get on an island known for quiet peace and solitude. This is where you'll find nightlife and shopping, which makes Secrets Lanzarote an ideal position between all of these different vacation vibes in the most relaxing, least noisome of all the Canary Islands.
The second, a regal, palatial resort newly renovated as of 2021, is a graceful addition to a stretch of Atlantic beachfront and Saharan sands backed by amazing mountains that tower behind it. It's at the tippy top north end of Fuerteventura in a popular resort area offering views that are absolutely exquisite. This sprawling Spanish Mediterranean low-rise resort curves around a golden bay and commands a wide vista of ocean and Isla de Lobos directly in front of everywhere you stand. Gorgeous hallways that feel like a modern palace, elegantly appointed rooms, and Natura Bisse® spa are all par for the course, but what makes it extra special is that it provides right-there access to Parque Natural de Corralejo and Volcanes de Bayuyo. This is the very oldest island of all the Canary Islands, so those sparse wilds are worth exploring.
Or, take the whole family to Tenerife itself, and stay at Dreams Jardin Tropical Resort & Spa, whose Arabic-style architecture and views of La Gomera island punctuate a stunning seafront. It doesn't get much farther south than this tip of the island, which means calm beaches perfect for the littlest guests of this luxurious family-friendly property. Set on Costa Ajeje, one of the most exclusive touristic regions in Tenerife island, it's also near Siam Water Park and Aqualand and its dolphinarium, as well as other resorts that have staked a claim in this high-demand neighborhood. The white stucco waterways and buildings create a setting as magical as the city just outside its gates, which is colorful, upscale, and distinctly European from fashionable designer brands on sprawling boulevards to cafes and restaurants representing the best in local and international cuisine.
As you can see, you can have both city and sea, resort and hotel, adventure and leisure in the Canary Islands, Spain. Find out how you can have the same in the Mallorca in our Cities & Seas mini-series (and sale!) focusing on Europe.