Travel advisors and travelers are always on the move. Here are some of the best protein-packed products of 2021 to keep you fueled up and ready for any adventure!
During a year folks weren't actually physically going anywhere, it's amazing how on the move we all were. Travel advisors didn't even have a minute to take a breath when the COVID-19 crisis broke in March of 2020, and neither did grounded travelers. Everyone was unceremoniously faced with challenges such as working from home with furbabies and human kids; home-schooling the latter; trying to keep a suddenly more occupied home clean; having to feed everyone at once from one residential kitchen; and just trying to figure out what the heck next?!
For busy folks—whether they were working full-time or just trying to keep their sanity and family intact—it became easy to slip into one of two patterns. Some of us stress-ate, while others had no time to eat. Neither are nutritionally sound situations, but for the latter, at least, there are some great, healthy options on the marketplace to keep you nourished while you're on the move now and in the future when travel starts back up.
Healthy protein bars have always been a fantastic go-to for travelers. They're individually wrapped, pack and stow easily, and are typically neat to eat. However, some are calorie and sugar bombs, and many mainstream brands, such as Nature Valley, Cliff's Bars, Nutroamino, and PowerBar, have more of the sweet stuff and additives than a doughnut, a sleeve of cookies, and even more saturated fat than two whole avocados or a Big Mac. And don't even get us started on protein cookies like Lenny & Larry's and Quest!
However, there are some great new choices out there. Here are our top new-to-market picks—some of which even go outside the bar form!—for novelty, nutritional profile, ingredients, and more.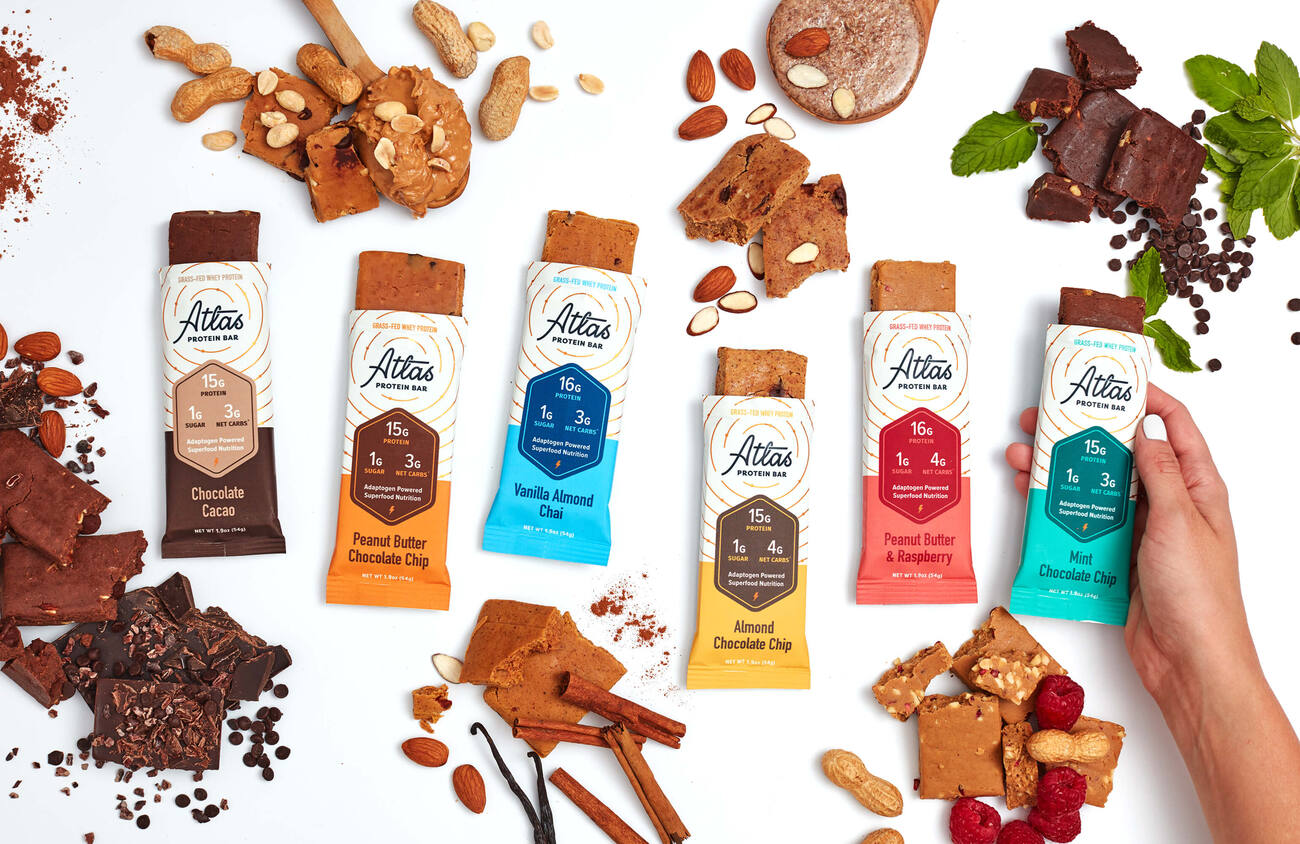 How fitting that our favorite bar is by a company that shares a name with a classic travel tool! Atlas Bars are outstanding in several ways. You'd never guess from the taste that there are fewer than 2 grams of sugar and less than 5 grams of net carbs per bar, thanks to its amazingly high fiber content. Plus, they're all keto-friendly, and gluten-, soy-, and GMO-free. But the biggest bonus is their headlining feature: adaptogens. Traditionally found in Ayurvedic healing practices, these herbs and roots are reported to help you deal with stress (hello, all of 2020!) better, whether they're physical, chemical, or biological. This means caffeine-free focus, clarity and energy; better control of cortisol and hormone levels; and even an improved sense of peace during high-tension situations.
That all sounds great, but of course, the most important question is: does it taste good? The answer is a resounding YES! They have a texture that's closer to a Fiber One brownie and none of the chalkiness you usually find in the "cleaner" bars. The Mint Chocolate Chip is one of the best versions we've had of that flavor across brands, and are packed with big chunks of real cacao-based chips, which are the starring ingredient in the Chocolate Cacao and the Almond Chocolate Chip—this one tastes like chocolate chip cookie dough. The Peanut Butter Chocolate Chip flavor uses a peanut base, as does the Peanut Butter & Raspberry, which uses freeze-dried raspberries. The Vanilla Almond Chai is more neutral, though, and pairs expectedly well with tea.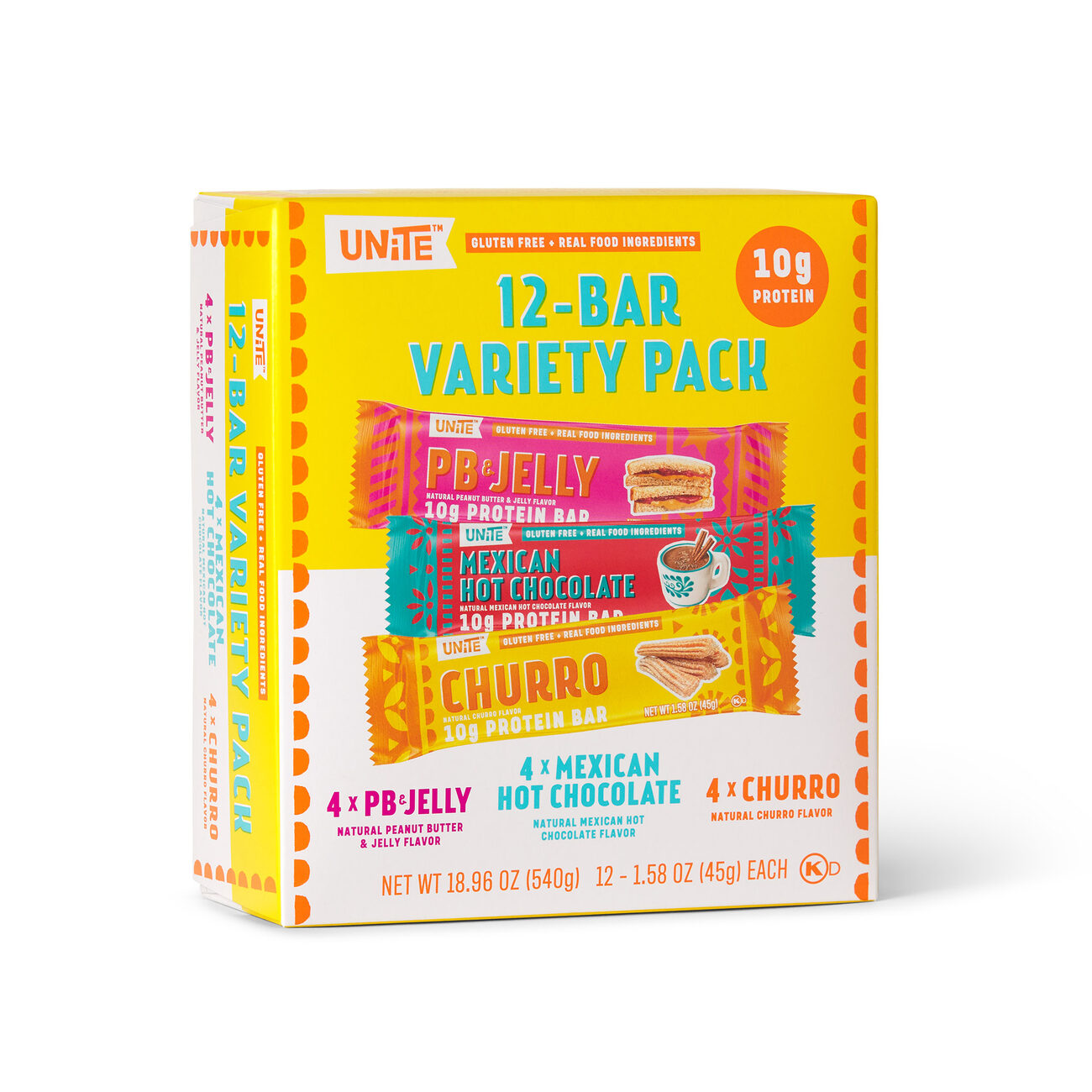 UNiTE Food's Travel-Themed Flavors
Tired of the same old, same old protein bar flavors? Globally inspired flavors by this Southern California-based brand can help you get hyped for your next destination as it channels flavors like Churro—a cinnamon-dusted flavor featuring crunchy almonds, vanilla, and toffee bits—and Mexican Hot Chocolate, which starts with semi-sweet dark chocolate and ends with a kick of cinnamon and chili pepper. Their third flavor, however, is a homey riff off travel food: PB & (strawberry) J. All have 10 grams of whey isolate or egg white protein, making it more of a nutrition bar than a protein one, but they do boast nut butters, hemp seeds, prebiotic fiber, and no gluten, dairy, or soy. Chewy as date-based bars tend to be, this will keep you munching for long enough to kick off your fullness sensors so you won't accidentally knock back too many.
Not only are these a great choice to keep yourself properly fueled, they also make a fantastic gift for travelers who used to frequent Mexico and miss those flavors. The festive packaging in bright colors and patterns—designed by neuroscience marketing—makes it hard not to be excited upon receipt as you recall the last time you were surrounded by that same scheme enjoying these culturally iconic flavors.
Impact Snacks Plant-Based Super Bars
Want plant-based protein instead? Pea protein (when done right; it can be earthy and gritty when it's not) is a favorite among vegan fitness pros, and this beyond eco-friendly (dare we say earth-first?) brand uses that key ingredient to push 10 – 12 grams of protein and 6 grams of fiber into every bar. They're vegan, so obviously, there's no dairy in them, but they're also free of gluten and soy, too. But the main headliner is that this whole food, plants-only bar also includes superfoods that improve organ function; adaptogens like maca (also known as Peruvian ginseng); and nootropics, such as Lion's Mane mushroom, which is one of the newest trends in natural miracle plants. The latter is said to help with memory, creativity, and motivation, all of which are cognitive functions that will keep you sharp while you're busy. All of these are packed into two icing-coated flavors: Dark Chocolate Brownie and Iced Caramel Latte. The texture is powdery and crumbly, but not chalky or earthy, held together in a candy shell.
Going back to being good for the planet we're trying to get back to traveling, though—each bar offsets one pound of carbon, as reported by emissions tracker Clearloop. Their wrappers are plant-based fully biodegradeable, and even their display boxes are made from more than 90% post-consumer waste with material harvested from responsibly managed forests.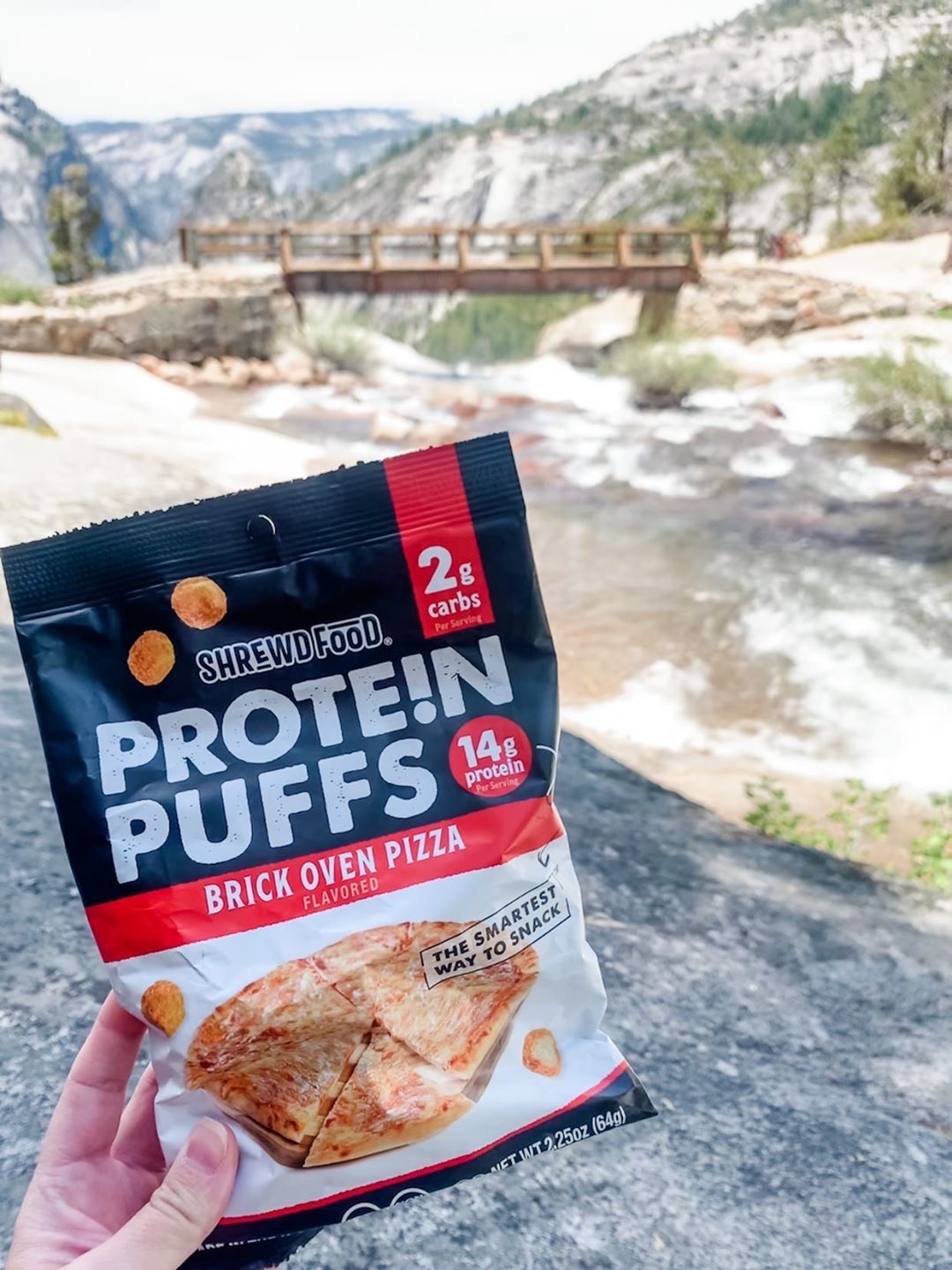 Shrewd Food Puffs and Tiny Cookies
Part of the fun of on-the-run food is that junk food is entirely acceptable. Thankfully, it doesn't actually have to be "junk" anymore. This brand's keto-friendly protein puffs come in classic favorites like Baked Cheddar, Nacho Cheese, and (my favorite in any bagged snack) Sour Cream and Onion, as well as more unusual ones like Sriracha Cheddar and Brick Oven Pizza. For those who prefer sweet over savory, there's Cookies & Cream and Strawberries & Cream in puffs. These are a smart, healthy alternative to the more traditional road trip snacks that you might otherwise be buying as we stay closer to home. And unlike the empty calorie cheese puffs, they take a little more chewing toward the end of each one, which is helpful for slowing you down and to help you feel satisfied at the end of the bag. Fewer than 3 carbs per serving adds up to 9 total for each 2.5 ounce bag, and a whopping 42 grams of protein makes it completely acceptable to eat puffs as a meal.
They make little cookies, too, in Oat & Berry and Oat & (chocolate) Chip! These have 8 grams of protein and tout 1 billion probiotics and seven fruits and vegetables in every little snack-sized bag.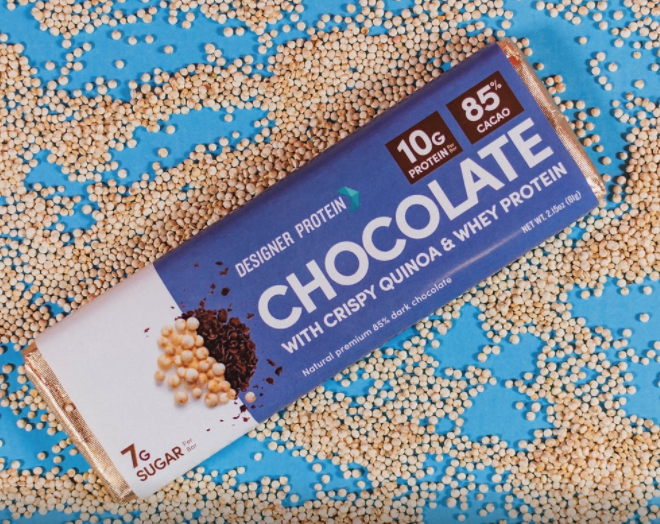 Designer Protein Chocolate Bars
Did you ever think you would see "protein" and straight-up chocolate bars combined into one thought? Because yeah, that's happening now that this mainstream brand has introduced their new line of high protein, low sugar, all-natural, 85% dark cacao chocolate bars, and their macros are amazing. Both versions—Chocolate with Diced Almonds & Whey Protein (think Hershey's Almond) and Chocolate with Crispy organic Quinoa & Whey Protein (think Crunch bar) clock in at just 160 per half bar. If you treat yourself to a whole Designer Bar, though, you're adding 8 grams of fiber and 10 grams of protein to your diet, and only 8 grams of sugar. Compare that, now, to say, a Hershey's milk chocolate bar, which has 34 grams of sugar for a same-sized bar, and Crunch, which has 33 grams.
Looking for more ways travelers can live better? Other stories and suggestions to share with the homebound wanderluster? Stay tuned to our Lifestyle and Shareables sections here on TravelBlogue for lifestyle content that speaks to you.