We may be well into back-to-school mode, but that doesn't stop parents from seizing the moments they can to travel to theme park central. Orlando is easy, with so many flight routes that head straight there from countless gateways, and the fact that ALG Vacations® brands sells Disney® through Funjet Vacations makes it even more appealing to go ahead and book. And that's not even to mention the many properties offered through Apple Vacations, Travel Impressions, Southwest Vacations, and United Vacations!
With kids in tow, though, getting there and back can be a challenge. Adults have a hard enough time sitting and waiting for takeoff; children who can do so patiently are absolute blessings. And for those who can't … well, there are libations that can help at least take some of the edge off frazzled parents!
But that's exactly why Orlando's international airport MCO has placed an emphasis on offering concessions that can help soothe anxious (or just antsy!) travelers within their new Terminal C.
According to a spokesperson for the recently opened terminal, Jenni Izzo, "Orlando International Airport's rand-new Terminal C will highlight a combination of Orlando-founded and -grown restaurants and flavors, and national brands. It will also shine a spotlight on engaging shopping experiences."
One of the biggest headliners in Terminal C is Sunshine Diner by Chef Art Smith, a celebrity chef of national renown who has also served as Oprah's private chef, as well as under Florida governors Bob Graham. Pop culture enthusiasts may recognize him from his appearance on A Very Gaga Thanksgiving with Lady Gaga, BBQ Pitmasters, Chopped All-Stars, and Extreme Makeover: Home Edition. Others may appreciate his many cookbooks, two of which have won awards; his humanitarian efforts through Common Threads, which teaches children about culture through food and art; or his place in the Chicago Gay and Lesbian Hall of Fame.
At this new venue, expect a full bar with seating and grab-and-go selections, with both sections emphasizing dishes that featured Florida cuisine. For instance, key lime pie makes and appearance, orange juice, coconut cream pie, and dishes made with ingredients form a local farm in Florida.
Also distinctly Floridian: a golf emphasis. The PGA Tour & Grill makes number eight of its kind managed by HMSHost in airports around the country, featuring healthier options as green as the putting green that'll be right on site.
Then there's Cask & Larder, a sister concept to Ravenous Pig in Winter Park and The Polite Pig. All of these names are tied to husband and wife James and Julie Petrakis, both of whom were part of Orlando's new wave of modern, local food and nominated—as a duo—as semi-finalists by the James Beard Foundation for "Best Chef – South" for four consecutive years.
Unlike their other endeavors, this airport addition is designed to be a southern public house featuring seasonal ingredients and their own beer by brewmaster Larry Foor, while their other restaurants are American gastropubs and fast-casual wood-fired smoke barbecue (if that isn't too much of a paradox!).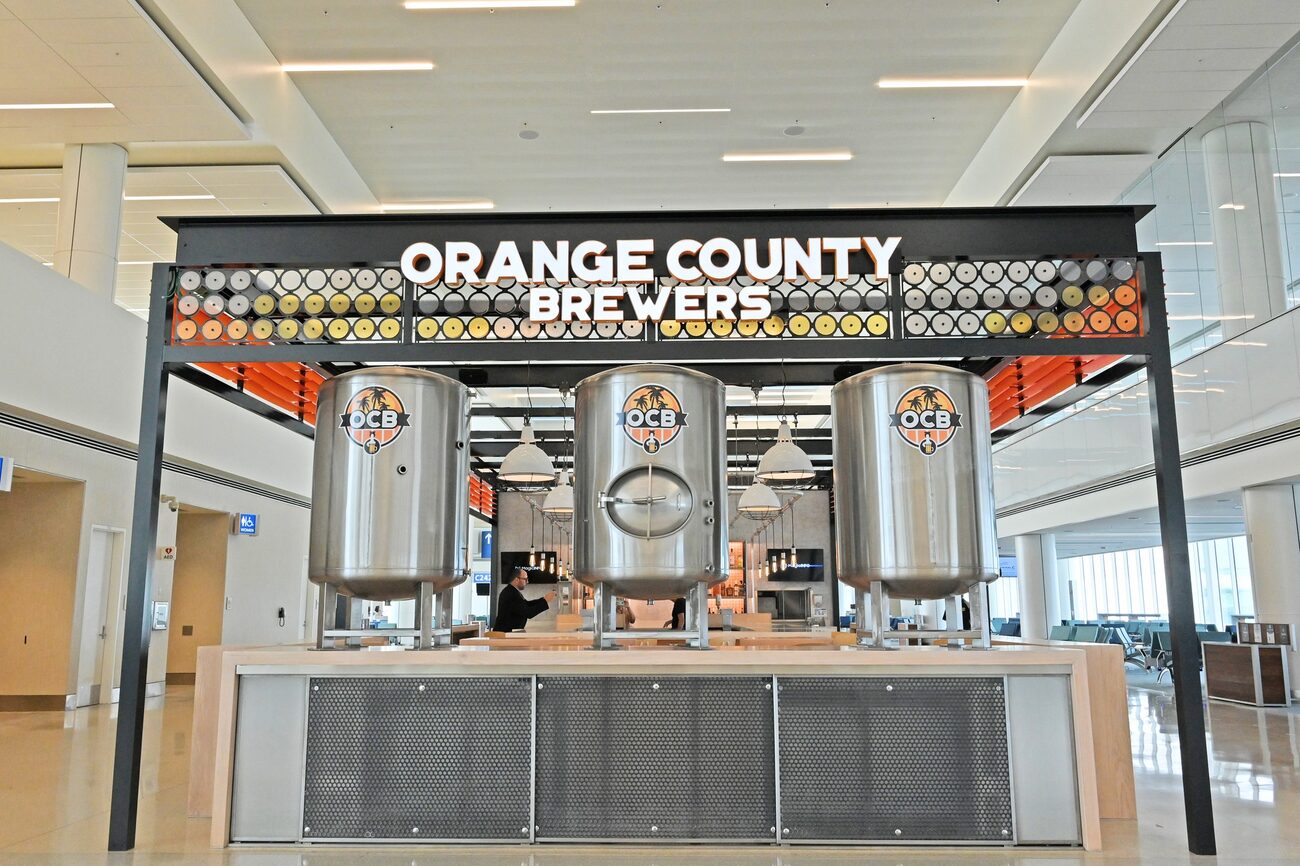 Cask & Larder won't be the only brew in town, though. Orlando Brewing Bar & Bites is also part of this terminal's new footprint, much to the relief of locals who were very worried when these craft beer pioneers announced the shut-down of their original location. Orange County Brewers is also landing in this terminal, with their own fermentation vessels and all.
If beer isn't the drink to get vacationers buzzing, Wine Bar George offers a wine-down wind-down. This is the second location of the Disney Springs spot of the same name, and the only Master Sommelier-led wine bar in the entire state. George Miliotes is one of only 269 somms that have reached this ranking, making it a guarantee that every sip off this menu is going to be a good one.
… And these are only a handful of the 24 new food and beverage options to hit this airport. Raw Juce stakes a position on non-grape juices, and Harvest & Grounds and Barnie's Coffee Co. focuses on bean extract, obviously.
As for retail, SeaWorld also has its own store in the concourse, a leader among a total of 12 shops in which to while away the wait. However, Universal Orlando Resort and Walt Disney World, which has its own dedicated elevator, dominate—as is fitting. In fact, you can look for characters and a huge backdrop to take last-minute photos with. And large floor-to-ceiling art boards in the terminals show glimpses of Florida scenery if the walls of windows looking out onto the jetway aren't scenic enough of views.
For more air travel-related tips, find out if you're a bad airplane neighbor or how to save money on travel by flying. Family travelers will want to read Everything You Need to Know About Planning Your Next Family Vacation.