Be more present at hotels with personality and a sense of place, like the new Andaz Prague, and Dreams Karibana, the first in Colombia, Hacienda Dominicus, and the Grand Oasis Cancun complex with these hotel confessions.
It's the final week of Travel Advisor Appreciation Month and we're closing in on the last New For You giveawayproperty secrets. More than half of the properties on today's focus are winnable for anyone at all who books an ALG Vacations® package before the end of the month. Up to three automatic entries are possible per booking, so click here for the contest details!
… But you haven't seen the last of our Hotel Confidential Insider Tips series. From special treatments in the spa to off-menu orders at restaurants, VIP lounge hacks and extra inclusions, we're going to keep blowing the lid on how to guests can live their best lives while on vacation when they Ask a Travel Advisor for the inside track.
For this story, we're highlighting the hotels and resorts that tell a story themselves—properties with personality, a sense of place; character and setting.
Andaz Prague, Czech Republic
A New for You Giveaway Prize Property!
This hotel—a remodel of Sugar Palace—is in the Old City in Senovazne Square, but it couldn't be newer, only opening its doors this season.
Glass Design Workshop
In case you didn't know, Czech glassmakers are responsible for cultivating techniques like glass beads and fire-polished finishes, and you might recognize its quality as Bohemian crystal in upper crust circles. It's worthwhile to take a trip to Karlsbad or Crystal Valley to a renowned factory, then, for a tour and sit-down with the brand's lead designer, and putting your own creative skills to the test with your own individual custom design. As part of this tour, you'll receive a video of its manufacture, and the finished product will be shipped right to you at home in the States.
Prague Legends
Being that this hotel is a refurb of a historical property in a mysterious, storied city, this tour is a don't-miss. A professional historian and writer first takes guests to the mystical places around Prague that inspired the design of the building and its interiors, as well as shaped the city it is today, providing access to places otherwise closed to the public. A personalized keepsake, an Andaz-branded book of Prague Legends, goes home with everyone who joins. You can book this tour with the concierge.
Private Shopping
If gorgeous European goods are a vacation focus, have your customers plan for this so they can fill out the questionnaire of their shopping interests and preferences ahead of time. The design or fashion expert will then be prepared to create a totally personalized shopping tour based on those answers, and include unique, chic, and insider places that mesh with their guest's Prague style.
Hotel Xcaret Arte, Riviera Maya, Mexico
A New for You Giveaway Prize Property!
Subtract the kids and add the arts, and there's nothing to distract you from the essence of this unapologetically Mexican and Mayan resort, opened just last year.
Serenata Massage
The spa here, built into gorgeous limestone caves along a river, is already spectacular, but they didn't stop at showstopping scenery. No, they added an actual show, offering a tailored massage experience set to the strains of live harp, violin, or guitar music, and made it an optional inclusion for personalized massages in the massage open cabins on the water. Available Sundays, Mondays, and Tuesdays from 5:30 PM to 6:45 PM, this is the time slot to book.
Catch of the Day
Head over to Restaurant Mercado de San Juan to find out what's fresh off the boat and onto your plate with daily rotating fresh fish and preparation of said fish. They get their catch sustainably as part of a program that offers only products of Grupo Xcaret's region, Quintana Roo. This not only showcases the products of the region, but increases the community's economic performance.
Music & Water Show
Inspired by the art and culture of Mexico, this water, music, and light show is a spectactular audiovisual performance that takes place at Casa de la Música Fountains. Make your way over there by 7:50 PM for its start on Mondays, Wednesdays, and Fridays.
Dreams Karibana Cartagena Golf & Spa Resort, Colombia
A New for You Giveaway Prize Property!
Newly launched in a premium gated community near the historic city of Cartagena, this is a first foray of all-inclusive to the area.
Art Everywhere
Brush up on Colombian art and artists before you go to better appreciate the curated collection of work by contemporary creatives. You'll find an assortment of paintings, sculptures, and more by nationally and internationally recognized fine artists all around the property, and even in select room categories.
Karibana Golf Course
Trade everyday peeves for tees in Cartagena—it's easy when the course is right next door. The Karibana Golf Course was voted the best in the country in 2016, and remains a Nicklaus Design TPC course. Surrounded by native forests, seven lakes, and nine holes facing the sea, it's a wonderful way to kick back in Colombia.
Colombian Gastronomy
If you travel to eat and worry that staying at an all-inclusive may cause you to miss out, fret no more. Even though the three à la carte venues have global themes, unique local bites and drinks are never far. Look for Colombian dishes at World Café, the buffet, and treats at the specialty coffee and dessert shop, Coco Café.
Grand Oasis Complex, Cancun, Mexico
This mega-complex is entertainment central, with headliners for every hotel in it that make it stand out.
Molecular Gastronomy
Culinary connoisseurs will want to stay at The Pyramid at Grand Oasis, where four award-winning restaurants are located right on site. Restaurante Benazuza is a must-go. Guests at this resort can dine at what was ranked #1 in Mexico and #4 in the world in 2021 for Best Fine Dining by TripAdvisor; sister properties can participate at nominal cost. Created by chef Rafael Zafra, who has earned two Michelin stars in his career, every one of its 20 courses are a trip worth the trip.
Entertainment
Grand Oasis Cancun is where those who want to be scintillated should stay. There's fabulous new entertainment there, including the Fire & Drums Show, the El Zócalo outdoor Mexican fiesta, and the Red & Blue Cabaret Dinner Show. Check the schedule to ensure fitting in one performance or attendance of each!
Adults Only
While Grand Oasis Palm is commonly associated with fantastic family inclusions such as the pirate ship adventure cruise and family suites, this all-inclusive resort also features newly renovated areas for adults only. That includes gourmet restaurants, trendy bars, a nightclub, and more. Check out the luxurious adults-only Sens Rooms & Suites for premium amenities like oceanfront views with your own private jetted tub or plunge pool.
Iberostar Hacienda Dominicus, La Romana, Dominican Republic
Just as its name promises, this 498-room resort—considerably smaller than the 1,202 in its sister complex in Punta Cana—offers strong hacienda vibes.
Colonial Architecture
With design inspired by classic Spanish architectural notes, this resort feels like a blend of Old World and beach escape. It helps that its beaches are spectacular, and its nearby fishing village, Bayahibe, hasn't lost any of its charm.
Lighthouse
Just as eye-catching as the tranquil Caribbean off the smooth shores is the striped lighthouse on the beach—a signature feature of the resort. Further exploration on foot will reveal a bar, making it worth the short walk to get a closer look at this curiosity.
New Rooms
Fancy updated rooms in new categories are worth looking into at this resort. The Rooftop Suite, for instance, offers its own swimming pool and panoramic views, and the Duplex Torreon doubles its appeal with not one but two private terraces—one for sunning and a second for swimming.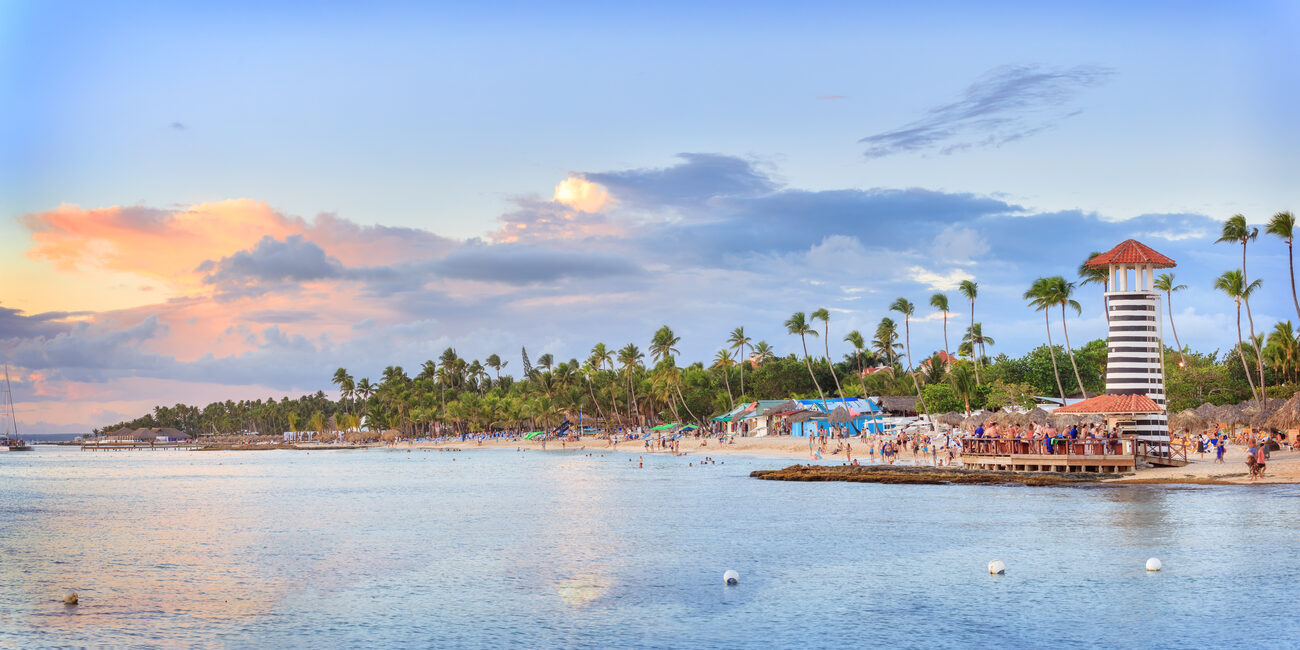 This is the last week to book for entries in our New for You Giveaway as Travel Advisor Appreciation Month comes to a close. However, our Travel Advisors Share stories and more Hotel Confidential Insider Tips will continue through the rest of the year as we shout out: Ask a Travel Advisor!