Why do we travel to beachfront resorts? Honestly … to look at the beach from your chair in or near the gorgeous pool. Because while Mother Nature is an absolute artist, the designers at endless summer destinations are masters when it comes to catering for waterfront pleasure for humans. Here are some of the most unique pools to see and be seen at in Mexico, Florida, and the Bahamas.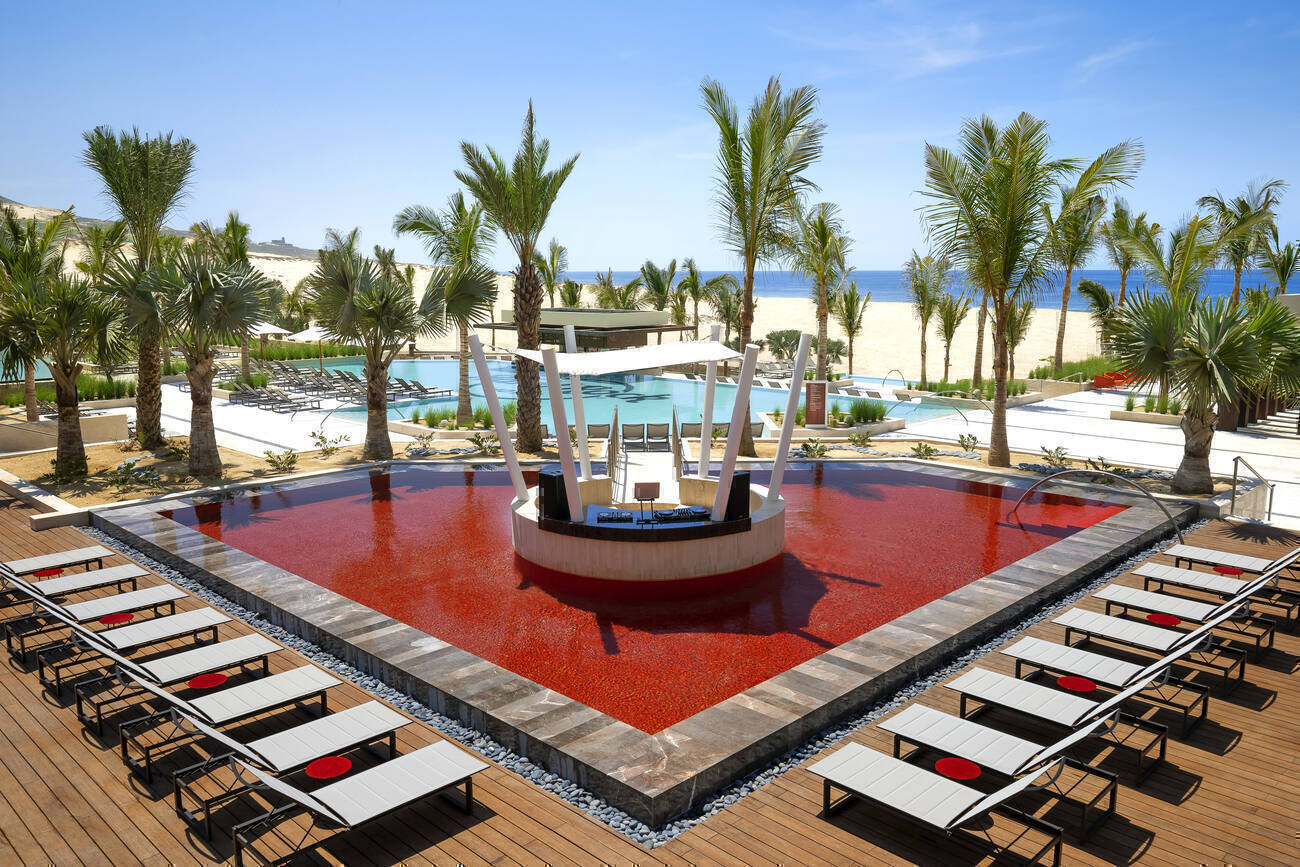 Hard Rock Hotel Los Cabos
The Red Pool
In an environment this primed for kicking back, who'd have thought you'd be seeing red? Yet that's exactly what you'll be doing at this extraordinary pool, where all-red tile makes the water look a blazing crimson. Then, to make it ever more red-hot, you can look forward to pumped-up beats. There's a DJ booth right in the center of the pool, making it not just a blazing pool party venue, but an Instagram hot spot as well.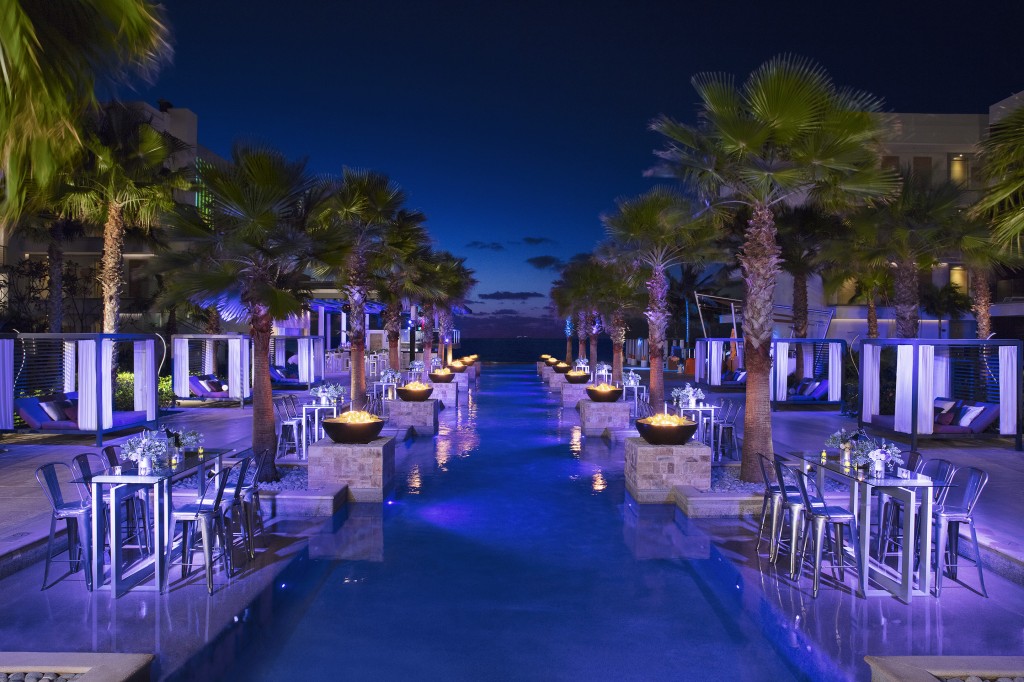 Breathless Riviera Cancun Resort & Spa®

xcelerate Freestyle Pool
While the centrally located source of all "energy" for this nonstop resort is the main pool with a hot tub, the xcelerate Freestyle Pool in the party zone is where the action happens. It's smaller than the Energy Pool, but don't let that deceive you. It more than makes up for it with glam vibes with an all-day scene and a giant hot tub that easily fits a dozen of your new best friends. Shake up the day with lots of bubbly on Saturdays with the Carnival of Champagne, where bottles are available for sale from 1 PM – 5 PM. The music starts at 11 AM, though, and the carnival theme goes on all day, with spectacles and pop-up performances to keep you titillated.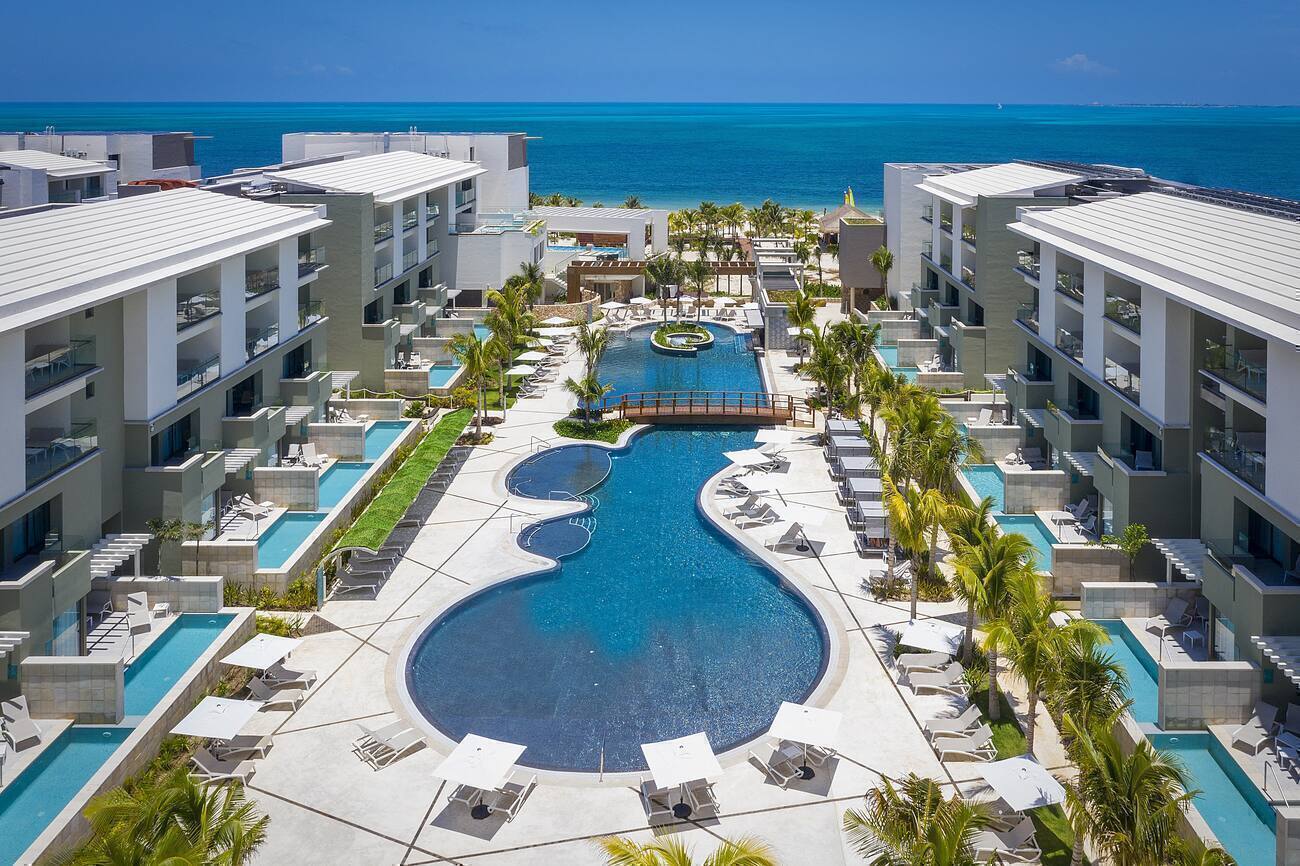 Catalonia Grand Costa Mujeres
Relax Pool
Sure, the main Activity Pool is notable for its multiple tiers of water features, multiple depth areas, and plentiful lounge chairs, plus access to a kiddie pool offshoot just steps away, but the quiet Relax Pool has a feature that makes this resort even more all-ages and all-access. This resort offers two floating wheelchairs for those with limited mobility, available with the staff's compliments on a first come, first served basis. There, low-key relaxation looks like a swim-up bar and chillout music. So as beautiful as the pools and their decks are, there's really nothing cooler than inclusivity.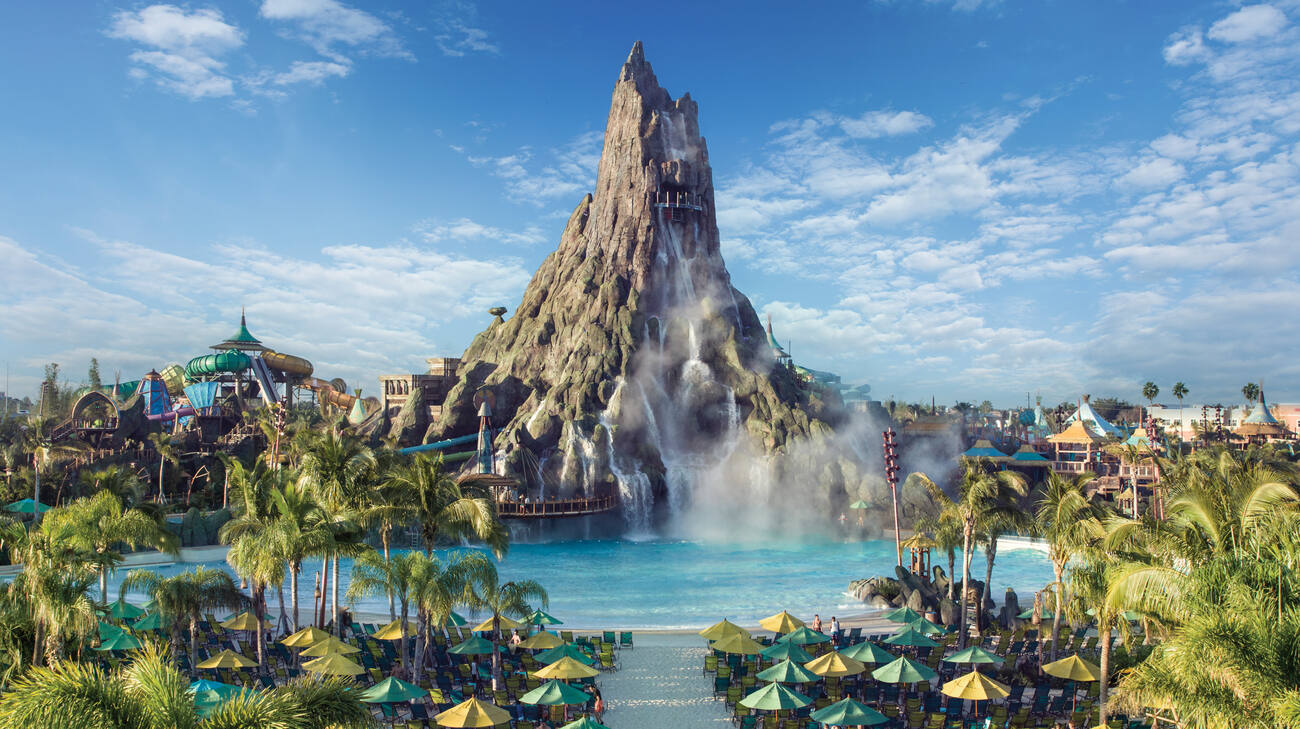 Universal's Volcano Bay Water Theme Park
Waturi Beach, Wave Village
It's hard to get more epic than this water theme park's Waturi Beach, iconic against the backdrop of a massive man-made volcano. While Waturi Beach is peaceful, elsewhere in Universal's Volcano Bay, exhilaration reigns. There's Ko'okiri Body Plunge which drops riders 13 stories down the face of the volcano, Krakatau Aqua Coaster for your whole crew to enjoy, a winding lazy river, round raft rides, drop slides that shoot you out at high speeds, plus an area for children featuring slides for all sizes and thrill levels. Three-Park theme park tickets are sold as a feature add-on.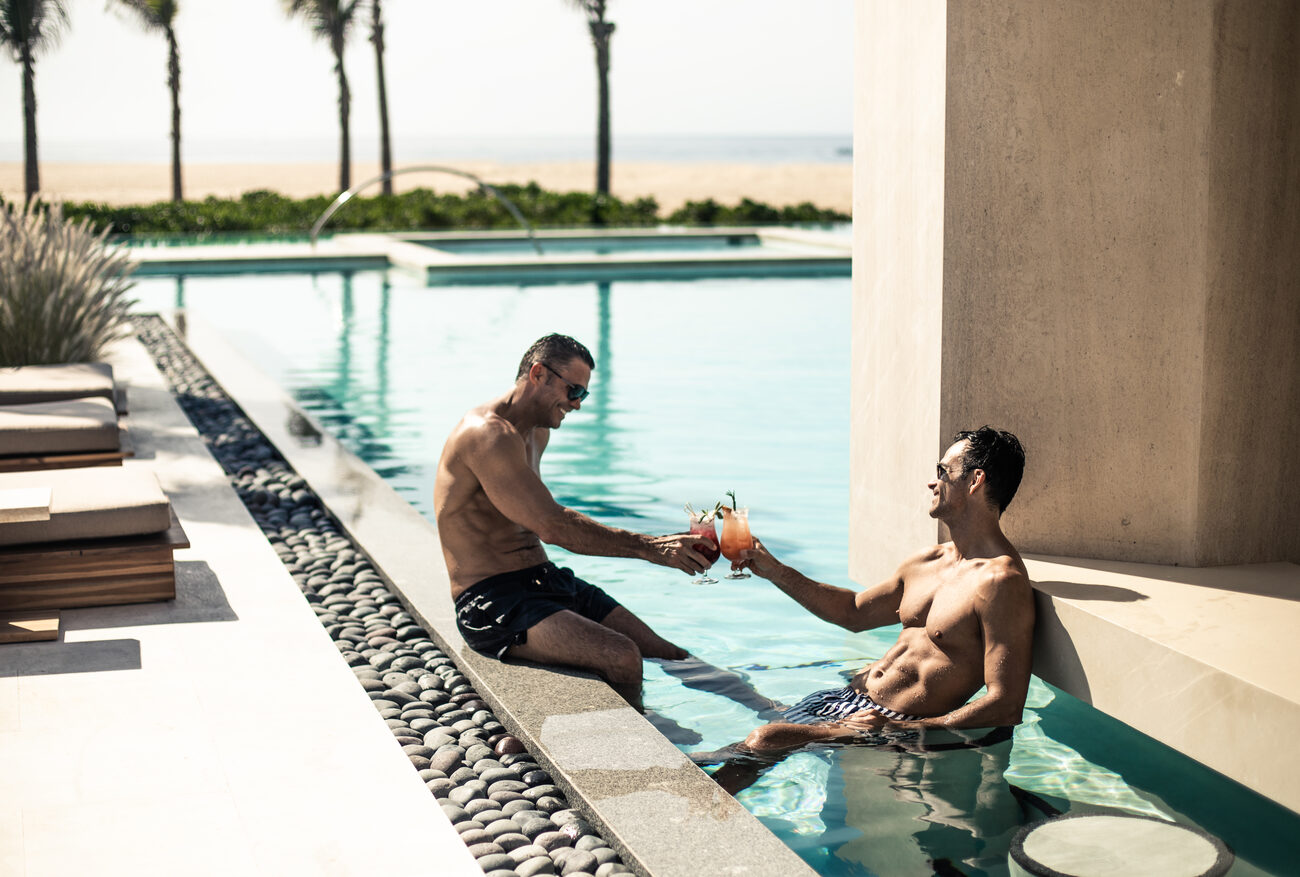 Nobu Hotel Los Cabos Luxury Resort
Sunset Pool
The cabanas are where it's at when it comes to this super-swanky resort. The Cortez Pool's Super Cabanas are a big draw for larger groups, especially since it's an all-ages environment with a live DJ from noon to 4 PM. However, the feature we're fixated on is lower key: the adults-only Sunset Pool's cabana dinners. Forget wind blowing your napkin loose or sand all around you as beach walkers look on—enclosed in the epitome of privacy, these special meals are catered by the famed Nobu restaurant's executive chef, served VIP style as the sun sinks into the sea. Choose from a six-course Italian Tasting Menu, an eight-course Chef Paolo Special Menu, grill nights, a Mexican experience, or a family-style meal. Best of all, while they're romantic for two, they're scalable to more, for a memorable experience not just for couples.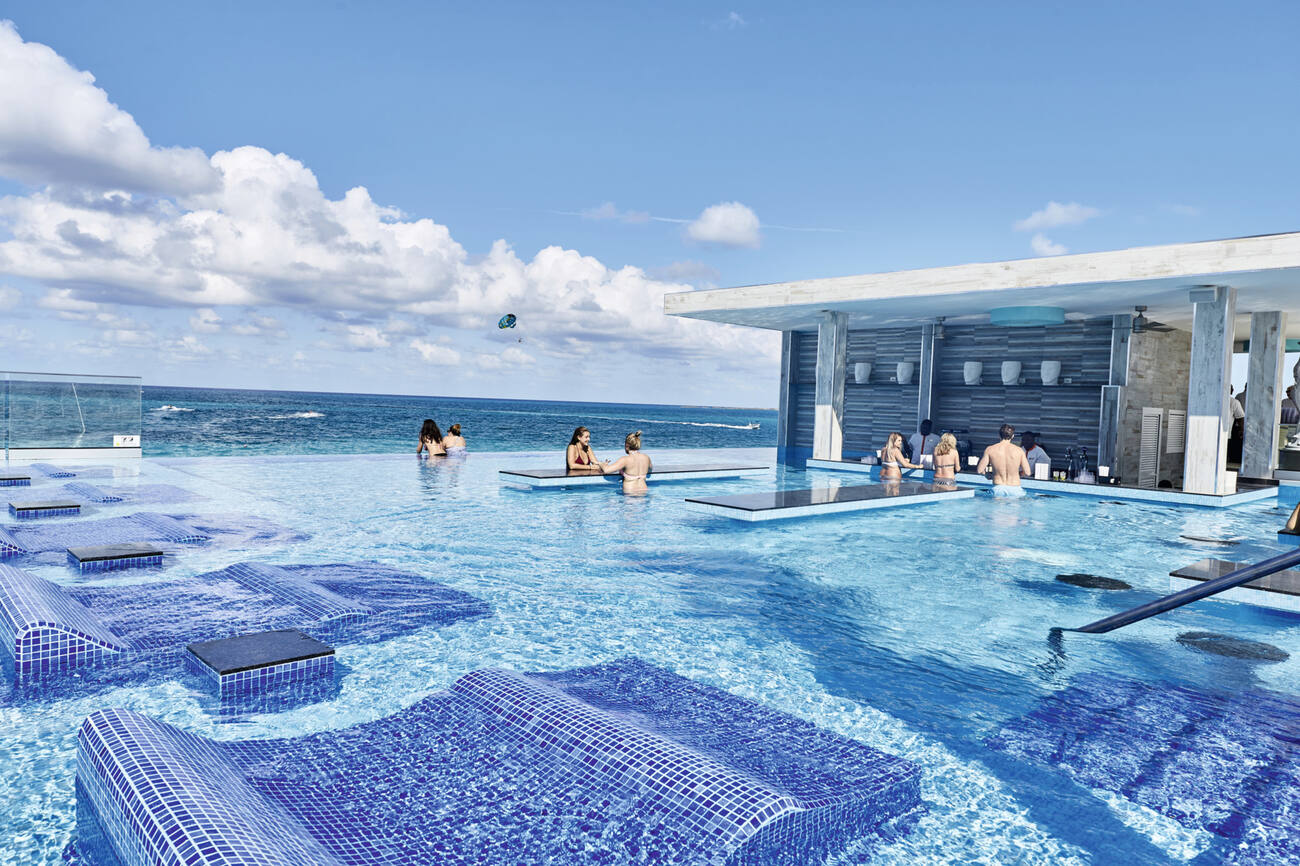 RIU Hotels & Resorts
This is one brand you can rely on for a great pool scene, especially on the beachfront. Riu Palace Paradise Island and Riu Palace Baja California tie for the top spot, the first for its elevated infinity pool with its integrated swim-up bar; the second for the unobstructed views of El Arco and expanse of beach. And of course, there are the eight Splash Water Worlds, aquatic parks spread out across Mexico, Dominican Republic, Jamaica, Costa Rica, and one more soon at the new Riu Latino Hotel, opening on October 1, 2022.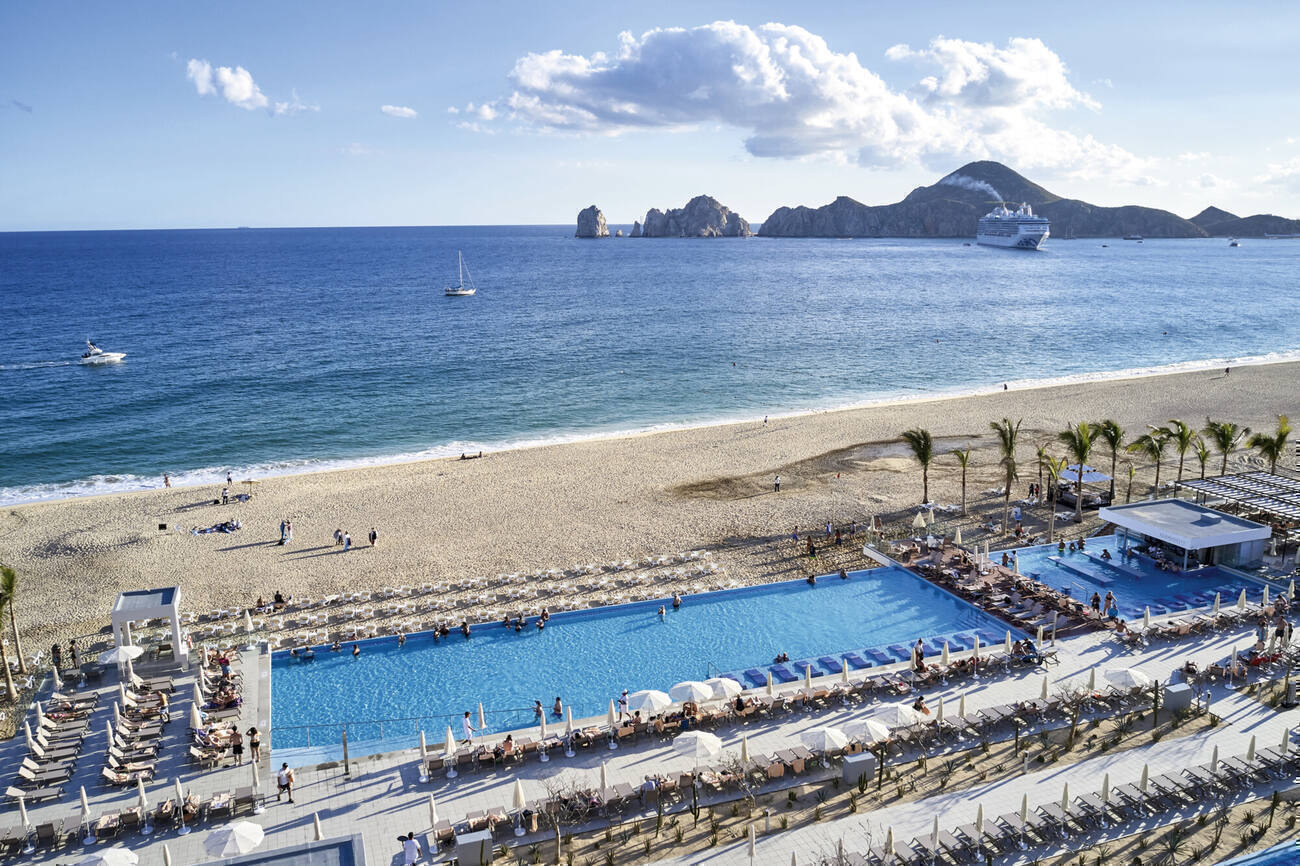 Looking for more cool pools? Check out these amazing water parks, where admission is INCLUDED with your stay! And don't forget your sunscreen – here are some of the most ocean-friendly sunblocks on the market.